Discussion Starter
·
#1
·
The search for the triple digit AJ ... came close
A Special Thanks,
Chip & Arlen ... It was truly my pleasure and honer to meet you both, I enjoyed talking fishing with you both and really loved my time on the water with you. You guys are awesome and two of the most accommodating, genuine people I've met who made us feel like we were family. You guys are great even Chop bustin Chip ha ha
To the jigging nuts who braved the elements it was great fishing with and meeting all of you ... Al, Gene, Tony, Bret and the master Sami. Bret and Tony you both are very skilled anglers it was pleasure to drop some lines with you
The Charter: ANYONE who wants to get into non stop jigging actions needs to get a charter with Chip and Arlen these guys are some of the fishiest people I've met. Im already planning Part 2. Chip is fun to fish with and really knows how to run a boat and find the fish
Trip Report After months of planning we all met down in NC on Friday and proceeded to get drinks and dinner together. It was really cool because I felt like we all knew each other for years. The forecast was for 4' swells in the AM and then it would pick up again later in the day so the decision was made to leave in the dark and off we went
Every bit of 4's and a rough wet and bumby 3 hour ride we made it to the ground. I can sum up the trip in one sentence
One drop one fish, if you love to jig this is heaven
On my boat Tony, Bret and I dropped for the first time at the same time on the first drop and within 3 cranks off the bottom we were all tight. Big Alamaco Jacks at first and then the AJ's came, then Chip dropped and we were all tight again, and again and again. The drift Tunes, Chartruse OTI's and Nagamasa 400's were the hot jigs. I would have to say my boat has to of released atleast 50 + fish that day as I know I was some where in the high 20's and Bret and his father Tony were both there as well, we had several slobs pushing over 50 and the one big 80# Jack who smoked off alot of line off my new stella
The big boy hit and ripped off alot of line immediately and then from there it was slow and steady until he surfaced what a slob, not a 100 but a very respectable fish over 50" fork in the 75-80 class which unfortunately was 1" short of Sami "the Master" biggest fish.
Chip caught a couple of blackfin tuna on topwater and I had a shot at a big 30# class Bull Mahi but he spit it
The fishery: NC fishery is insane, tuna, Mahi, grouper and just rediculous amounts of big bruiser Amberjacks to be caught literally on every drop. I will be back sooner than you think because that 100# fish is there i know it. I found myself obsessed with the next drop
Gear: The Hots 52ex is without a doubt my favorite rod, I actually loved it more that the 48XXH for some reason and it put a hurtin' on the fish. My new stella was sweeeeeeeeet, very light an the drag clicker was. I did manage to blow up a Fin Nor spinning reel sounded like somone put a fork in a garbage disposal LOL. The JM 500 was great along with Bret and Tonys OTI rods
Glenn
Pictures and video to come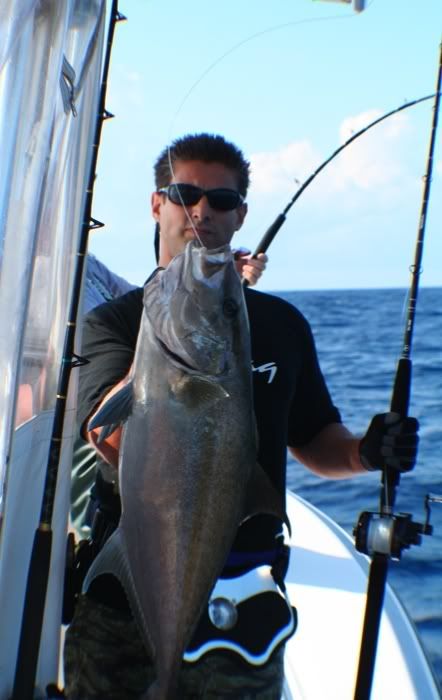 Captain Chip hooked up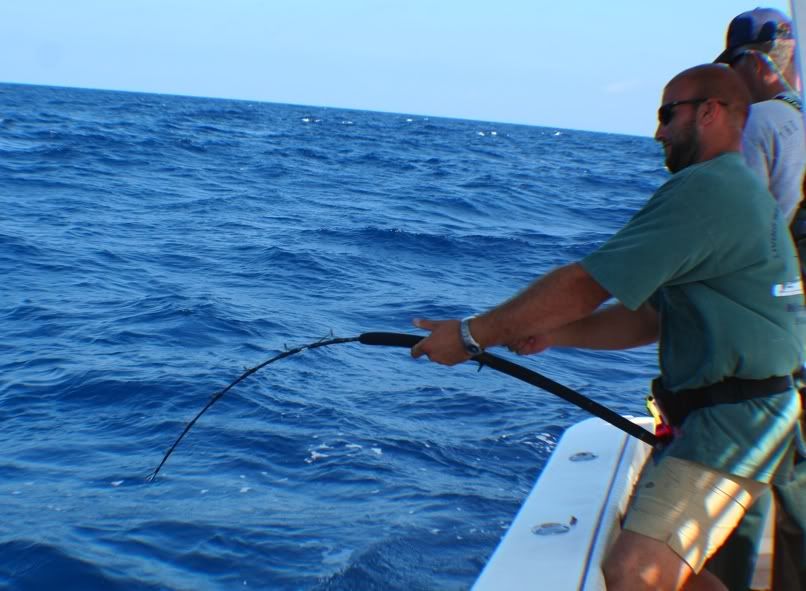 Bret hooked Up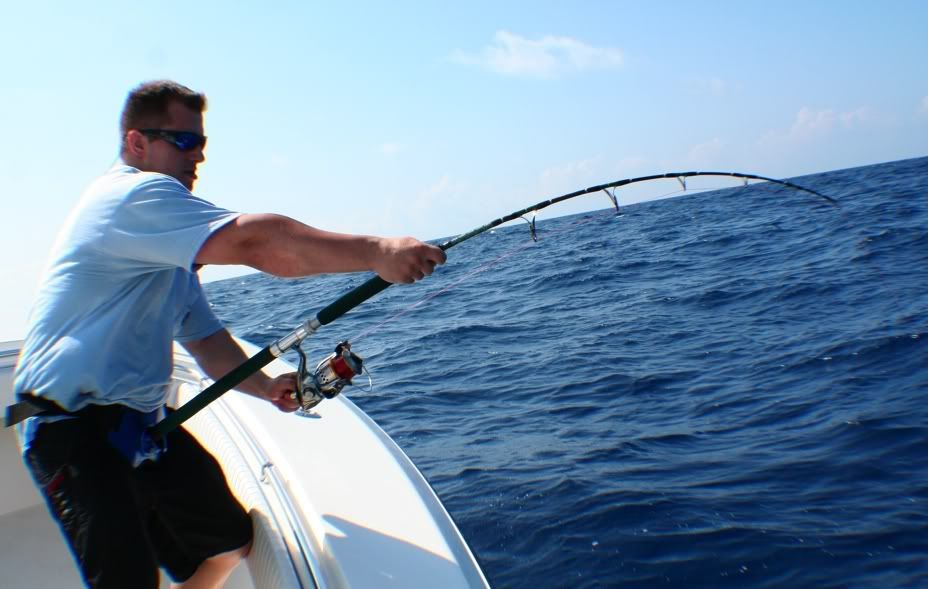 Tony Hooked Up
Glenn Hooked Up
http://i238.photobucket.com/albums/ff77/gkrosss/screencapture013-2.jpg
http://i238.photobucket.com/albums/ff77/gkrosss/screencapture010-5.jpg
http://i238.photobucket.com/albums/ff77/gkrosss/screencapture017-1.jpg
http://i238.photobucket.com/albums/ff77/gkrosss/screencapture011-3.jpg
http://i238.photobucket.com/albums/ff77/gkrosss/screencapture015-1.jpg
http://i238.photobucket.com/albums/ff77/gkrosss/screencapture019-1.jpg
http://i238.photobucket.com/albums/ff77/gkrosss/screencapture023-1.jpg
getting bigger
http://i238.photobucket.com/albums/ff77/gkrosss/screencapture018-1.jpg
http://i238.photobucket.com/albums/ff77/gkrosss/screencapture020-1.jpg
80 pounder
http://i238.photobucket.com/albums/ff77/gkrosss/screencapture021-1.jpg
http://i238.photobucket.com/albums/ff77/gkrosss/screencapture022-1.jpg