Discussion Starter
·
#1
·
Sorry for the late report but i wanted to let poco get started. I got the call from wacker last thursday evening about killin some tuna and doing some marlin fishing. The plan was to head to hoover on the wildside a tournament rigged worldcat 33. This boat is as sweet as it gets for a center console. The crew consisted of me, wacker, Daniel, Anthony, and jeremy. We load up and depart freeport with high hopes after the reports of recent billfish sucsess off of south texas.
We stop to make some live bait at a rig about 12 miles out kin 66 ft of water and proceed to put 40 of the prettiest tuna crack baits out there. Well the wildside has two 55 gallon livewells, and with no hardtails we head deeper to a rig about 30 miles out. When we get there we see at least 4 boats including a flat bottom rig. Wacker gets on the sabiki and puts a hurtin on the 8 inch hardtails, then yells ling...big ****ing ling. I quickly grab a rod rigged with a hook and pin a livie on. It gets railed by the small one. I keep him in the water and daniel pins on another livie this time the big boy is on. Quick fight and we have a 60 pounder in the boat. Great team work there. All the "weekend warriors" look at us like we stole thier fish.
after some high fives and two full baitwells the trip begins to look very promising. We arrive at hoover around 5 and put out two hardtails and commence trolling.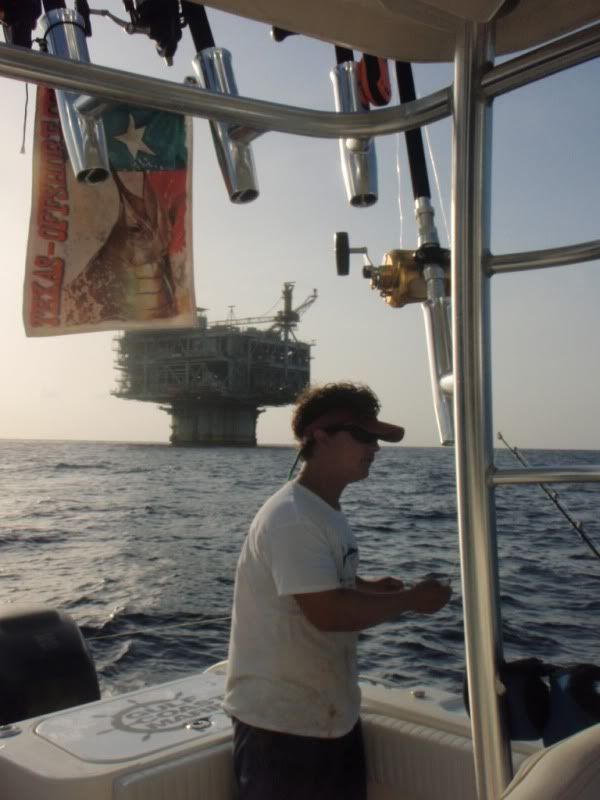 First knockdown Cuda....damn cuda . Next pass another cuda. The third time was the charm as i hook up to about a 40# bull dorado for a great aerial display. There is some film on this i will get once it is edited.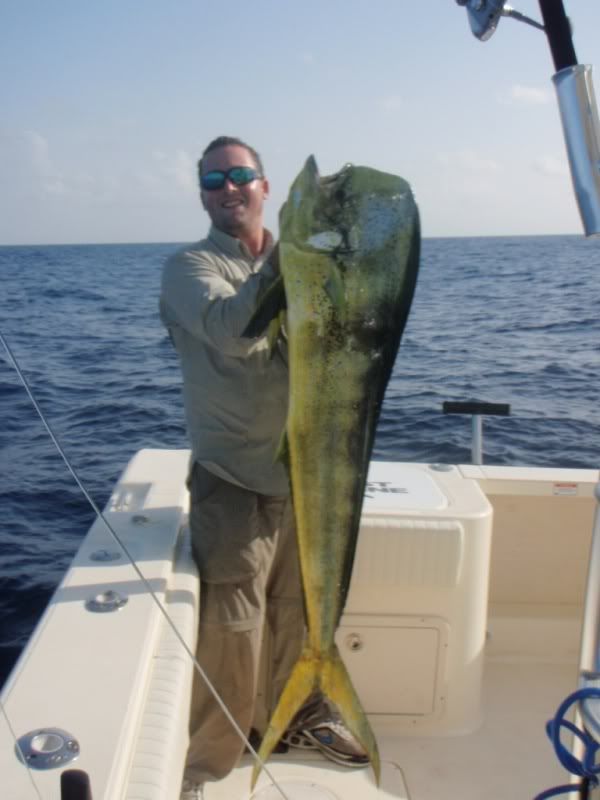 Next bait out...i hookup up on a solid 25 pound cow. Now its jeremy's turn and he boats another bull. The sun is starting to set and we decide to soak some livies for tuna. Sure enough at dusk our first yft hits the deck and we are starting to get a good fish box going.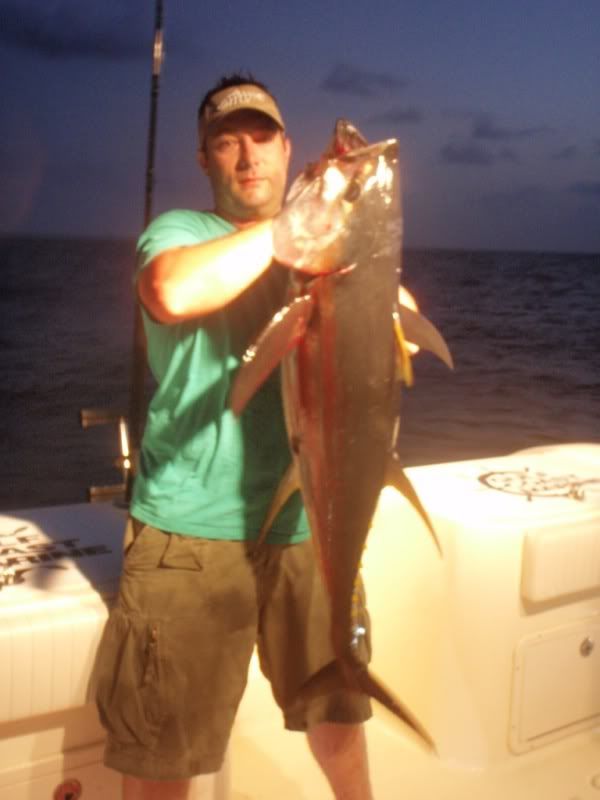 Well we plug at them all night and manage to put 3 more in the boat two on livies and one on chunk. I did hook a large yellowfin that almost spooled the cabo 60. I locked the drag down and finally stopped him but forgot to loosen itr back up and during the fight i pulled the popper out of his mouth. I throw the OTI komodo all night and killed the bft and missed a few more good ones. The lure landed at least 20 fish.
When the sun comes up we start to soak some more livies and i give my rod to jeremy and find the head. When i return i find jeremy and wacker doubled up on yft. I gaff both and get another bait out....wacker pins another on his 40# and gets nailed in 10 seconds. Note to self 40# is killer on the yft. After about am hour and 5 fish we go to make some bait for marlin fishing. While we are making bait daniel screams marlin from the tower huge ****ing marlin....well we didnt have a pitch bait. Fish gone. we quickly catch a bait and bridle him up...not 3 minutes later the 50 starts to spin i dump it in freespool and let him eat.....throw the drag to strike and crank...no fishy. My first marlin and my first miss, something tells me that wont be the last. Our crew qyuickly tries to catch another bait and we finally do and get it out. This bait soaked for an hour and was dead. Wacker throws the boat in nuetral as i try and convice daniel "we missed our shot, there is no more marlin here. We need to head in" 3 seconds after i say that needlefish erupt 10 feet of starboard and a 175 pound lit up blue swims up to the boat. I quickly reel the dead bait up only to get rejected. That is the first marlin i have seen swimming and lit up. It is truly the most spectacular thing i have ever seen in the ocean.
With no more baits and growing frustrations we go to pulling plastics. After an hour of that we get nailed by another dorado and and all out frenzy ensues. After we clean the deck we decide to head for the house. Once we were on the shelf we ddecide to put some snapper in the boat and after an hour or so scrating our limit is on board with the biggest going 15 or so pounds.
We made it back to the dock and fueled up at 9pm, with 9YFT, 6Mahi 20-40#s, limit of snapper, 50-60 pound ling, and dozen 15-20# blackfins.
This picture doesnt do it justice as we had about two more carts.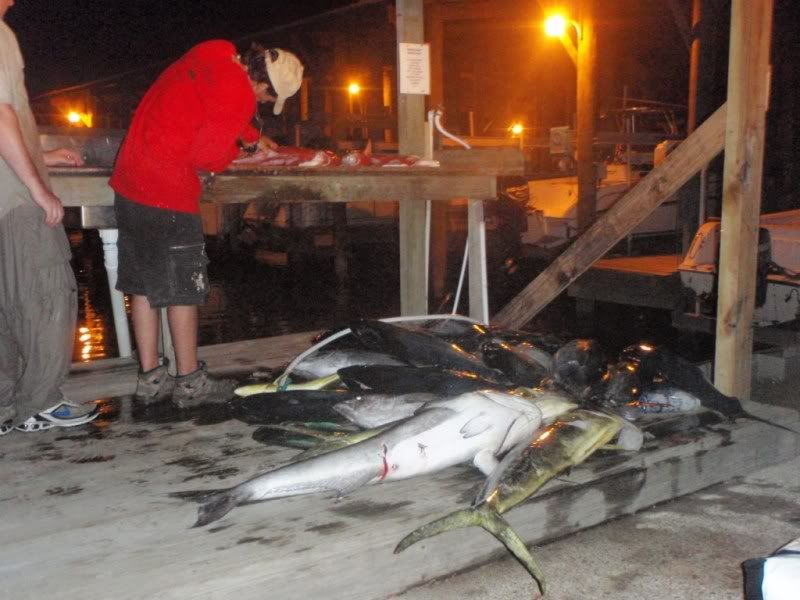 Thanks to daniel for the ride and Wacker for the good word.