Discussion Starter
·
#1
·
Diehard wrote:
Made it out today with the boys for some awesome winter jigging off Carolina Beach. Joining me were Jim, Pete and Wesley.
The sea conditions weren't that big but very steep, made for a longer ride that usual. On the scene and the jacks, kings and cudas were balled up. Not what we were looking for so after catching some of those we went on to a spot I found last year that is a wintering ground for African Pompano and other "good eating" fish.
It didn't take long till Wesley had something that wasn't fighting like a jack. AP... they don't make runs but swim out from the boat, jacks do the straight up and down thing and make a lot of runs - head shaking. AP-it was and a big one. It weighed over 30 lbs on Jim's spring scale. At the same time Pete was on something... AP # 2. AP are schooling fish and are not as aggressive as AJ's. If you are in jacks, move to get AP's. The next hour was a blur of bent rods and large silver fish coming in the boat 2, 3, 4 at a time.
The only thing to break that rhythm was Jim on what pulled like a good grouper till it came into sight... large and brown. Yes my friends... the appearance of "the brown clown". Cobia are another fish we found on this spot last year. The 50 lb fish would elude the gaff several times to no avail... He's going on a boat ride! Jim's fish took a prototype "sardine" jig. After a few more pomp's I get a cobia, about a 40 lber on a 240 Katana.
We left the AP's to look for grouper but didn't do anything there.
The conditions were breaking down so we left around 1pm. We checked some spots inshore in the cold water but only scored small stuff. It was nice to be at the dock before dark. And there were actually a couple other trucks there!!!
Jim will put up the pictures when he gets back to Greensboro.
-----------------------------------------------------------------------------------
Here are the pics from yesterday. I enjoyed every minute of the fish fighting pain. You have to love a day where your turning fish loose two at a time because the boxes are full. Cobias in February are just icing on the cake.
We released a lot more than we kept and still have pile to clean.
Jig choices for the day were the Glow Katana Jigs, Pink Katana, Pigroast Katana and a few prototypes that will be available this summer sometime.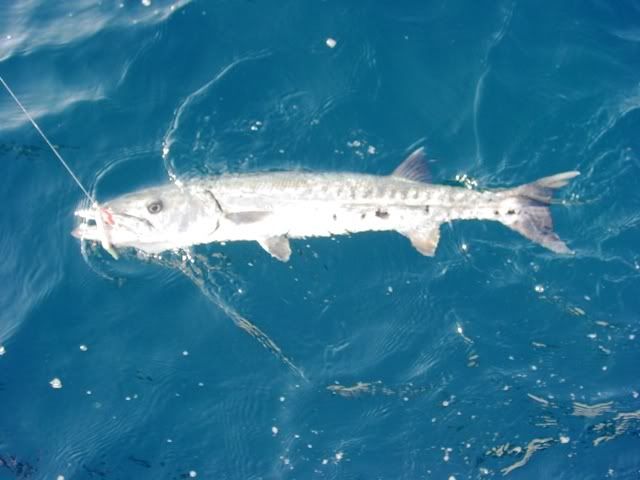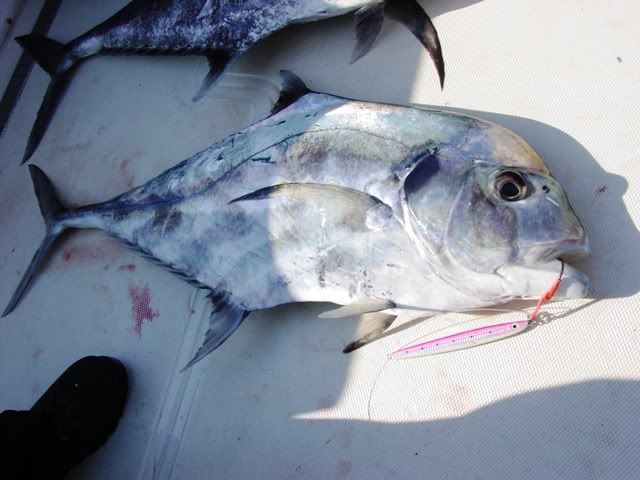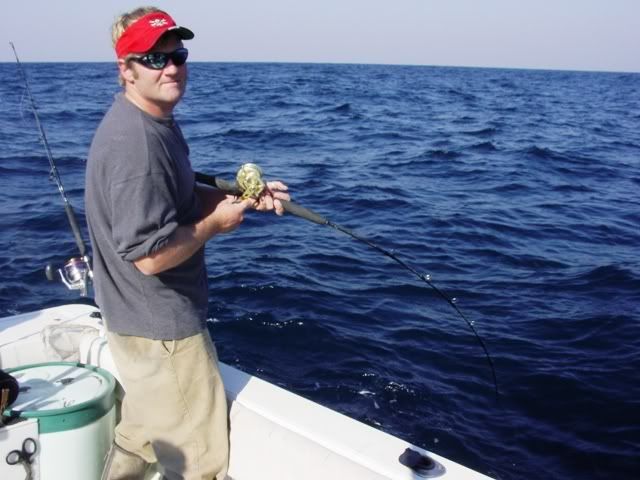 http://i197.photobucket.com/albums/aa12/seadraggin/8.jpg
http://i197.photobucket.com/albums/aa12/seadraggin/9.jpg