Discussion Starter
·
#1
·
McGolfer, Grescobia, Brian S, and I fished with Captain Eddie on Jan 4 the 5 out of Venice, LA.
We met at I-20, north of Tyler, and off we went to the bayou. I spoke with Captain Eddie as we neared Venice and he tells me the lump is not happening, but the wahoo bite has been hot. Only scattered YFT were being caught. I was excited, but we had hopes for a chance at the famous lump giant YFTs. Oh well, you will not see me complain about catching wahoo. It was an easy ride into Venice and we were greeted by reasonable conditions on Saturday morning.
DAY 1:
Lots of fog as we left the marina and radar guided us down the river. The water was chocolate with 2-3 foot seas at the jetties. However, blue water lurked below. We headed to several rigs from 7 miles out and the first wahoo struck. McGolfer was on it and easily boated our first wahoo
(Camera fogged up) Rick with the first wahoo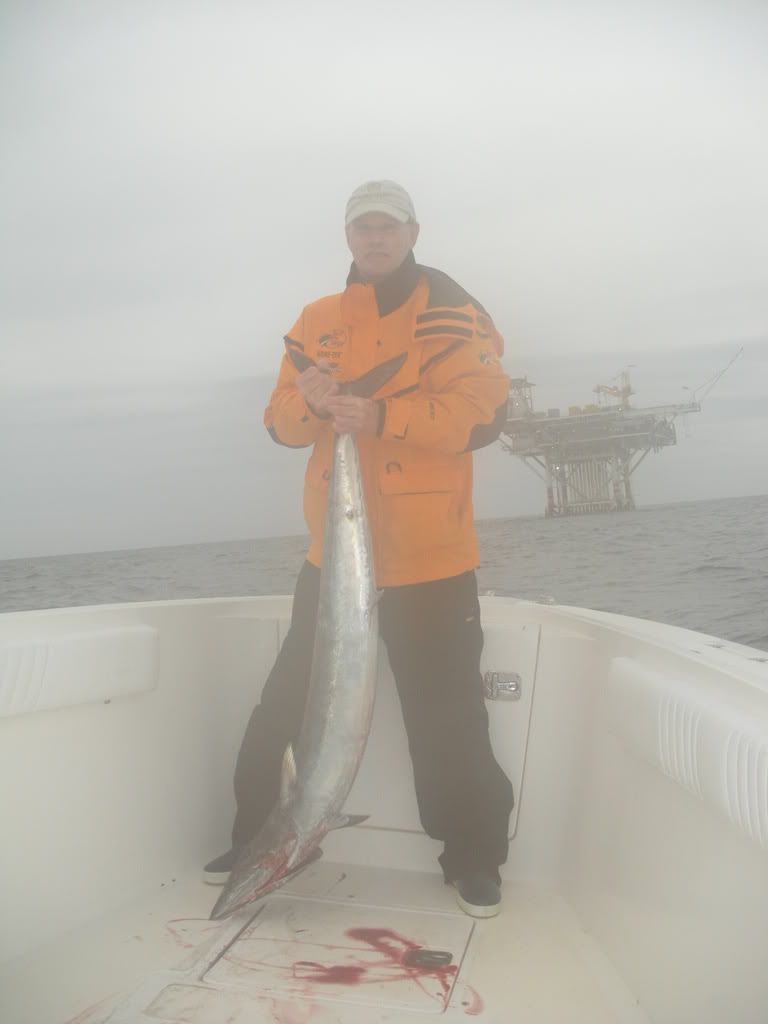 We trolled some more at various rigs and I catch a "weehoo" aka, small wahoo. I took a lot of sheet for it, but revenge would come later in the trip. Grescobia then catches a nice wahoo followed by Brian catching his first wahoo.
We boat several more wahoo and end the day with 6, mostly 30-50 pounds (guestimate) and no tuna. We did see a bait ball being hammered, but we never caught any of the fast moving fish. I had one hit that got off. It wasn't very large.
DAY 2:
This time we meet at 6:15am with no fog and quickly head out south pass. We head towards bluer water but seas build to 3-5 feet and we decide to troll since the conditions were not favorable to reach the floaters. Also, there were no favorable YFT reports from the floaters. We begin trolling platform rigs and start landing more wahoo, many in the 40-60 pound range. McGolfer lands his first fish when using his outstanding custom super seeker with winthorp guides. This rod will see more action later. We had 2 triple hook ups and hearing 3 Tiagra 50s screaming at the same time is something to remember.
Grescobia with a nice wahoo
On one of the trolls we hook an AJ and small YFT. Grescobia begins jigging and hooks up. 5-10 minutes later, he lands a nice YFT. Near the end of the day, my turn comes. My lure is hit and battered about 2-3 times when it is finally taken. I grab the McGolfer's SuperSeeker with a Digitata 50. I look at the line counter and this fish is 350feet from the boat by the time it stops running. No big deal, I say, until I try to reel the fish in. This fish does not want to move
It would make several smaller runs and it seemed forever to bring the fish within 300 feet of the boat. It dives a little and I slowly bring the fish to with 120 feet, but my arms are now killing me. It would pull 10 yards whenever I would have the fish within 100 feet of the boat. I avoided temptation to increase the drag, as I did not want to pull any hooks. I must thank McGolfer and Captain Eddie for this advice. Twenty minutes into the fight, the fish begins doing circle 30 feet below the boat. We finally see color and it is a very large wahoo. Captain Eddie sticks it with the galf, a second gaff is placed, and a 87 pound wahoo is boated.
Bellyups with 87 pound wahoo
Day 2 ends as a memorable day with a count of 10 very nice hooters, 2 YFT, 2 AJs, several released slot reds, and a large croaker. We also saw a huge mako, roughly 350 pounds or more.
Day 2 end of day picture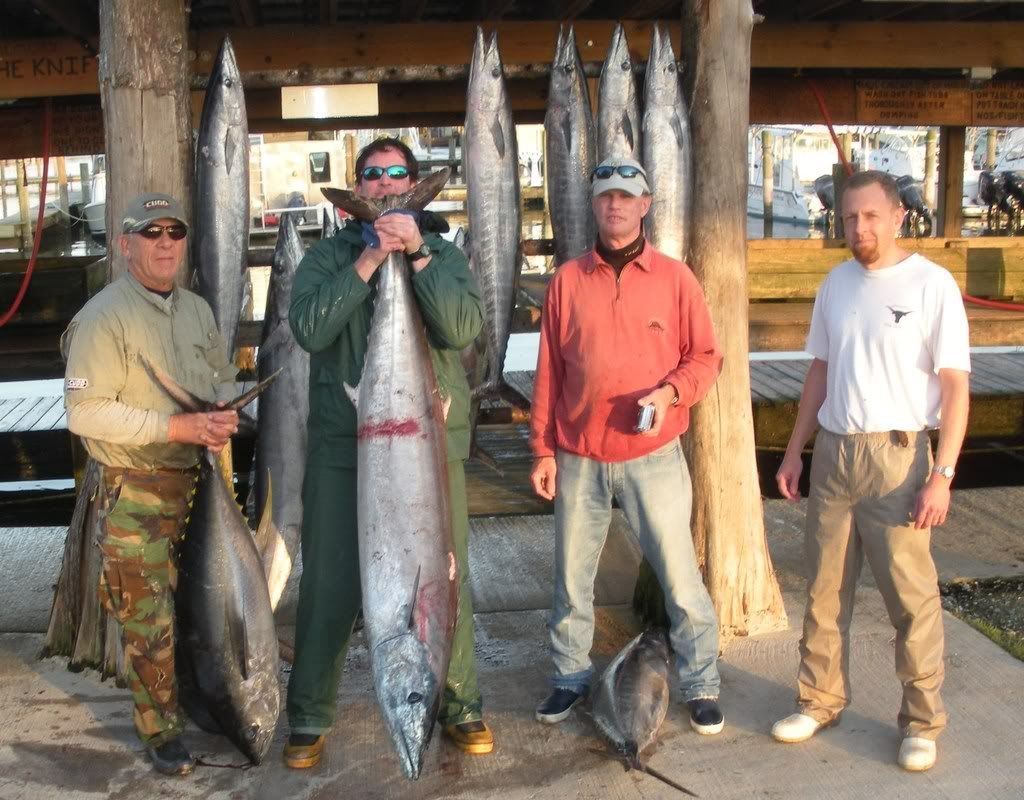 and another pic where you can see all the wahoo (I don't know where everyone went)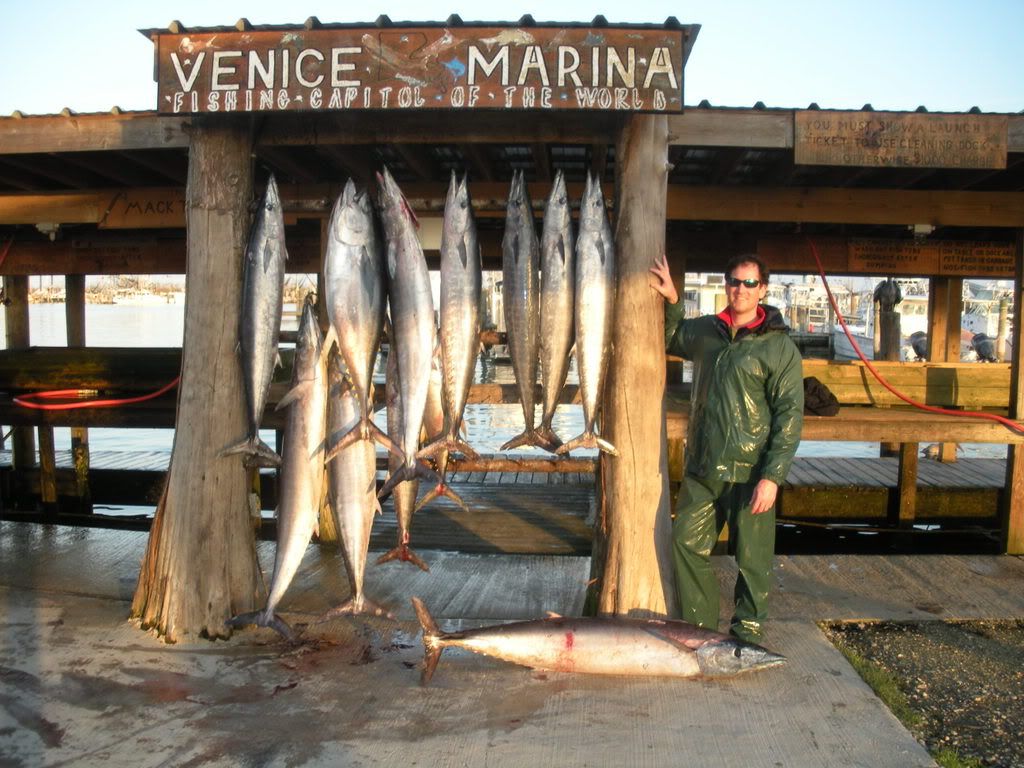 I had a great time and we boated a fish of a lifetime with that large hoo. The company was great and captain eddie did an awesome job. His deckhand Matt also did a top notch job. I thank everyone for this great trip
! Brian, I have no pics of you with a wahoo. I wish I took more pictures.