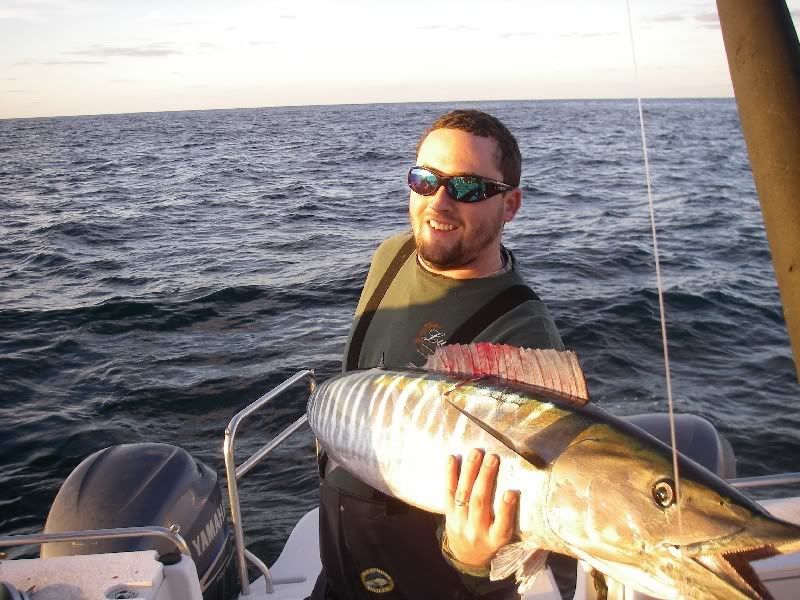 6
Well i finally have a second to give a small report.
We left the dock early in search of wahoo on Capt. Devlins 30ft Glacier Bay. The desc. to chase wahoo was made since the lump has been so inconsistant, and wahoo fishing has been worls class. Well first rig we get to we pick up one in very short order, and we think it will be banner day. The next one would be little harder to come by. We hopped to around 8 or 9 rigs and scratched out 3 hooters with the biggest at around 60 pounds. The first pass would yeild a single fish but no doubles or triples. At one of the rigs we saw surface action so we decided to jig with the setups kevin, bret, and fred brought. Good thing they brought them as we boated 16 BFT between 15-25 pounds. The oti 300 gram jigging rod was a blast to play with them with, The action of the rod produced more strikes than any other rod fished in both days. All tuna were caught on jigs benthos, oti jinkster.
Last rig we stopped at in 210 ft of water to try for grouper. Well this is where its gets interesting. The oti jig proceded to produce 8 more different species caught. The jinkster was killin em. I was wackin the white trout, and this provided the best humor of the day....except the 10 dollar vesectamy.
Me and Kevin both ended up with personal best wahoo.
Pictures are courtesy of Bret