Discussion Starter
·
#1
·
11-26 Tog trip out of Cape May
I left my home around 4:00 am for togging on Wed and grouper fishing on Thurs. When we left Cape May Inlet, bites would be very slow as there were big waves from SW and water was pretty dirty.
When we got to Cape May Reefs, we were the only boat out there. 8*
However to my surprise, we had constant bites throughout the day once we got good bottom. After limited out, we started to release many keepers. I might had about 20 keepers myself. I was thinking about useing smaller jigs, but I kept using crab as it worked so good.
There were all mixed sizes upto 8 - 9 lbs.
Capt Mike hold double header.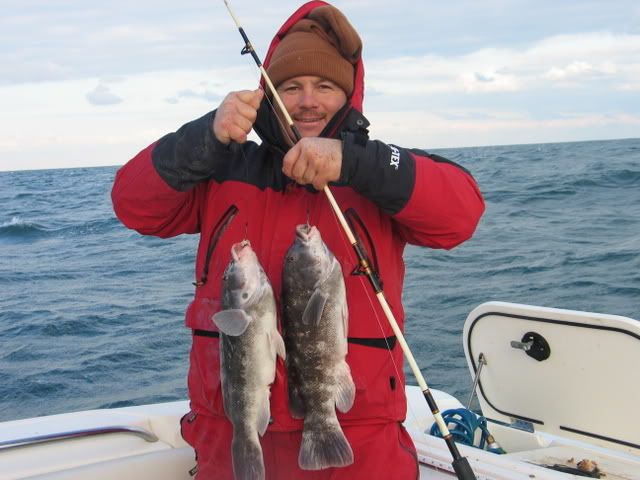 Capt Mike and Willy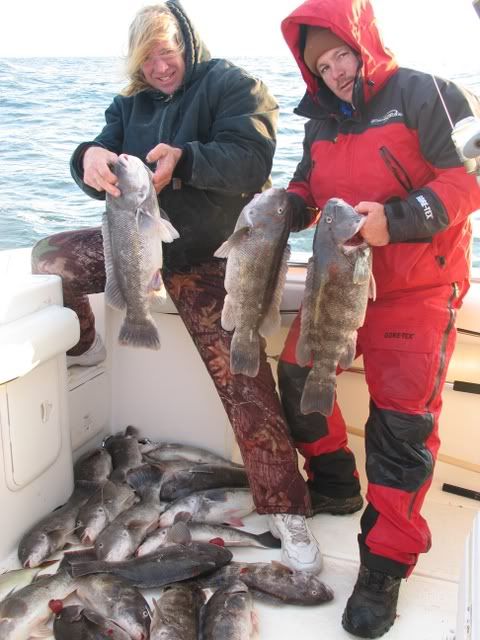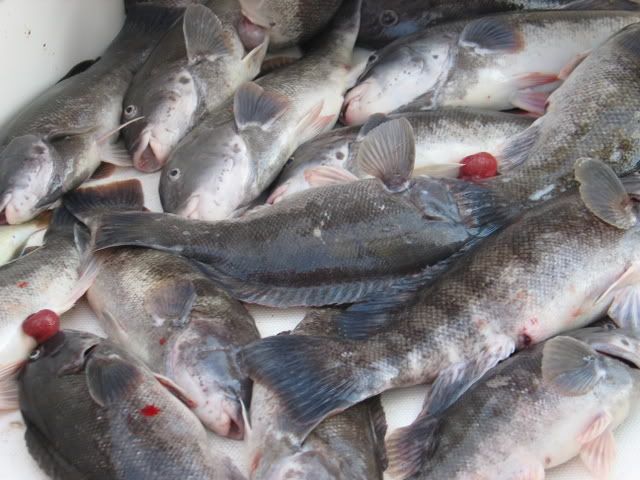 11-27 Grouper fishing in NC
After fishing tog in Cape May, NJ, I continued to drive down for NC.
I arrived at the dock by 4:00 am and had a couple of hours sleep in my car until Capt woke me up around 6:30 am.
When I asked Joe hwo far we go as we left the inlet. He said with a big smile that it is only 8 miles and we catch nice gag grouper within sight of land
I decided not to use my favorite hammered diamond jigs as I wanted to experiment other jigs for grouper.
I dropped 5 oz Octopus jig from Norway. The jigs look good for halibut and grouper as halibut and grouper love octopus.
I had a nice keeper grouper on the Octopus jig on the first drop !
I had two keeper gag grouper and two shorts within half hour.
I thought I finally found a grouper killer jig. But grouper didn't hit the jig any more. They must smelled bait. I had a few pictues of grouper on the Octopus jigs, but unfortunately all pictures were blur.
-my new grouper jig, Octopus jig. I replaced the treble hook and slit ling with Gamatatsu Siwash single hook and Owner split ring size 8.
Next, I switched to 6 oz Shimano Flat- Side jig. Flat-Side jigs work great for me for tuna and cod. It was not good test for the jig as bites were slowed donw considerabley when I used the jigs. I had a keeper gag grouepr on it.
While playing with baits for a while, I used 6 oz Solvkroken Stainless Viking jig from Norway. A friend of mine caught three black groupers upt 55 lbs using 9 oz Solvkrokne Stainless jig on a party boat out of Panama City, Fl years ago.
While casting out and working botom as we do cod jigging, I had a nice keeper gag grouper and dropped a bigger one. So I continued to use the jig until fishing was over. They final tally with the jig was 2 keeper gag grouper and one short.
a gag caught on 6 oz Solvkroken Viking jig.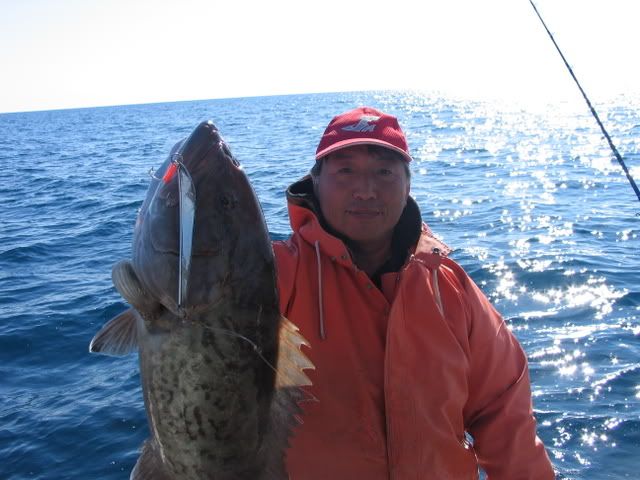 Some say it is not difficult to catch groupers on jigs, but I alwayas have to work hard to catch them on jigs though they really respond to jigs in some areas. 5 keeper out of 8 caught on jgis are not bad, but you know it was not great catch either when you see our (three) catches yesterday.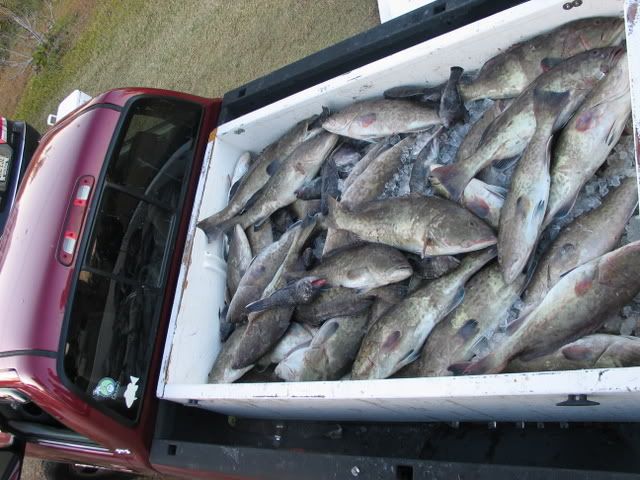 I am going to expedriment bucktaisl for grouper on next trip.