Discussion Starter
·
#1
·
seems like i've been doing nothing for the last few years but work on reels. i can remember a time when i actually used to fish. so rather than spend another day in the barrell, i decided go fishing. screw this, i'm thinking. salmon season opened over a month ago, rockcod season open 2 weeks ago, the big boat hasn't been fired up in 6 months and the runabout in over a year.
tuesday i hooked up the tournament 19 and called up a few friends. no one could come out and play. or at least no one wanted to go out in my 19 foot grady when the 258 was sitting next to the driveway. i spent the day at my kids' track meet and went back to working on reels that evening.
wendesday i crawled out of bed, decided "no reel work today" and pulled the runabout into the driveway to get it bow up a little and give it a bath. funny thing. there was this wierd looking stuff dripping out of the drain plug hole that smelled like gas. hmmm, could this be a sign that the reel gods are angry? last year i was going to sell the boat so i had my local grady dealer pressure test the tank. it got a clean bill of health, but then it sat for a year. well, back to the dealer it went. hopefully it's a loose hose clamp. back home and back to working on reels again. grrrrrrr....
thursday i lined up a full crew for salmon, then switched to rockfish and had two drop out. my neighbor is from mainland china and treats rockfish like gold. i like rockfishing as well. it's the only time i actually get to fish. so it's just the two of us. no problem. i prepped the boat, including a full systems check, loaded up all the gear, bait and ice, then spent the rest of the afternoon at another track meet and then the evening helping my kid with her homework.
friday, 5am, ugghhhhh! maybe i'm getting to old for this stuff. naw, i've got a thermos full of coffee. i'm set.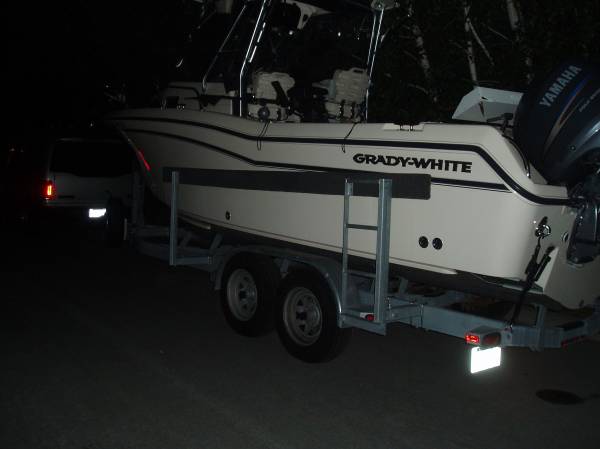 ok, so i missed something. no right turn signal. i can fix that later.
6:30 am, through the jaw of santa cruz harbor. 150 yamaha four strokes, 3500 rpms, 25 knots, 13 gph, running hot, straight and normal. man, it's nice to be on the water again.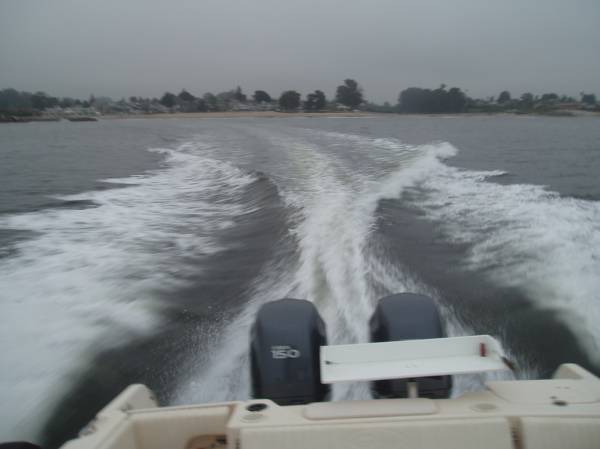 20 some odd miles up the coast and an hour straight into some moderate chop finds us at an old honey hold just north of new year's island, ano nuevo.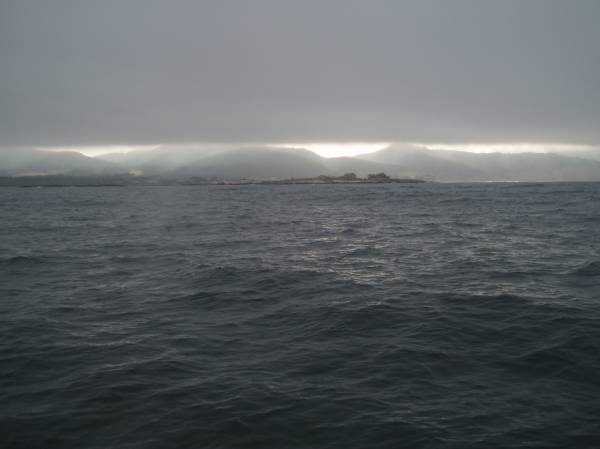 funny, i'm marking fish everywhere, but they're not interested in what we have to offer.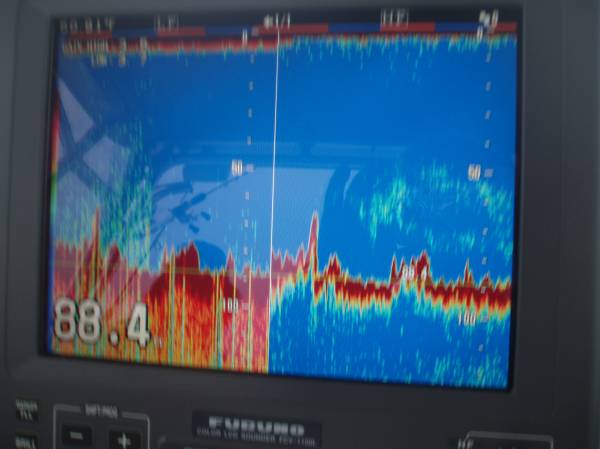 we're casting 3-4 ounce megabaits using with a 1/0 mustad bronze treble hook. it's odd that the #1 mustad breaks but the 1/0 mustad bends. jeff and i got caught in the rocks easily 100 times, and only lost 2 jigs. the reels were a pair of shimano calcutta te 300's and a pair of daiwa laguna 2500 spinner, all loaded with 30# spectra and all mounted on shimano trevala rods. jeff needs a haircut.....
i just need a bite.
actually, jeff was getting a little aggravated. i stuck two nice lings and a cabezon before jeff even got his first bite. he caught up fast with a ling, a cab and a bunch of smaller rockfish. the rockfish bite was amazingly slow. don't know what's up with that.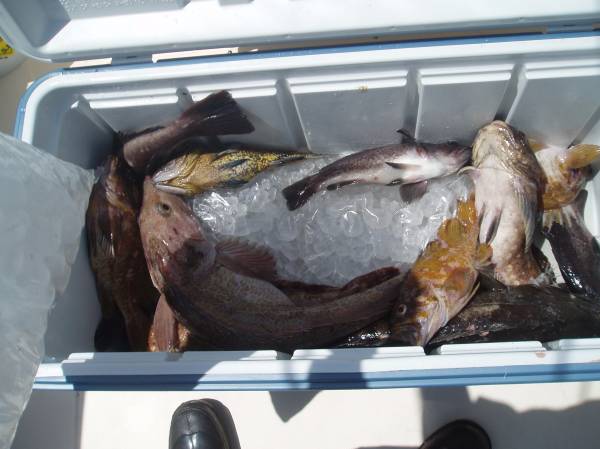 then the reel gods caught up me agian. the port engine would not start. i pulled the cowling looking hoping to find a loose wire and did another quick systems check while on the phone the grady service manager. no joy. we're coming in on one engine, 25 miles downhill, 4000-4700 rpm and 15-18 knts.
back at the barn, we scrubbed down the boat, told our tales of woe to all who would listen, and called it a day.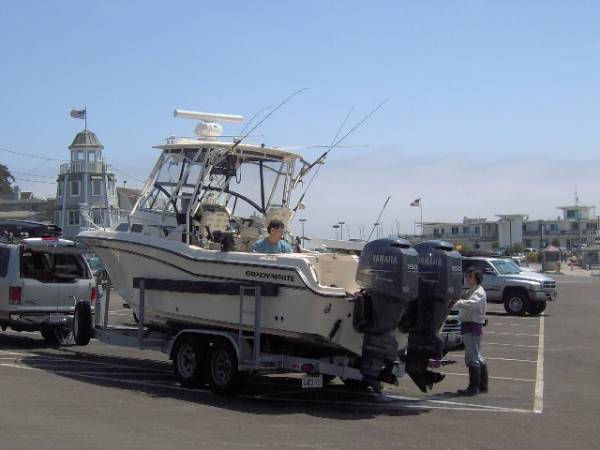 ran into some friends that got blanked on salmon. good try, guys!
when i got home, i threw the cover on and dragged the boat over to central valley marine, and i am now boatless for the first time in 15 years. well, i still have a kayak.
i'm sure the starter on the 258 journey will be covered on warranty, but i just found out that the tournament 19 has a leaking fuel tank. it's going to be expensive, but i'm putting in a new fuel tank. i'm glad this happened before i sold it. i would have hated to have someone else have to deal with this. after this is done, this 1991 grady white tournament 19 is for sale. the only thing left of the original purchase will be the hull. you know, i actually should just keep it......