Discussion Starter
·
#1
·
I wanted to say thanks for all the knowledge I've received from you guys. Although I haven't posted much I have done a lot of searching/research. So thanks!
Here is my report:
Due to the forecast we decided to try an overnighter to Mississippi Canyon Friday 4-25/Saturday 4-26. The weather did not cooperate, but we were already too commited to stop. We drove down to Fourchon watching stiff flags and white caps in Bayou Lafourche. Met up at the launch and went to see how bad the gulf was. We made it about a mile from the rocks and it was as bad as everybody said. We motored to the outside of the West jetties and anchored up to spend the night and try for some trout. Nothing. We deployed a hydra-glow type light after dark and it didn't really produce anything either. Since the catching wasn't any good I decided to get a good nights sleep and plopped on the front deck dressed in my frogg toggs and got some rest. We were all awoken at 5:30am by rain. The good news was the wind had died! We situated the boat and took off for Missippi Canyon aiming to fish for grouper and AJ's. At first we were greeted to rollers and we were able to make 30 knots. Around the time we made it near the "LOOP" the seas kicked up nasty. We were taking a good licking and decided to try the Grand Isle blocks just south east of the loops. The rigs were in 150' +/- of water. First rig we drifted by was red snapper after red snapper. We left that one and got on a hot bite of amberjack. They were all small as to be expected in such shallow water, but it was a blast catching them on jigs. It was one drop one fish action. We put our limit (5) in the boat and headed to another rig. More snapper and more small AJ's. We put a nice lemon in the box and missed a larger lemon at the gaff. We tried one more rig and more endangered red snapper. We called it a day and headed in. Fun trip. We talked to several divers at the launch who dove in the South Tim blocks. They said every rig had schools of hundreds of red snapper with many being in the 20#+ size. Sure wish they would let us just keep out 2 fish all year long!
Pics below.
Gary
Dad with a NICE white trout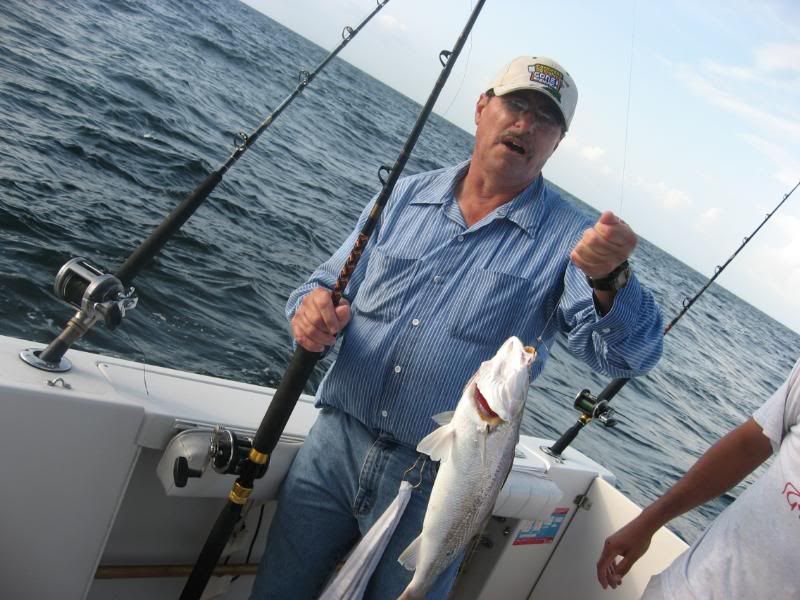 Dad hooked up
Dad with a keeper
Cody hooked up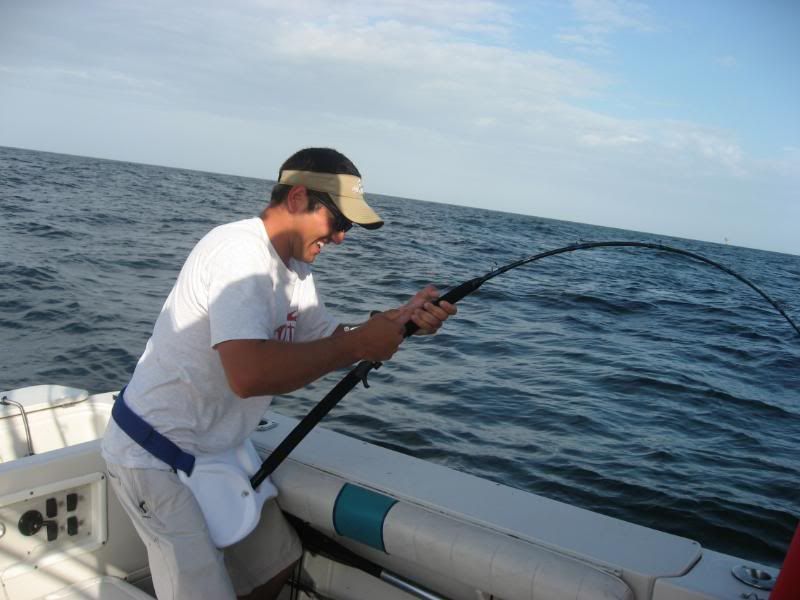 Cody with another keeper
Jay with a throw back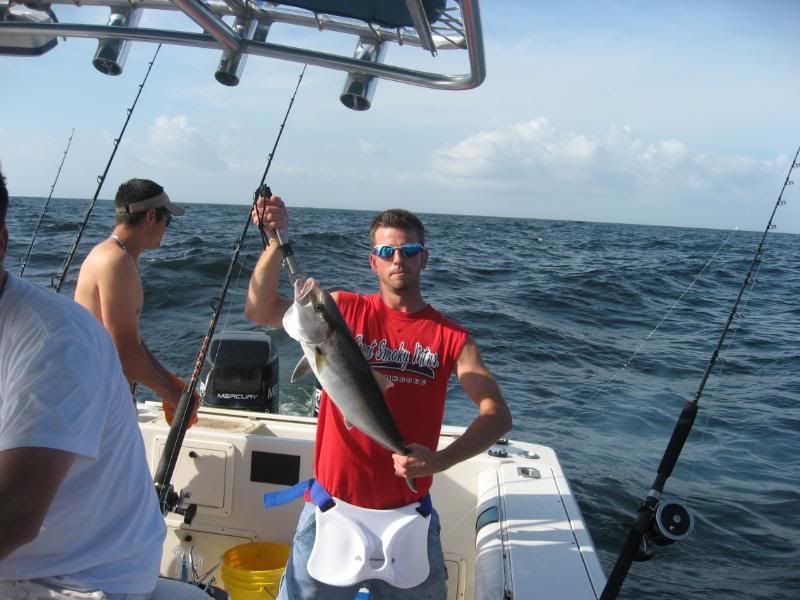 Cody, Dad and Me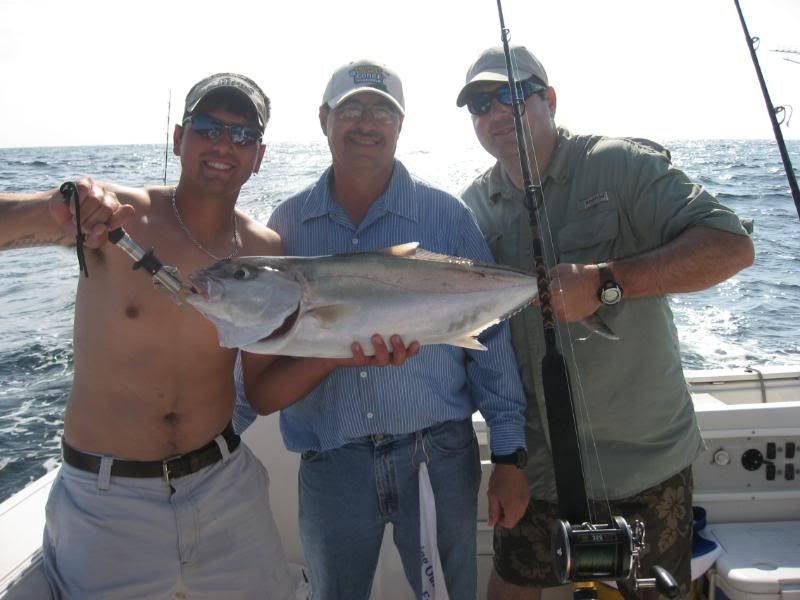 Dad with a nice snapper
Me being seasick (only kept me down for an hour)
After getting off the deck caught this nice lemon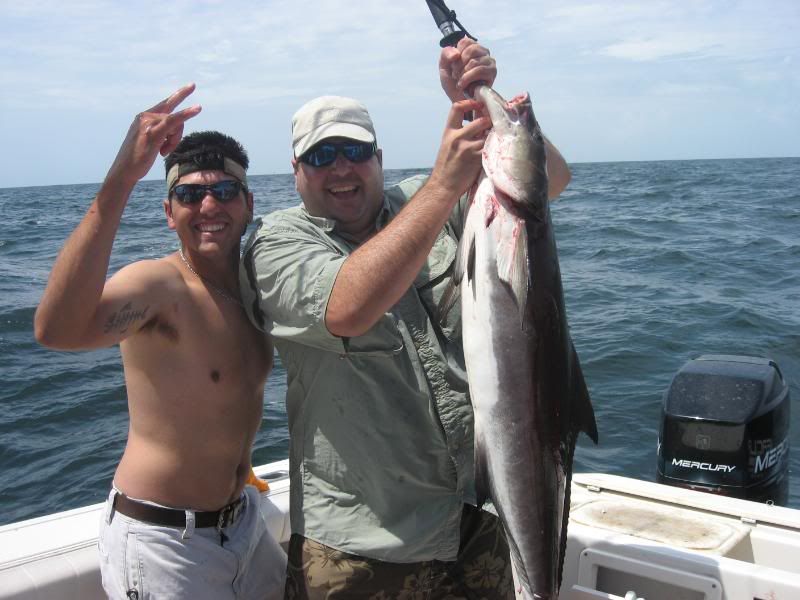 Our catch
http://i120.photobucket.com/albums/o166/gmack7277/IMG_0282.jpg
One more of the lemon (I need to start working out.....this one was about 30# as it barely maxed out a boga grip and I'm struggling to hold it up!
http://i120.photobucket.com/albums/o166/gmack7277/IMG_0284.jpg
Me losing a nice fish (stupid knot came untied)
http://i120.photobucket.com/albums/o166/gmack7277/th_Dammit.jpg
Cody landing a keeper
http://i120.photobucket.com/albums/o166/gmack7277/th_ThatsaKeeper.jpg