Discussion Starter
·
#1
·
To start off with, Chuy Gorrillas is the best panga capntain I havve ever used!
We left Marina Vallarta Sunday morning to Punta Mita to meet Captain Chuy.
We made our way out just before the sun started to hit the top of the mountains.
About 1/2 way to Corbatena we stopped atsome kind of big pallet floating to cast a few poppers. My first cast with a Frenzy popper yielded about a 25lb Bull Dorado, no shortage of acrobatics. My dad then caught his girlfriend on the next cast with and OTI Komado. Bam, 2 fish in the box on 2 casts.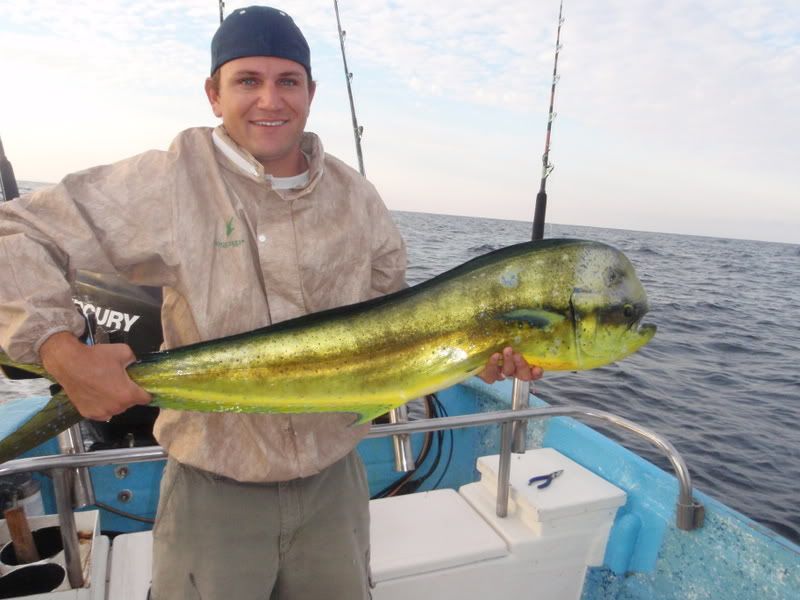 We cast a few more times with nothing to show and decided to push on in search of the tuna.
We make a fast run the rest of the way to Corbatena.
We pulled up to the Marla as Danny had brought bait out for us.
While we were picking up cabbies there was tuna and skipjack busting the surface everywhere.
I started casting my popper and on cast number 5 I have a blow up then a hook up. I put the first tuna in the boat after 5 mins. Small 30#er.
We put 2 more 25-30# range in the next 10 minutes.
We casted and jigged for another hour or so with nothing to show. We decided it was time tp put out the cabbies.
we set up a drift and put out the kite with a pair and put out 4 live ones on flat lines out the back.
It didnt take more than 10 mins for the first rod to go off. We had taken our own tackle and it was my dads rod that went off. As he is getting setup with his harness the next rod goes off. My dad buddy jumps in the chair and starts getting a workout as the tuna was hook on an Avet LX and a trevala rod.
Dad is making circles around the boat doing the Tuna shuffle. THe second tuna went into death circles almost immediately... We couldnt really move the boat to chase the other tuna down.
Finnally after 30-40 min tuna 1 hits the deck. Wieghed at 90#. Sweet!
Everyone was excited until my dad yells "there is only like 50 yards left on my spool!!!!"
Chuy turned the boat around and started chasing. We go a good bit of line back and the tuna turned to circles. Dad put the reel in low gear and started pumping him up. By this point he is sweating so much and breathing hard I am worried he won't make it through the fish. At one point he looks over and says "you're going to have to take this in a min." I told him there was no way. He was gonna fight the fish on his own.
After 15 min more we had color. It was big! Real Big!
The tuna made 2 more small runs before hitting the surface and having a gaff in his head.
We were all yelling and hollering for a while. Very exciting...
The fishing was slow for a few hours. I caught a couple skippies jigging and we tried chunking them for a while but we couldnt get anything to bite.
We drifted by a big log and hit a few more dorado on poppers but still no more tuna.
Chuy finally decided that there was probably not going to be much action at about 4. We need more ice for the fish anyways so we headed in.
At the panga marina people were all wacthing as Chuy and the deck hand started to unload the cow. Amazing sight!
Monday, our second day of fishing we had to find the meat market on the way to Punta Mita to have our previous days catch vac sealed and frozen. Everyone wanted to take some home.
WE got to the dock about an hour late.
We headed straight out to Corbatena and put out the cabbies. First hook up was on the kite.... Two dorados on one rod. Pretty cool to see them swim in unison as the were brought in.
Next one of the back lines went off and I grabbed it and yanked up a nice 80# tuna. OK we are back on track. Wrong. We only had one other tuna the whoel day around 25#. We fished very hard with not a lot to show. Then at the very end of the day we found a bunch of birds working. My brother got a taker on a live cabbie and I started casting a popper. Had a big blow up!
Thought I had a little tuna and it ended up being my personal best Dorado.
My brother pulled in his personal best tuna at 80#.
This was an awesome trip for all of us. Everyone caught fish and Dad caught a by far personal best YFT.