Here In Puerto Vallarta, it's no secret that when springtime rolls around the fishing picks up tremendously. When the water temperatures start to rise in May, June, and July bait fish come to our shallow waters here in the bay. This gives the anglers fishing the bay and offshore fishermen an equal chance to load the boat up with some big hauls for fish. Let's take a look at what we will be fishing for here in the Month of May.
When the water temperature reaches 78 degrees the fish move into the bay following the bait fish. Just to mention a few are mullet, goggle-eye, ballyhoo, shad, and some larger bait used for offshore fishing. To get the most out of your Puerto Vallarta fishing trip be sure and have the proper fishing rigs. We like to set up for several kinds of action before heading out to the close fishing areas. There will be numerous chances at casting as during this time of the season we are more likely to see schooling fish than not. This type of fishing is enjoyable for all fishing anglers that can cast. The will be many chances at live baiting her in the bay and offshore. The fun thing about live baiting is never know what you are going to catch. Once we deploy live bait you just don't know what might strike the line. There will be sailfish, yellowtail,tuna,mahi-mahi,roosterfish and many more pelagic fish during the month of May. We love to rig up some of the light tackle for bay fishing and keep a couple of larger rods and reels ready for when the big game fish show up. Trolling and jigging are fun ways to fish here in the bay. The Nuevo Vallarta area is fantastic for bottom fishing as well. There is a huge river that feeds into our bay with fresh water. The has an effect to attract all kinds of bottom fish. We don't do a lot of bottom fishing as most fishermen want to troll for big-game. We are more than happy to do both if folks will let us know in advance.
Here are a few tips we e every day. I often get asked how we find the fish every day. One of the best ways is chatting will all the Captains that work with us and finding out about their catches the days before. We fish every day and have a good idea will the fish will be biting either inside the bay or offshore. I personally keep an eye on the weather conditions, water temperatures and thermocline beaks, and water clarity. All of this info is shared before the clients even step onto our boats. If you find the bait movement, the right water clarity and the temperatures you will be on the fish. Be sure and ask about the local tides . This is one of the factors that can decide if the fish are active or not during your fishing trip.
In the spring months, it's not uncommon to find off-color water conditions. With the warm water and cool water fixing in the bay this has to turn a hot spot into an average fishing spot. When we encounter these conditions we usually just change our fishing location if time permits. It does not happen often, but can happen in the spring season. Spring month brings more fish, but can offer some downtime when finding off-color water and cooler water conditions. Remember in our last fishing report I explained how conditions can change with a drop in the water temperatures. Fish like certain water temperatures just like anglers like when taking a bath. Different species like different water temperatures. Not sure what to fish for the spring season here in Puerto Vallarta Mexico? Just ask one of our pros on a toll-free call 800 4306048
Need help on which boat to take for your upcoming trip, we are just a phone call away. Don't be afraid to ask questions before your trip. The more you know before the trip will increase your chances of having an excellent day on the water.
Just a few of the tricks we use every day when doing our best to put clients on fish. The water temperature. sonar, making sure the water conditions are right before we start fishing a certain area, checking the tides, and more importantly knowing what all the boats we have done the day before. With this info, we can guarantee our clients a fun day on the water with some nice catches
Be sure and check out our availability before coming down with a phone call or email as I said we are on the water every day and only have a certain amount of boats ready each day.
Fishful thinking and remember money can't buy happiness, but it can buy a fishing trip with us here in Puerto Vallarta Mexico and that's about the same thing.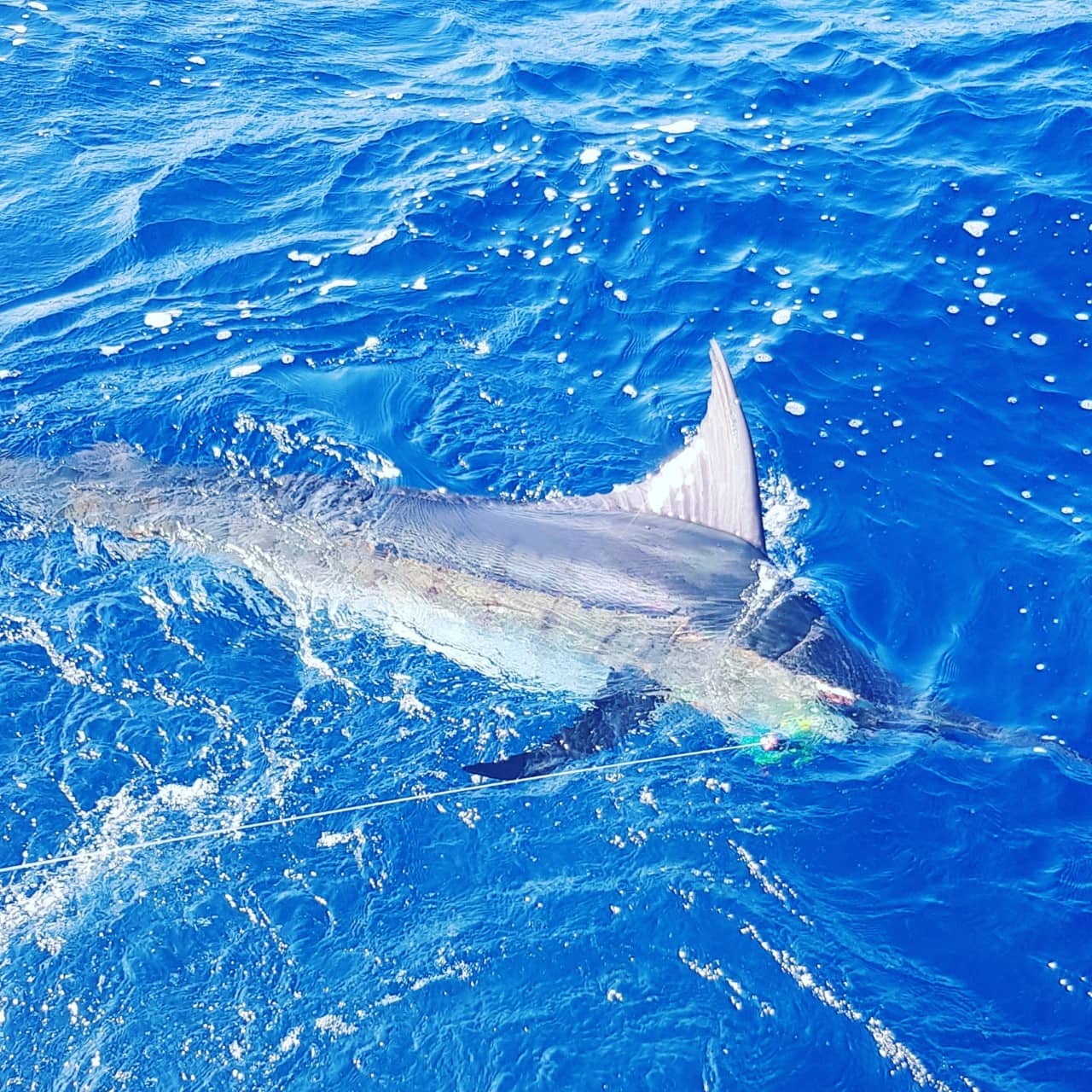 Puerto Vallarta fishing charters catching marlin, sailfish, tuna, mahi-mahi all year round inshore and offshore. www.travelvallarta.com
Capt. Pete and crew