Discussion Starter
·
#1
·
I couldn't resist a deal at my local Cabelas today, a Penn Torque Rod, model #TJ8013C58, which is their heaviest jigging casting rod, rated @ 80-130lb test, and jigs to 300grams (or about 10oz). It was only $79.99 after coupon.
Before buying I took this rod and compared it side by side to the Shimano Trevala TFC58XXH (rated for 80-200lbs line and jigs to 270grams), which I believe is Shimano's heaviest jigging rod.
After about 15 minutes of playing around with them in the store aisle, I realized that the Penn has very slighly more backbone and perhaps a slighly faster tip. The differences where very small, but the Penn retailed at half the price. I then compared them to the older model Shimano Trevala TVC58XXH. Both the Penn and "TC4" Shimano where noticably heavier rods. (not in oz, but in their ability to handle drag)
Anyway, after our first CT dusting of snow, I hit the deck out back. Here is a picture of the Penn Torque rod handling 26lbs of drag pressure. (as measured by a Manley Brass scale)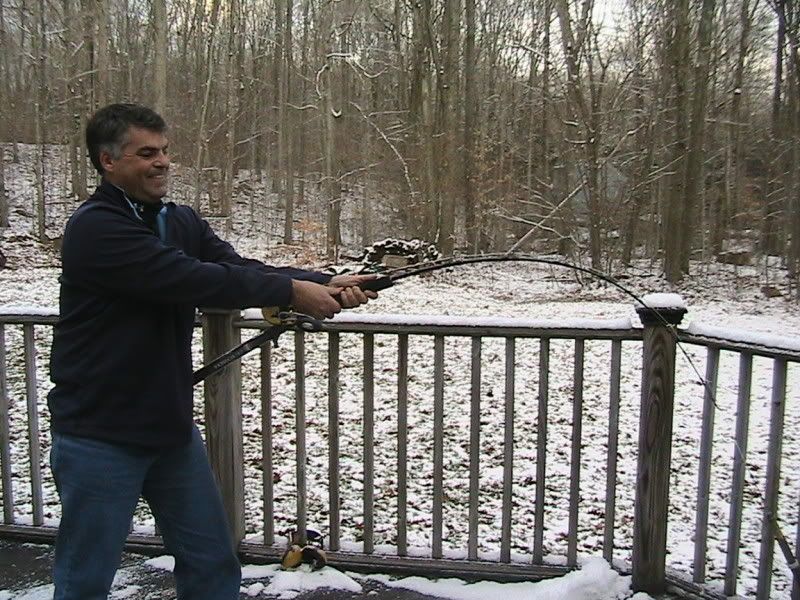 Thanks to KilSong and others here I've started to think about jigging rods and what I want to do come next Tuna season. My passion is fishing the Northeast canyons for Tuna (and Swordfish). We troll, but always do the night chunk and I don't thing we jig enough.
I think I know myself well enough now to expect this will be my first (and surely cheapest) jigging rod of many. Once I get a better feel for how this rod performs, I hope to have a better idea of what I should buy next. (i.e. 500gram?, acid wrap? etc etc etc...)
Anyway, thoughts, comments, criticisms are all welcome.
John