Discussion Starter
·
#1
·
I ran a couple overnighters this weekend on the glacier bay. The weather was less then perfect but the fishing was ok. I started off the Chris Ferstl group trolling for wahoo and dolphin. We had an ok start with two dolphin and one wahoo before teh sun went down. The big dolphin and the wahoo bit on a pink stretch 30. We headed on out to a floater to find some yellowfin jumping and plenty of sharks eating everythign we put in the water. We caught a bunch of blackfin here on shurlure jigs, action jigs, and ocean tackle international jigs. We had enough fun with the blacks so we headed over to the west a little and the first chunk in the water yielded a nice yellowfin of about 40 pounds. Then the sharks showed up and we couldnt get a bait in the water. I put the lures back in the water and one of our anglers Granger caught her first yellow of about 50 pounds. No more hits on teh lures so I contined on to the west. The drillship was where it was at though for fishing. Not that the bite was that great but there were NO sharks there. We did pick up another three yellowfin all around 50 pounds though to finish up the night with five yellowfin, two dolphin, and a wahoo.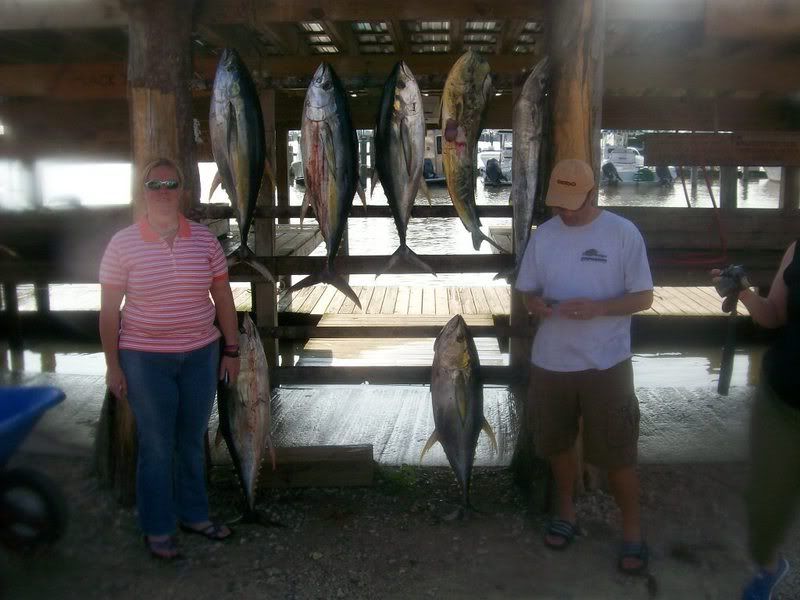 I ran another overnighter on saturday night with Scott Ervin and the weather was a little nicer with big long spaced out swells. We headed straight out to the drillship and proceeded to get on a nice troll bite. We missed a couple dolphin and then we had a good hit on a blue/white black hole. There were two english guys who fought this fish and they had never had anything like this fish on before. They did a good job though and had the fish to the boat in about 30-35 minutes and I popped the gaff in a 130 class yellowfin. No scale to weigh him though as it was being repaired.
We continued to pick away at the dolphin before dark hit and we started to chunk again. Scott hit a 90 pound yellowfin instantly on chunk and then one of the englishmen had a stud yellow on a feather jig of all things. We fought both fish for a while but only got the one hooked on a chunk into the boat. The sharks came back again so we went to the drillship to fish. I put out a live flyer here and managed another 90 pound class yellowfin that completely kicked butt on Scotts brother. We drifted behind the drillship to relax for a second and a school of dolphin showed up A little chaos is always good and at teh end of the flurry we had popped another five dolphin into the boat. One more 50 pound yellowfin on a chunk and we had a full box of fish and a tired crew so we headed on in with nine dolphin and 4 yellowfin.