Ran three days this weekend. Friday just sucked. It looked like a lifeless ocean. We ran out to the east and couldnt find any live bait. That left us jigging and chunking as our only options. The shulure jigs worked well as we jigged up about 10 yellows and blacks. The were all 5-8 pound fish though so most of them we let go. We did manage to chunk up two 30 pound yellowfin before we called it a day and headed to the house.
On sat we ran out to the south with the hope of finding something. we did at least catch some live bait today Which did not help at all as the only thing that ate it was a 10 foot long dusky. He went home that night with at least four of my hooks in him. Our first fish in the boat was a 35 pound yellowfin that Joe caught on a popper.
We decided to chunk around 11 since the live bait wasnt producing. We instantly had a pod of yellowfin pop up in the slick along with our friend the 10 foot shark. I hooked him to keep him busy while we fed a couple chunks past him and doubled up on the tuna.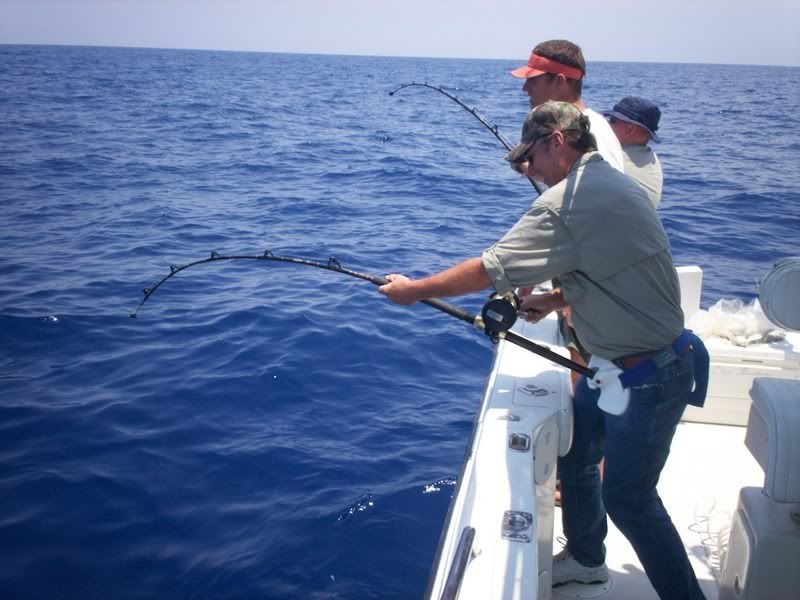 It was kinda funny. While I am pulling on the shark he was just swimming around and still eating chunks. He acted like he didnt even know he was attached to a 50 wide.
We made a couple more drifts and managed to land one more yellowfin and got lucky and put a wahoo in the boat on 50 pound mono.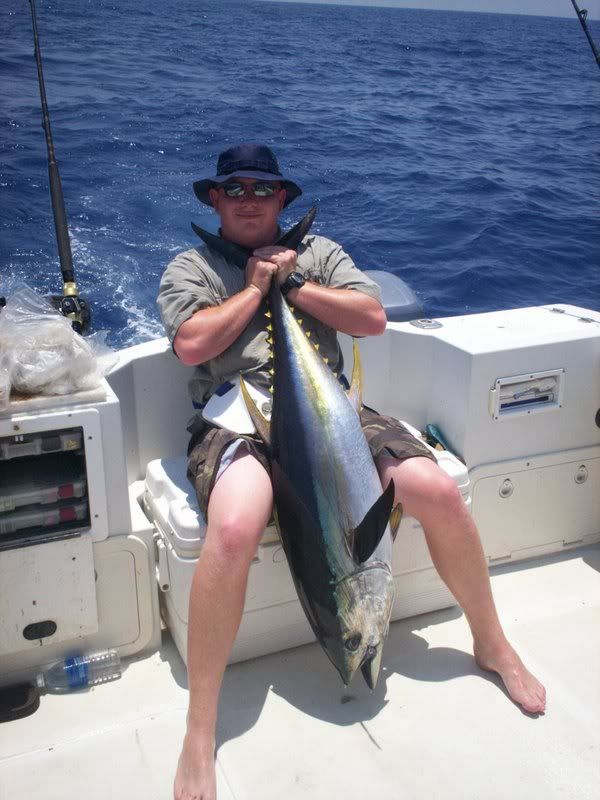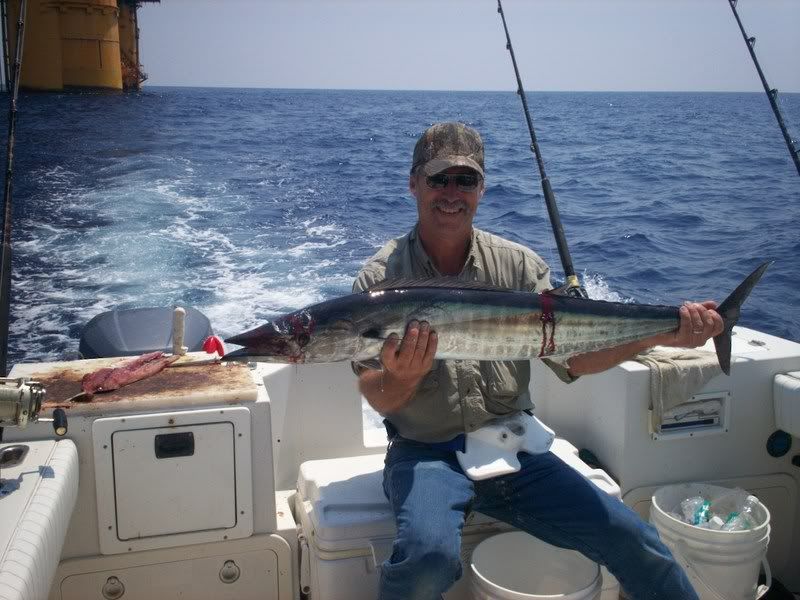 I made a trip on a private boat With Jimmy Peek and his son Darrell on sunday out to the floaters. The guys had fished the day before by themselves and gotten skunked so I had to find some fish today. We started off around 50 miles south of the pass and the first drift with chunks Darrell put about a 45 pounder in the box. Since the fish have been so finicky I was using 40 pound leader and 5/0 hooks which proved to be a successful combo. We then proceeded to lose the next two fish to popper leaders which is the risk you take with light line.
We got another good hookset about 45 minutes later and Darrell managed a 50 pounder this time. Since they had enough meat at this point I moved over to another rig to explore and it was game on here. Darrell and Jimmy doubled up on some nicer fish. Jimmy put his in the boat in about 40 minutes while Darrell's took closer to an hour before we planted the gaff in a 100 pound class fish caught on 40 pound leader. We called it a day after that and headed to the dock around noon.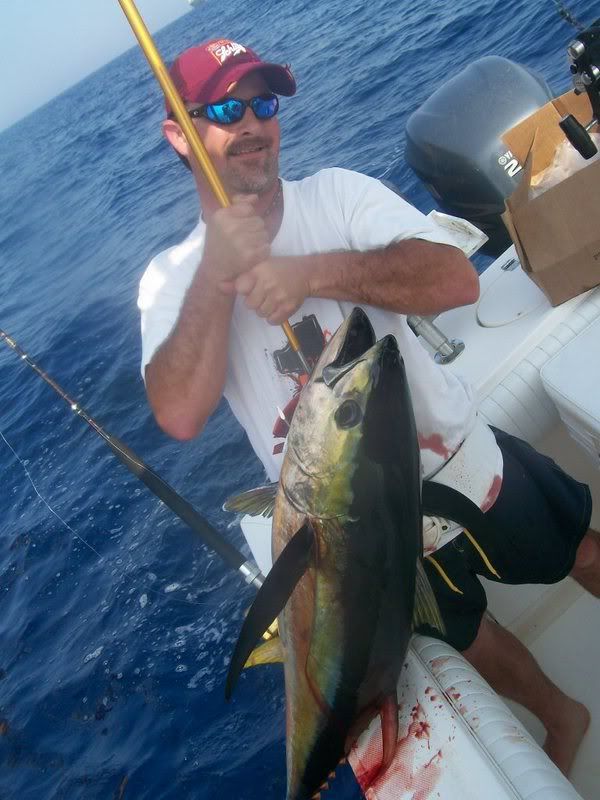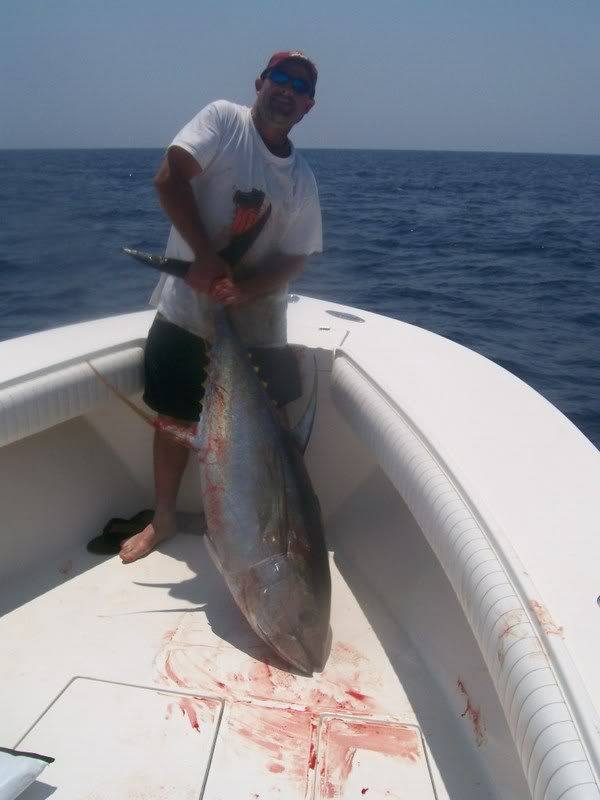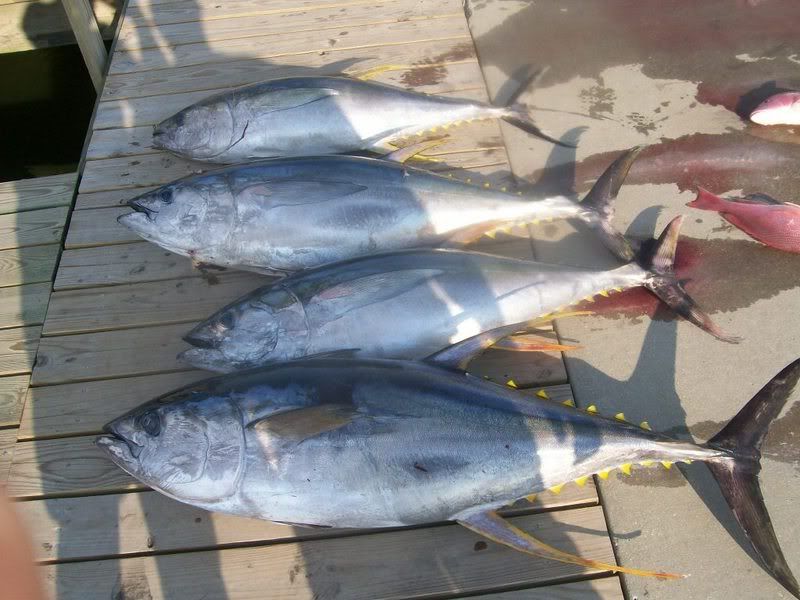 http://img.photobucket.com/albums/v473/mangosnap/summer07021.jpg