Discussion Starter
·
#1
·
This is a report typed up by my friend Ron since its more interesting then mine I'll use it.
I went along with CaptEddie on a private boat trip he had arranged with Todd the boat's owner. Other boats had made some succesful sword trips in the last two weeks, so Eddie, just back from his moneymoon,er honeymoon, HAD to go, weather forcast was so good we figured it would end up being OK, wrong on that count. It was actually too good, dead calm, slicked out. We drifted, in some strange meandering circles that night. We pulled out of Veince Marina at 2PM and after arriving a rig we got into a really hot tuna bite putting seven (40-60#) in the boat and loosing two by me, one joking around on the take the other a bird nest on the take. I took some abuse for that. Todd ended up "mack daddy" in that phase! On to the sword grounds still daylight, where we hoped to blend our great start on the tuna catching right into the sword phase. Didn't happen. We had to wait till after dark, actually till 7:30 before our deep line got nailed. Oh boy here we go, oops somebody forgot to close the snap. Wait that was me again! LOTS more abuse. OK guys, lets forget that and focus on the fishing. That didn't happen either, I had to wait till somebody else messed up, well that didn't happen either. Lucky for me it didn't take too long before one of the shorter ones went off, the 200 I think, then the 150, then the 100, then the 150, or whatever.By the time our 15 baits (Eddie that's on you) got wore out we had 5 caught. Bad news is all were small, after we had two in the box, we released the rest. We didn't get THE fish we hoped for but it was a really fun trip with lots of action. Thanks to Todd and Eddie. As for me, once you "do" a goat you are going to be known as a goat "doer" for a while, that is till you do a sheep or something. Funny how that works. Todd and his dad hopfully made it safely back to Atlanta with their boat and an whole bunch of fish. I can't wait to get back out there on the night shift and get to work on some more swords. We have lots more places to check out. Hopefully, soon it will be, "Let's go, they are getting away"!!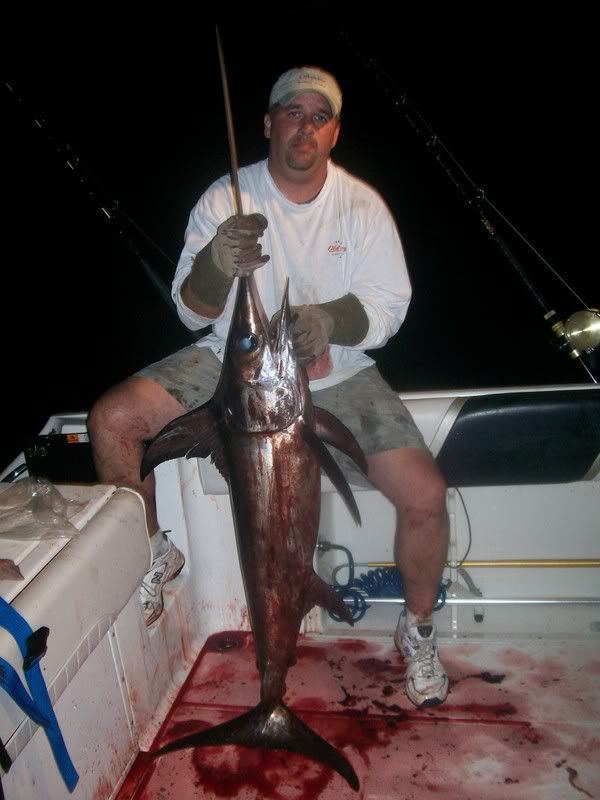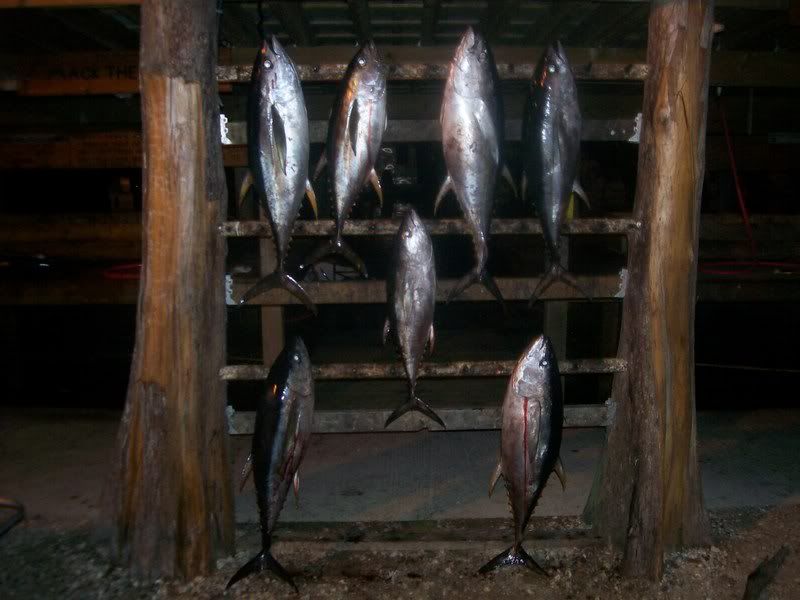 I also made a tuna trip on monday the weather has been as calm as it could be the last few days. We started out trying some nearshore rigs for tuna and they were there but they wouldnt eat. We decided to head long and found the fish there as well. IT started off slow and we picked up one 65 pounder about 10 in the morning. We stayed there another hour or so and watched fish jump all over the place. We moved again and found the fish willing to bite we made three drifts by the rig and hooked up four yellowfin and landed three. We had full boxes at the point so we decided to take a nice leisurely ride to the dock.