Discussion Starter
·
#1
·
Ran a pair of overnighters this weekend. One was targetting swords and the other was on yellowfin. The sword trip was with Jimmy Cambell, his son Vincent and a friend Whitt Smith. We hit a floater on the way out to try for a tuna and all we managed was a 30 pound bull on a swimbait. Normally a great fish it was definitly made to look small the next day. With no tuna in the box we set up the lines to sword. Not much was going on as we had a few squid, flyers, and hardtails come up behind the boat. Around 1130 we made a move to the east and set up another drift. We instantly had squid and bait behind the boat and about 30 minutes later we had a knockdown. The fish looked like it hit the bait and left so I started reeling it up and saw my green light coming up on the surface 15 feet from the boat. I was thinking that looked wierd because the green light shouldnt be up that high. Then I saw the light start moving and looked behind the light and saw a sword about 15 feet from the boat. We came tight on him and he jumped once and then acted a little confused and I actually had time to get the weight and ligth off the line and we had the snap swivel at the tip. While I tried to get the harpoon ready for a quick shot the sword took off straight down and about 300 feet down the hook pulled. That was quite a bummer.
We drifted about another 2 hours with no success before we rolled south for the morning tuna bite. Right before daybreak we picked up two fifty pound yellowfin and a 30 pound blackfin to add some meat to the box.
On the way back to shore I spotted some whales breaching the surface so we slowed down so they could see them. Jimmy took a cast with the panther martin swimbait and he said he hooked a big bull. Fine and dandy I got a quick look at him and figured him for around 40 or so. Jimmy handed the rod to his son Vincent who fought the fish like a pro. The fish never jumped one time and after a 30 minute battle I stuck the gaff into the biggest dolphin I have seen.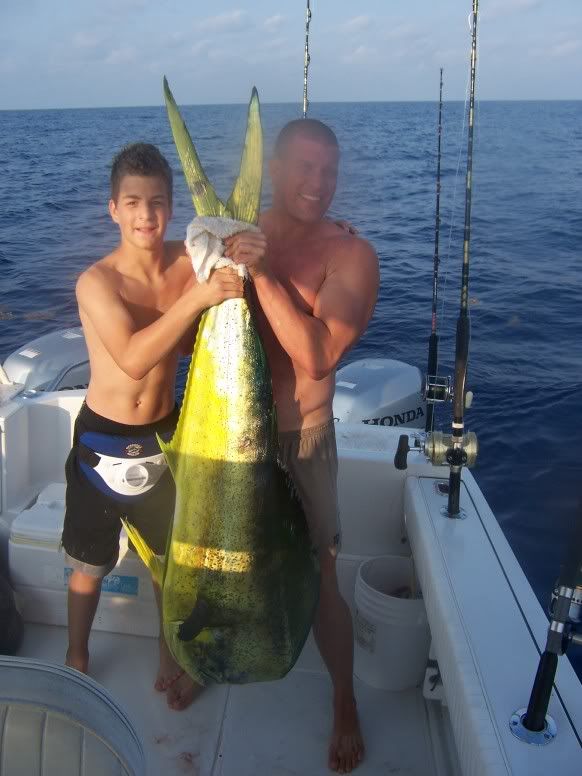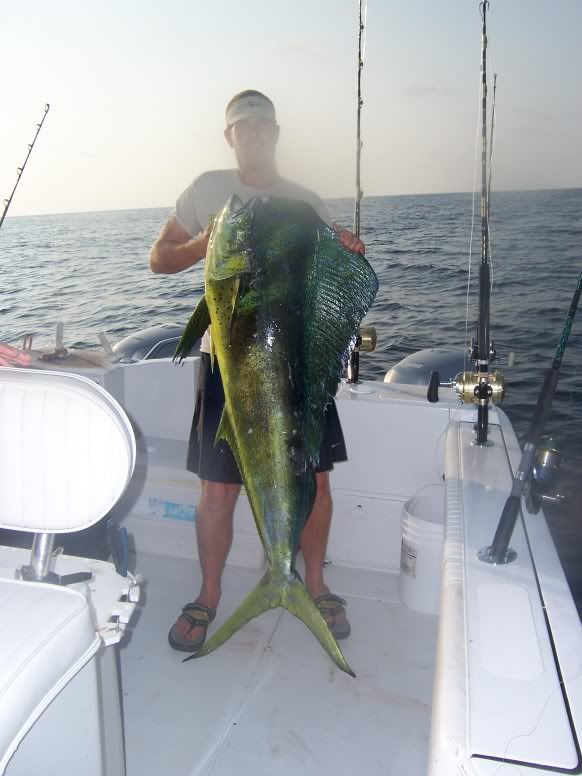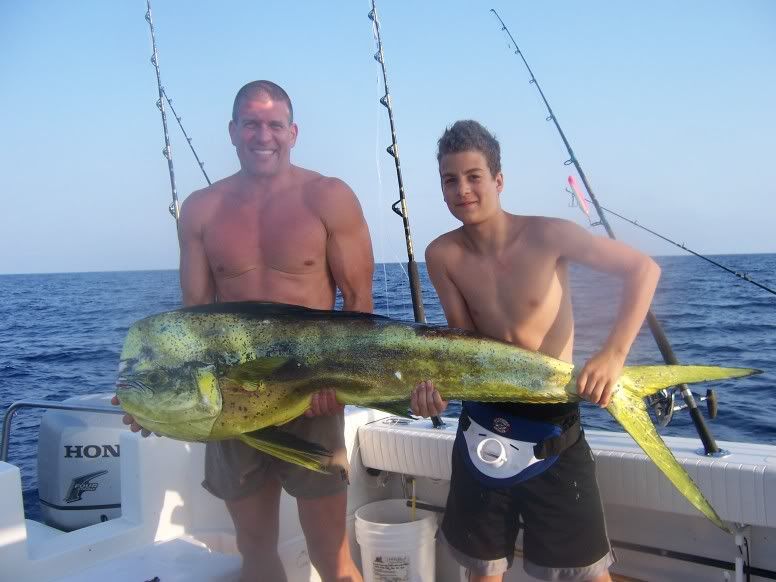 A couple other cows followed her up and we popped two more in the boat before we headed over to do some rig fishing. We put a couple almacos in the boat and headed to the dock. At the weigh station the dolphin weighed in at 55 pounds. Personal best for my boat and I told Vincent he would have a tough time catching a bigger dolphin in his life.
We ran an overnighter with David and Tom Hillard, Ben, Tim, and Mark on the glacier bay saturday evening. We left the dock at 7 in the evening and ran straight to the floaters. As soon as we got there we put three and a half yellowfin in the box on chum with the first 4 baits in the water. At that point I thought it was on but we had no action for the next hour which almost caused me to leave the rig. Then I made one more drift and we hooked a double and saw the tuna swimming all over in my chum slick. We made another drift and instantly had another double hooked up. I saw some more down there so I took down a bent butt standup 50 and threw a bait out and watched a 40 pounder eat. It was no match on that tackle though and we boated it in less then a minute. Threw another bait out on the 50 and landed another 40 pounder in about 2 minutes.
We still had the original two hooked up on the 30s though and we stuck two 50 pounders in the boat. That was total chaos with 6 yellowfin boated in less then 10 minutes.
They slowed down again though and we put another 40 pounder in later and then I happened to hook a 25 pounder on a jig while trying to catch more blackfin for chum.
About 12 we had the box full so we headed to the dock with 11 and 2/3 yellowfins.