Discussion Starter
·
#1
·
I have been fishing every day this week. Luckily the fish have moved off the lump and onto the floaters so NO MORE ANCHORING yippee. With that in mind the average fish size has also dropped. We caught plenty of 30-40 pound yellowfin this week with a few bigger ones mixed in. On Tuesday I had Scott Mclemore on the contender. We hit the lump early with no luck and then headed south to a floater. It was on there at first. The first four chunk baits in the water yielded four yellowfin. Two in teh 60 pound range and two in teh 30 pound range. We fished for a little while longer and picked up one more 60 pounder before they shut off. We also jigged up a number of blackfin on some new jigs called shulures they are about a third the price of some name brand jigs and work just as well.
The next day we decided to completely skip the lump and just head on out to the rigs. Same thing as the day before they were on fire when we got there as we popped fish in teh boat on the first four chunk baits again. Another pair of 60s and a couple 30s. After this the action slowed so we moved to a different rig.
There wasnt a whole lot of activity here but we tried anyway. I am testing out the shulure jigs for the company so we tried hard with them here since we were marking a few fish deep. It took a little effort but we managed to hook up and land two yellowfin in teh 35 pound class on teh jigs. We also did one more on chum here to put our total at 7 for the day. On the way in we stopped by another rig and caught one more on chum and called it a day with eight yellowfin.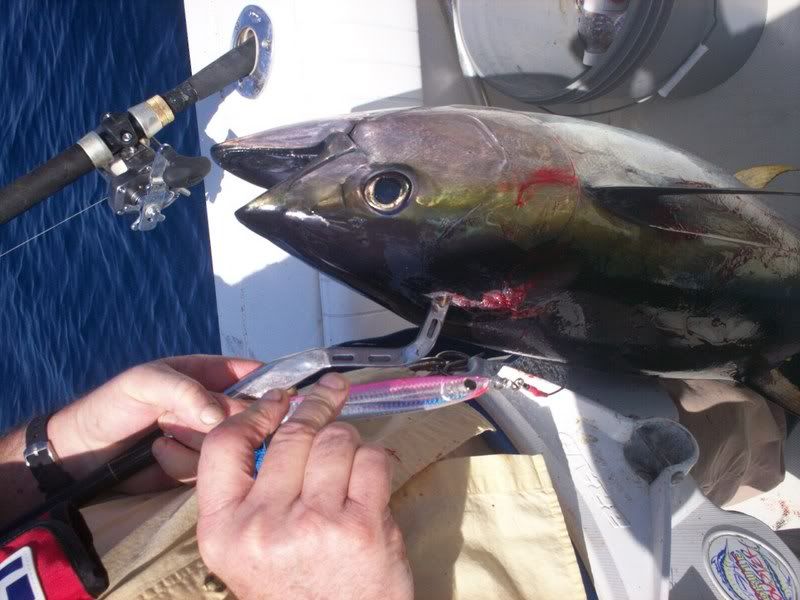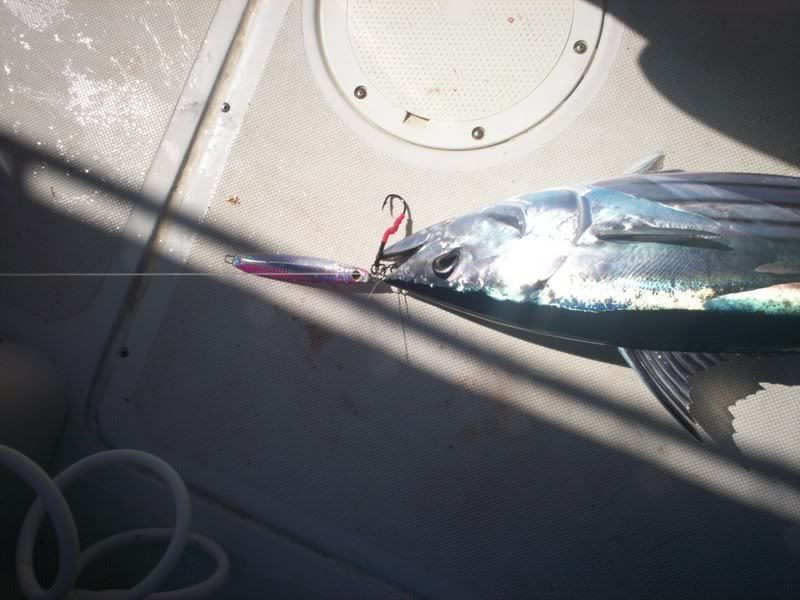 On day two with the Joe Duncan group we decided to go exploring out to the east. Well theres fish there as well. We stopped at a rig adn first cast with a popper I hit about an 80 pound fish. Well after about five minutes that fish pulled off and as we were bringing the popper back in another yellowfin grabbed it and took off. We did land the second smaller yellowfin. This rig completely died after that. We moved over to the west to a new rig and it was on like donkey kong there on topwaters. We picked up six more yellowfin all on frenzy topwater poppers there. There were huge schools of yellowfin moving through there today.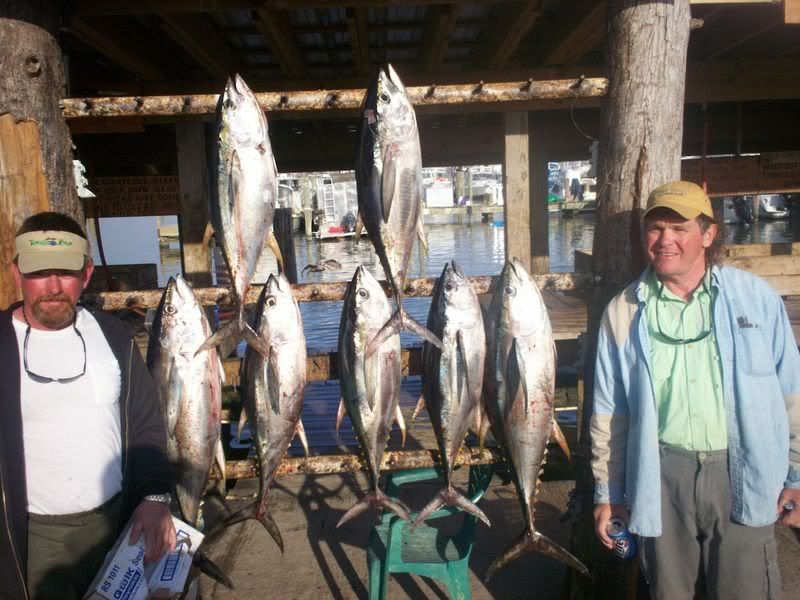 I got a smart idea the next day. Lets leave super early and catch what should be an awesome topwater bite at sunrise at the floater. Got there right before the sun came up and waited for the sun to break and the fish to jump. Hmm its getting lighter and no fishies jumping. It got light enough to see and oops the water was not as clean as it was the day before. So the hunt was on now we had to go find the fishies. We moved around and chunked and trolled and basically did nothing till after noon. then the fish started biting a little. We picked up five between noon and two on chunks of blackfin. The girl even caught her first offshore fish ever which was a 70 pound yellowfin Frasier caught his biggest fish ever which ended up being 102pounds at the dock and the two seasoned offshore guys Dexter and Stephen bought up the rear with three between 30-40 pounds. We called it a day after that and headed home to get cleaned up.