Discussion Starter
·
#1
·
Been fishing the last three-four days with the same consistenly good trips. We had an abbreviated overnighter on saturday partly because of the weather and partly because my crew showed up at harrahs casino at 10 at night and left at 10 the next morning for a noon departure time on my cat. Lets just say they hadnt even reached being hungover yet. They were still buzzing pretty good. We headed offshore and didnt see any bait to make. My good friend Capt Bill Delabar was about to head in so he gave me three live baits. First bait out was a 100 plus pound yellowfin that took over an hour to get in. Clint Mayo fought bravely but he went down in a blaze of glory as he handed the rod off to his dad. The rod went through the whole group to me as well as they rested. Hub finally put the fish in the boat though.
The next bait in the water was inhaled by a marlin who proceeded to put on one of the better shows I have seen. It must have jumped 10 times and shook its head on the surface numerous times before the 60 pound leader finally gave about 30 feet from the boat.
With that the bait was gone so we headed south for the night bite. The first 6 chunk baits were inhaled by four 40-60 pound yellowfin, one 25 pound blackfin and a missed fish before the whole crew decided they had enough meat at 945 in the evening. Moral of the story is dont leave straight from the bar/casino to come fishing LOL.
On monday I Joe Duncan and his friend Mike on the boat We headed out to the rigs to make bait. Caught some small baits and put them out. We had a couple football blacks and one 50 pound yellow when I made the decision to start chumming. Every drift we were hooking up on some kind of tuna. Some we lost and some we caught. After we put our third yellowfin in the boat after an hour long fight with a 90 pounder they decided enough of the tuna and lets go get some dolphin. We trolled the rip for about an hour and had one solid strike and a miss before we headed in early.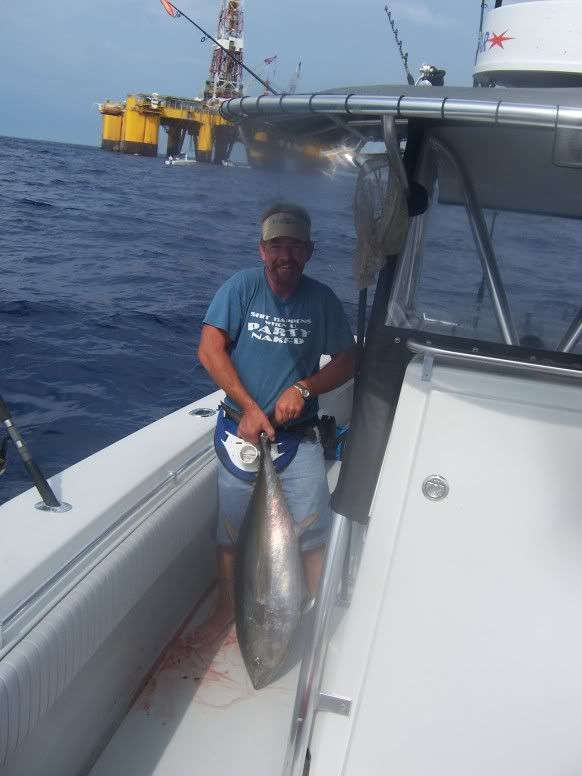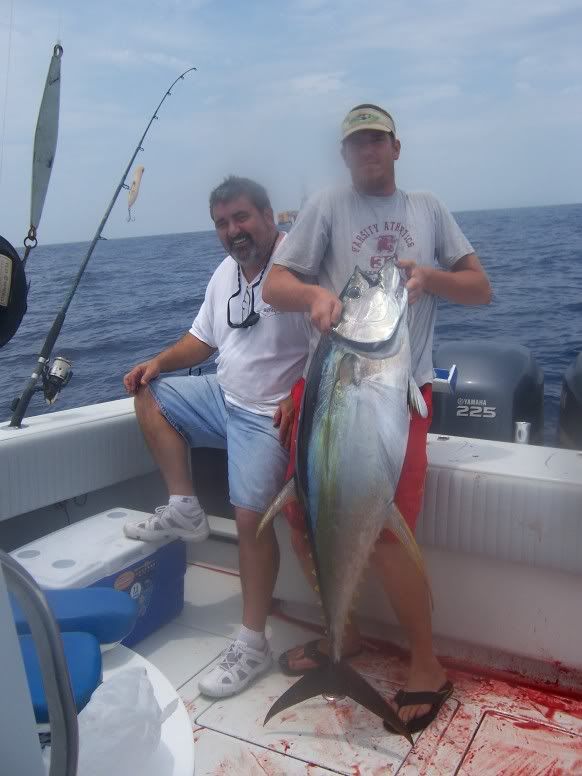 The next day with Joe we had the same mission. go out catch 3-4 tunas and come back in and dolphin fish. The plan proceeded just like it did the day before. First chunk bait in the water was inhaled by a 50 pound yellowfin. We then snuck two 30 pounders in the box as well as missed a big one which we fought for about 30 minutes. On the last drift of the day we got the hit we were looking for and fought this one about 40 minutes. Joe still doesnt have his 100 pounder but he has now caught plenty of 90 pounders including fish number four from tuesday. Of course all my fish were caught on frenzy 6/0 circle hooks and the bait came on the frenzy sabiki rigs.
On tuesday I also had another trip head out on a different boat and of course they found the dolphin. Here are the three lucky kids who got a bull