Discussion Starter
·
#1
·
Some friends and I went out for an overnighter on his custom built boat the hammer on wed night. We had Ron white, John Geckel and Michael gray as our all star crew for the night. Or at least all star beer drinkers for the night LOL.
We started out making bait which wasnt necesary cause the stupid fish wouldnt eat it
We werent really out for tuna much anyways though so as soon as we put a 70 pounder in the boat on chum we had plenty of meat. The real goal of the trip was swordfish. About 7 we put out a trolling spread to see if we could stick a bill before dark. Around 720 I thought we had him as we had a screaming strike on an isllander with a ballyhoo. The fish took about 300 yards of line across the surface on its first run before it settled into a traditional tuna fight. Mike put a ton of heat on this fish and we stuck it at the boat after a 30 minute fight. 16 hours later the fish weighed in at 168.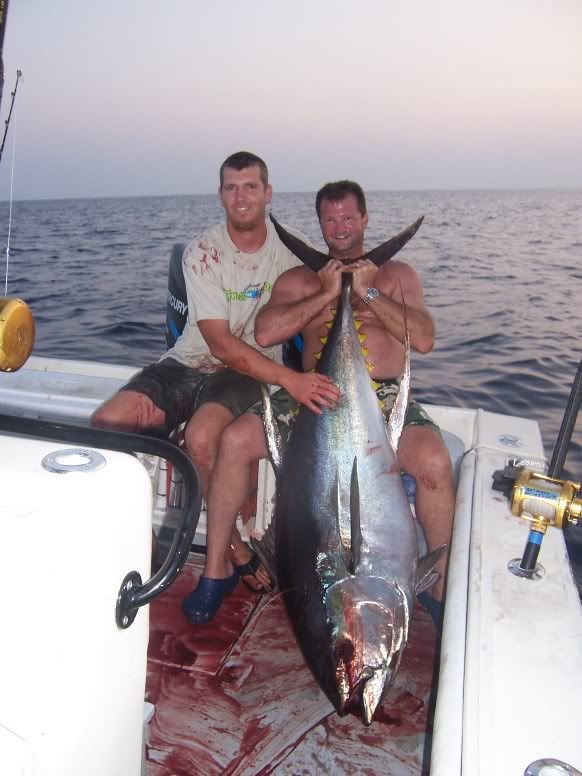 We then went over to the swording grounds and set up our baits. For the first half the night we had no action but as it got closer to morning we had more and more hits. We actually missed 4 fish with one likely sword bite. About 430 we had a nibble and then a screamer as the fish dumped half a 50 full of spectra straight down. Thought we had a swordy here. Thirty minutes after the hookup we had the windon up and then we got a look at a 10-12 foot fish. Thought it was just a plain big shark until I got a more clear look and realized we had the first thresher up to the boat that I or anyone I know who fishes Venice has seen. That has to be one of the cooler fish Ive been apart of catching. It wasnt the common thresher but a more rare version called the bigeye thresher.
Daylight started coming up and we ran across a nice rip. Pulled it and picked up three nice gaffer dolphin on illanders and two snake wahoos on pink stretchs to end the day.