Discussion Starter
·
#1
·
First off we have a couple more pics of that marlin I caught last weekend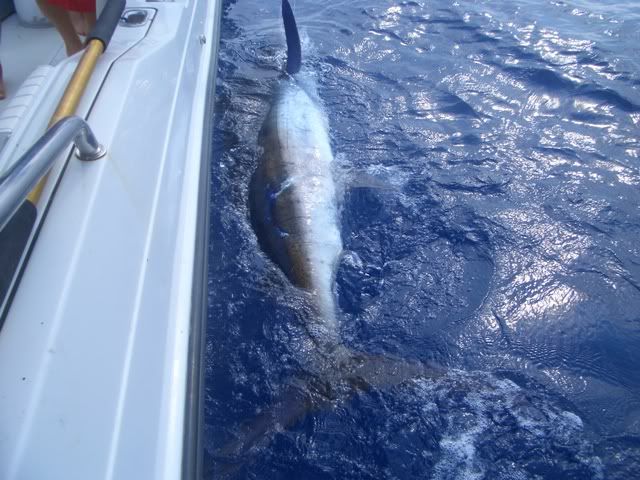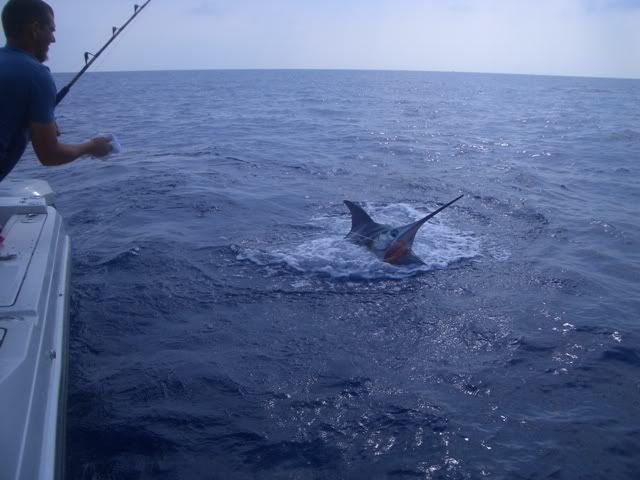 Now on to the overnighter I ran with Darren Haggard and his group of pensacola pier fishermen. We started off by making some bait right off of south pass. IT was tough but we got about 15 threadfins. We were about to hit the first rig when I saw a fin sticking out the water. Looked like a billfish so I threw a bait in the water. About 5-10 minutes later we had a small bill of some sort take a whack at it and knock it out the water. But we had a swing and a miss.
We headed straight to the rig then and the first livie in the water was a nice 50 pound yellowfin. The next three baits were also cookie cutter sized yellows on 60 pound leader and 6/0 frenzy hooks. The fish were jumping everywhere but wouldnt hit any kind of popper. swimbait, or even a spoon. The 5th live bait out was hit kinda wierd as the fish slowly swam off. I saw a fin sticking out the water and called out that we had a big blue eat a bait. The line came tight and he went flying through the air. We got two jumps out of him before he spit the hook. It was a 450-500 pound class fish in my opinion.
WE only had two more baits left and we went 1-2 on yellowfin with them to finish up that rig with five yellows.
Decided to run south some more and hopefully make some more bait which we did. In the 30 minutes before dark we put two more 50 pounders in the boat.
We had a little chunking flurry after dark between about 930-10 pm we added four more yellowfin to the box for a total of 11 for the night. We messed around at a couple other rigs trying to jig up some more blackfin with no success, before we headed to the house.
We ended up the night with 11 yellowfin.