Discussion Starter
·
#1
·
I had a couple rough water and great fishing days this weekend. I had Cliff Hoyubec and crew in from Austin, Tx. They bought a whole trailer full of tackle and coolers with one request. They wanted some fish to bring home. We headed out to the lump in the 36 contender in some 4-5 foot waves. Cliff was first up and his first fish in the boat was a 106 pound yellowfin on 80 pound leader. Bill decided to man up next and he popped a 140 pounder in the boat. The action slowed for a little while and then we put three more 50 pound yellowfin in the box. After we had the five yellows we decided to put out the baits and troll for hooters. We had one triple knockdown that produced a 30 and a 60 pound wahoo and that was it for the day.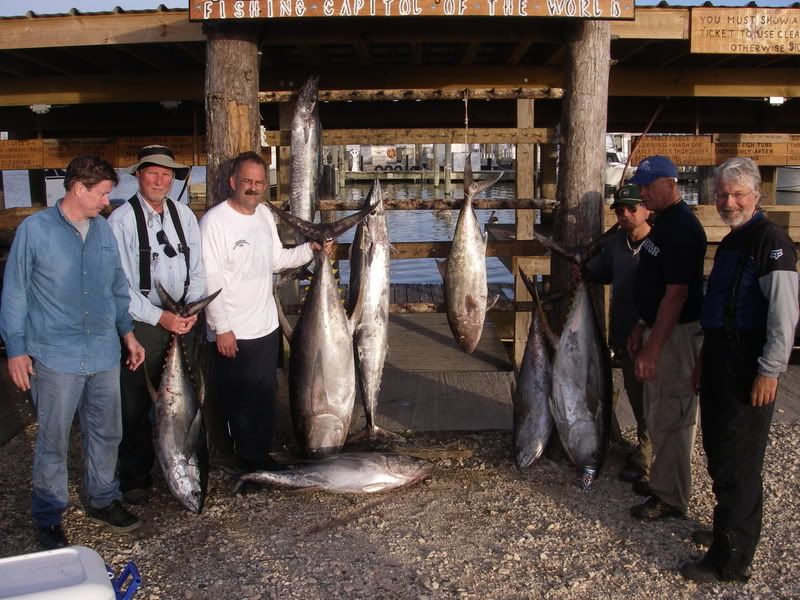 Day two was with the same group and we had a slower start. First bait in the water ended up being a 50 pound class yellowfin. The next three in the boat were all 35-40 pound amberjacks. It was Brads turn on the rod and he fed a bait out and hooked up with a 9/0 frenzy hook on 100 pound flouro leader. I knew it was a good fish as it ran straight out on the surface. While brad was fighting his fish we missed a couple and landed a nice 65 pound yellowfin. Brad was at a standstill with this fish after close to an hour on the rod and three-four trips around the boat. I decided to come off anchor and get on top of his fish as we just couldnt budge it. About 15 minutes later the fish got tailwrapped and came to the surface backwards. I knew it was a stud when we got two gaffs in the fish and three people pulling on it and we couldnt get it over the side. I finally grabbed the fish by the eye sockets and with four of us heaving we got it over the side and into the boat. I knew it was the biggest tuna I had landed I just wasnt sure how big it was going to go.
We got back on anchor and landed 1-2 more yellowfin and called it a day. most of the fish were landed on 9/0 frenzys with some coming on owners as well. The new frenzy flouro continues to produce consisently. Here is a pic of my new personal best 198 pound yellowfin.