Discussion Starter
·
#1
·
Got a last minute call from Todd Stevens to fish fri and sat. Weather was supposed to be calm with scattered showers. They kinda got it right. Except there always seemed to be a shower scattered over us. Left out friday morning and made bait. Ran out to my first rig and after about 20 minutes we got hit by a torrential downpour. Left there and started heading south and ran into the biggest mass of frigate birds I have ever seen. I stopped counting at 30 birds circling over a huge school of tuna. First three casts with the poppers yielded big skippies and blackfins. We could see some monster yfs jumping though. As we got back into the posistion the rains came again and all the birds just flew away.
We continued heading on to our next spot when one of the guys spots a whale or so he thinks in the driving rainstorm. I look around and knew it wasnt a whale but couldnt figure out what it was so we went over for a closer look. Turned out to be a stealth ray floatie. Where it came from I dont know as the nearest beach was well over 100 miles away.
After that little bit of excitement we made it to our next rig where we went 2-3 on nice yf before the barracudas started eating everything we threw in the water and killing us.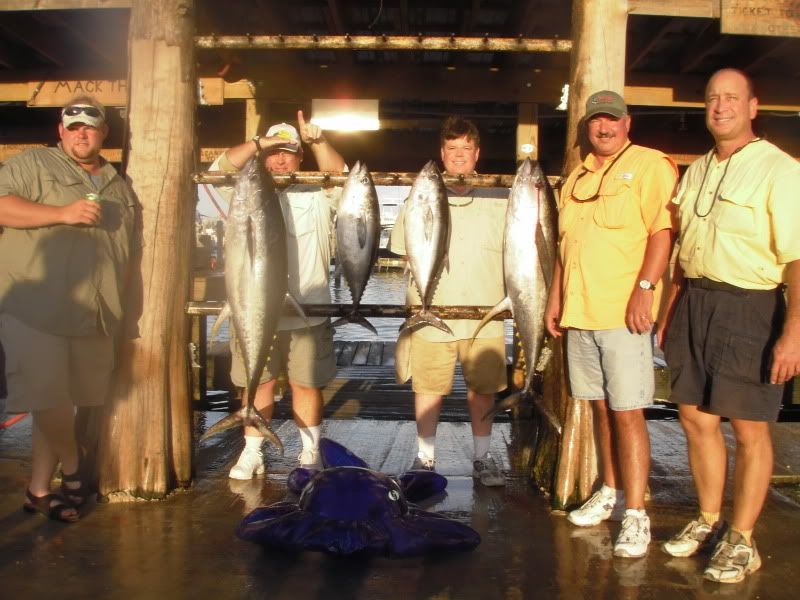 On sat the weather was a little nicer and we only got rained on one time on the way out. Made it to our rig and found a wide open topwater bite at first. Caught a couple yf out of it and some skipjacks before the fish went down. Started livebaiting with no success before we moved onto chunking. That was the ticket as we consistently hooked up on quality yf. Put 6 more in the box on chum and called it a day with 8 yf.
All of the fish were caught on 60 pound frenzy flouro and 7/0 mustad hooks