Discussion Starter
·
#1
·
Well last weekend was a weekend of highs and lows. The low was on friday when I blew a lower unit on the way offshore for a night trip. To make it worse I blew it on my birthday LOL. Oh well at least I got back to the dock in time to get overserved at the bar. I headed back out saturday night on lees glacier bay for another one. I had a fun group of guys from Arkansas that just wanted to kill tuna and bring them home. They didnt care what color they were just as long as they had a lot of them. I stayed in close waiting for the afternoon bite to happen and it never did. We did pick up two 40 pound yf right at dark on livies. Then the fun really got started. The blackfin came alive at dark and we were doubling up on our livies plus catching two at a time on jigs and in notime the box was slapass full of tuna. The blacks overall were good sized as well. At some point in the night the guys had enough so we headed to house with 29 blackfin and 2 yf plus a barracuda which they claimed that they liked to eat.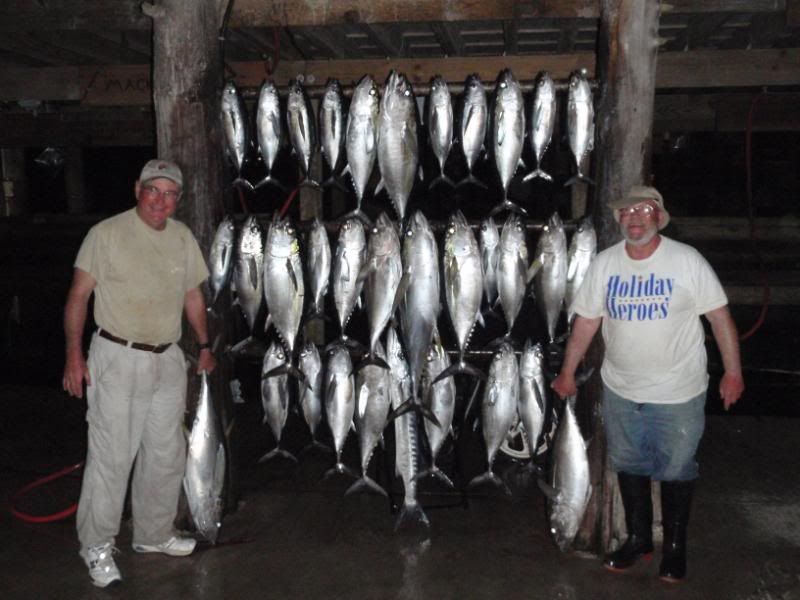 On monday I had the matthews group in from Ga. They were about to get shipped off to Afghanistan and before they did they wanted to go fishing. Well we were dealt a bad hand with the weather as it was blowing 20 knots but there are some places you can fish off venice in 20 knot winds luckily (just not for tuna) We hit some of the shallow rigs in 60 feet of water and decided to see just how many red snapper we could throw back. I dont know how high our total got but it well over 50 I would say. In between all of that we did get 8 lane snapper, 3 mangroves, and a grouper so it worked out all right.
I happen to have memorial day open for a day or night trip and the weather is awesome so if anyone is interested just call.