Discussion Starter
·
#1
·
I ended up getting some good enough weather to fish fri and sat. Fri I had the Greg Mccarthy group from houston in for some tuna fishing. We left late due to the wind but we ended up with a productive trip. It was still a little choppy when we got offshore so we slowly rolled offshore hitting a few rigs for wahoo. The first stop showed us how to catch a tiger by its tail.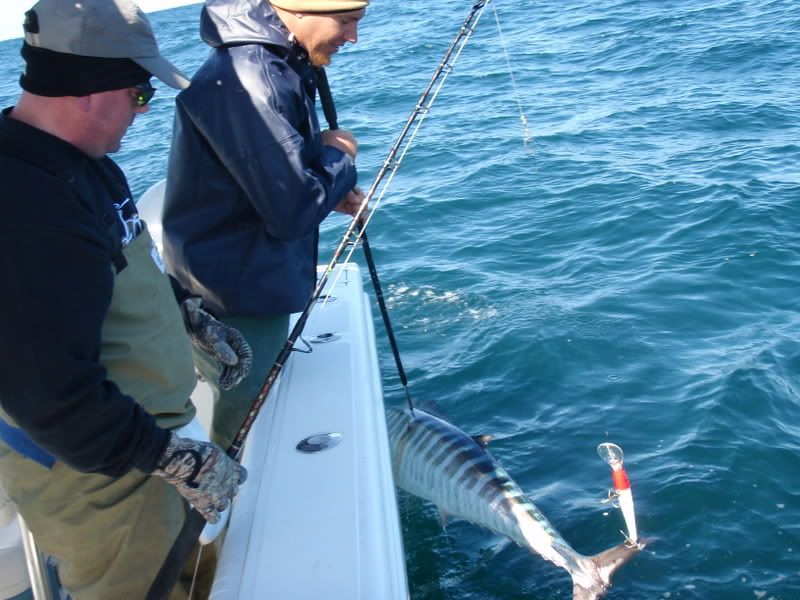 After that we had more misses then fish in the box before they down we had gone 2-7 which is a pretty bad ratio for me. I knew there was a little tuna bite going on elsewhere so we headed in that direction and after about 30 minutes we started to get on them. The guys put two in the box and pulled the hook on two as well. The two in the box were 70-80 pounders before it got late and we headed in. About 5 miles I away I drove right into a pod of busting yf and couldnt help myself. Threw an OTI komodo popper in and had an instant hookup and a miss. Threw it back in and this time we were on for good. Had the fish on an oti popper rod with a shimano saragossa reel. In about 5 minutes we boated a 97 pound yf and this time we went home for real.
The 2nd day I had Stan Walker and his group in and we headed straight out for tuna. It started off slow but around 11 we put our first 70 pounder in the box. A little while later we had a mac daddy hit on 60 pound leader and the chase was on. I followed this fish for 4 miles on the surface. I dont think it dove one time it just stayed right out in front of the boat about 30 feet down and swam. After an hour and 15 minutes it finally turned on its side and 15 minutes later we put a gaff in a 160 pound yf. We went back over to our spot and put 4 more in the box to about 115 pounds before we called it a day with 6 yf.