Discussion Starter
·
#1
·
I had Keith and his friends Robert and Drago on the boat on thursday. Keith just bought a 33 contender with trip 300 verados on it and his goal is to learn how to offshore fish so he hired me to teach him on a continuing basis. We made our first trip offshore and went long picked up some little hardtails off a rig and started jigging and livebaiting.
We were using his tackle which almost cost us while we were jigging. Robert hooked up on a jig and we knew it was a good fish. He passed it to keith who started the fight. We also hooked up on a livebait and had a good fish on there but the 65 spectra cut through the 130 pound spectra somehow and we lost that fish in a tangle. Keith was still fighting the jig fish when we got some good color on it and it was a BIG fish for a jig. Right when we got the fish to the boat the shimano trevala rod SNAPPED in half and about 5 seconds later we got the gaff in teh fish luckily. Wish I would have had an oti rod on that fish as I definitly feel more confident in them then I do the trevalas.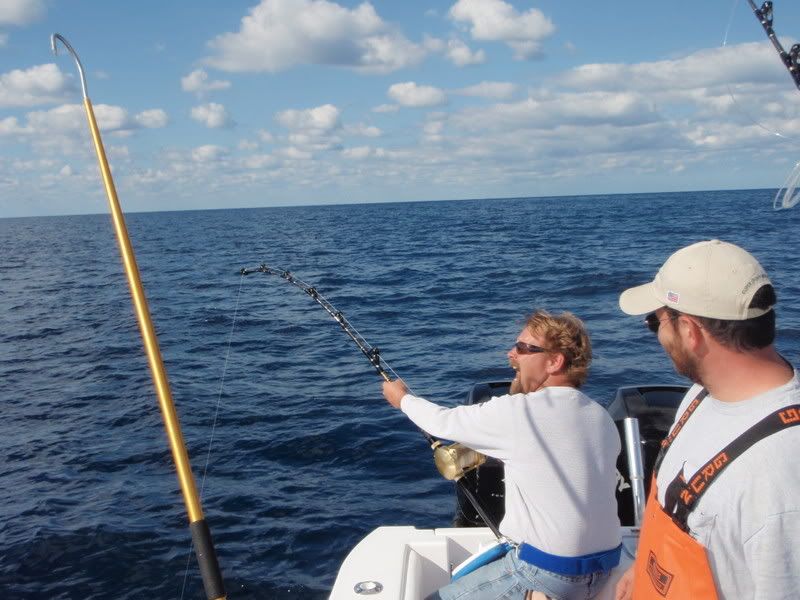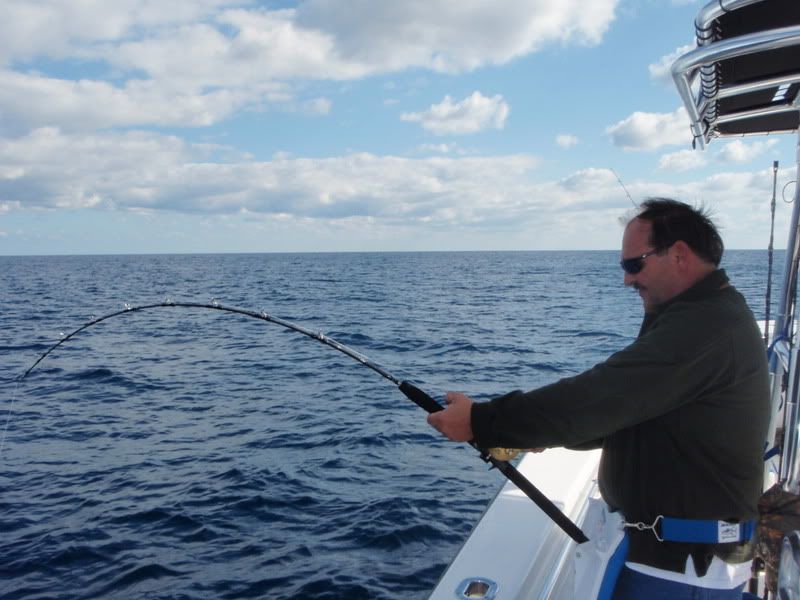 The fish ended up weighing 116 pounds and is the first 100 pounder I have done on a jig. It was also Keiths first tuna. Gonna be hard to top that one.
We got back to livebaiting and immediately hooked up on a solid fish. The fish didnt make a first run and it kinda just sat there shaking his head. Drago pretty much reeled it straight in which is where the fun began. From the time we got color on the fish it took us 45 minutes to put it in the box. Since the fish didnt fight initially it was definitly fighting now. We did put it in the box though and it weighed 125 back at the dock.
We put the baits out again and caught a barracuda and the guys asked me about chumming so we pulled the baits in and started chumming. On the first drift we hooked up with a 90-100 pound class yf and put it in the box.
They said we had plenty of meat at that point so we put out the big baits and started trolling around. On the way to another rig we lost two dolphin and had a blue come up and smash a pink/white doorknob in the propwash. It ripped off about 200 yards of line and threw the hook on his first jump.
We had no more luck after that so we picked up our baits and headed to the house.