Discussion Starter
·
#1
·
I ran a few trips in teh past 4 days and they were all consistent. The fishing was never on fire but we managed 3-7 yellows on each trip with one big fish. On saturday I had the Gilbert Crowden group on the boat and we had wahoo and tuna on the mind. Started off hitting the hooters or not exactly hitting them. I must have trolled 5-6 rigs with not one knockdown. After all the recent wahoo success that was kind of a downer. So we rolled south to a floater and went to work on the tuna. It was a slow but steady pick out there as we hit three yellowfin in the fifty pound class to make a successful day. One of the other boats had an encounter with a 500 pound mako which would haunt me the next day.
I had the John Fortner group for an overnighter on sunday. That trip started out wonderfully as I listened to the saints game on sirius while we were heading offshore. Loved the Reggie Bush touchdown as that set a good mood for the whole trip. First bait in the water at the platform was a nice 60 pound yellowfin. It was the same as the day before we a steady pick at fish. On the third hookup we had a 80 pound class fish doing slow circles under the boat about 40-50 feet down. The fish dissapeared out of sight underneath the boat and then the rod jerked hard and the line started melting off the 50 wide. It dumped probably 200 yards of line straight down and then it was over. I am sure that big mako out there ate my fish but he never made a visual appearance.
We set up for one more drift at this particular rig before it got dark. Put the first chunk out and wham it lit off straight across the surface. I told the guys we had hooked a good fish as the little ones rarely make surface runs and we settled in for the battle. Doyle was first up and he put a good effort in but the fish beat him about 30 minutes into the battle. Trevor was next up and he made it about 10 minutes before he gave in. We now had the rookie Steve on the rod as this was his first offshore trip. I had instructed him on the proper way to use a bucket harness and he listened perfectly. Steve whupped this fish up put a 130 class yellow in the boat about 20 minutes into his turn. By this time it was well after dark.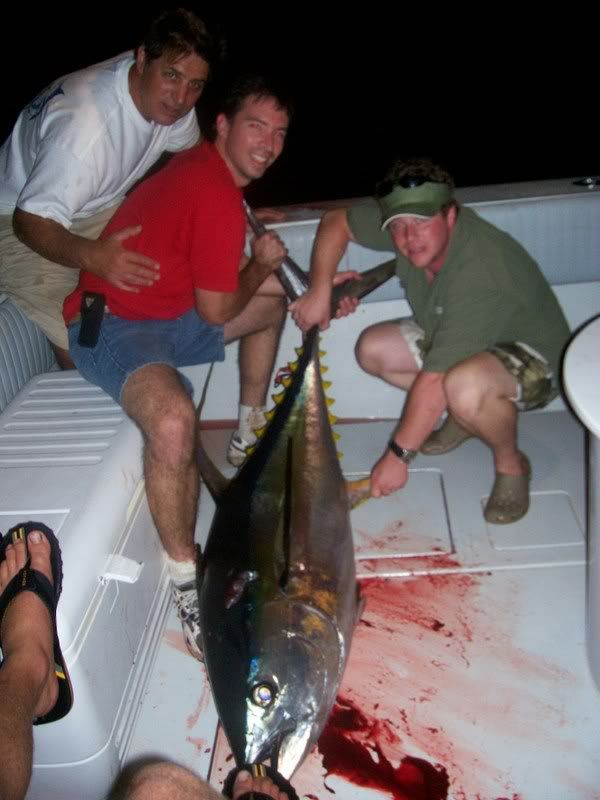 We ran out to another floater and picked away at blackfin and yellowfin. WE boxed three more yellowfin and carved a 25 pounded up and made him into ceviche. That was a good decision as it is hard to beat tuna ceviche at night fishing under the lights. The yellowfin bite died off so we played around catching and releasing blackfin for an hour or two then ran in to try for a late sword bite. It was a rolling beam sea which made it pretty hard to effectively fish for swords but we gave it a shot anyway. We had one good bite and came tight on the fish for around 30 seconds before the hook pulled. That was it for the night and we headed in at daybreak.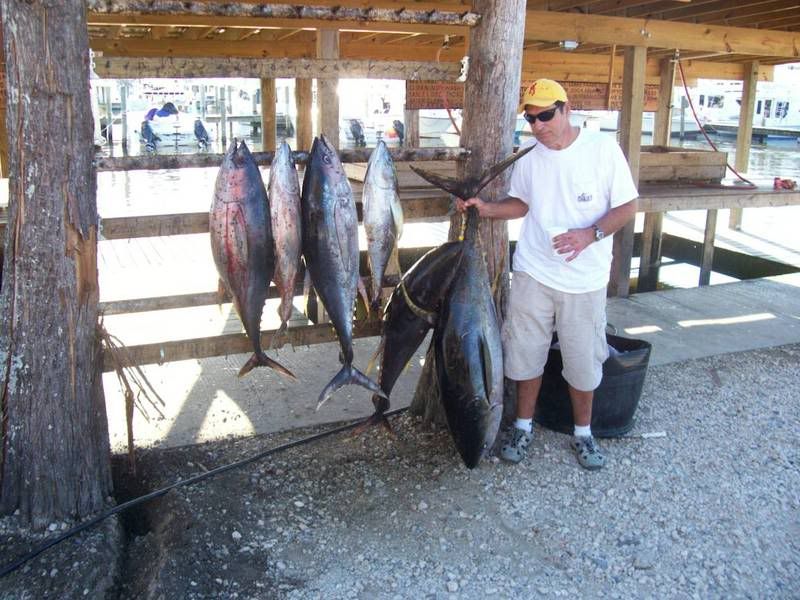 I got a last second call on tuesday to sub in for another captain so I took Josh Adams and his father in law and rolled south to the floaters. I picked up some bar jacks and hardtails off a rig and set out the livies. I put out one hardtails and one bar jack and the first three hits were all on bar jacks. We put two of those three in the boat and lost one. They were 50 pound yellows. I got smart and put out all bar jacks after that but never could get a double. We did pop two more 50 pound yellows though before we ran out of bar jacks. I had caught a couple small blackfins on poppers so we cut them up and started chunking. After two drifts we had put two more yellowfin in the box to give us our two man limit for the day. We tried wahoo fishing a little on the way in with no success and headed to the dock with 6 yellowfin. We caught all the tunas on frenzy 6/0 circles.