Discussion Starter
·
#1
·
Made an attempt at a fun day/night sword trip last week. We had some heavy weights and we left early then normal to get out there. It was our first attempt and we definitly need some more fine tuning to our techniques. We were using 7 pound weights attatched to the hook with paperclips. Seems like that should be pretty easy to pop free when you hit the botton. WRONG After the second time we dropped down and had to reel back in 1200 feet of line with a 7 pound weight we were pretty much worn out. The third time we half strightened the paper clip before we sent it down and we finally got a weight to pop off.
We had no hits on that bait so we let down another one with a rubber band attached to the weight. We couldnt pop the rubber band either so we had to reel up that weight too. I hope I never have to be a part of reeling in 3600 feet of line with 7 pound weights attached to them again.
It finally got dark so we put our normal spread out and had a ton of bait in our sword light and we dipnetted ballyhoo all night, and sabikied up some more hardtails. The sword fishing was not to be though as we had no hits, no misses, and no errors in a 0-0 night.
As it got daylight we went over to some rigs and tuna fished to try and rebuild our self esteem and luckily we got into some tuna in about an hour we boated two yellows around 40 pounds and one about 140 or so on live bait. We were using the 6/0 frenzy hooks with some 80 pound frenzy flouro.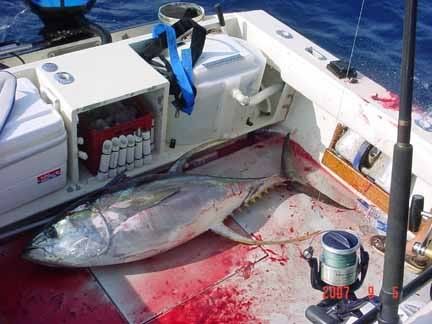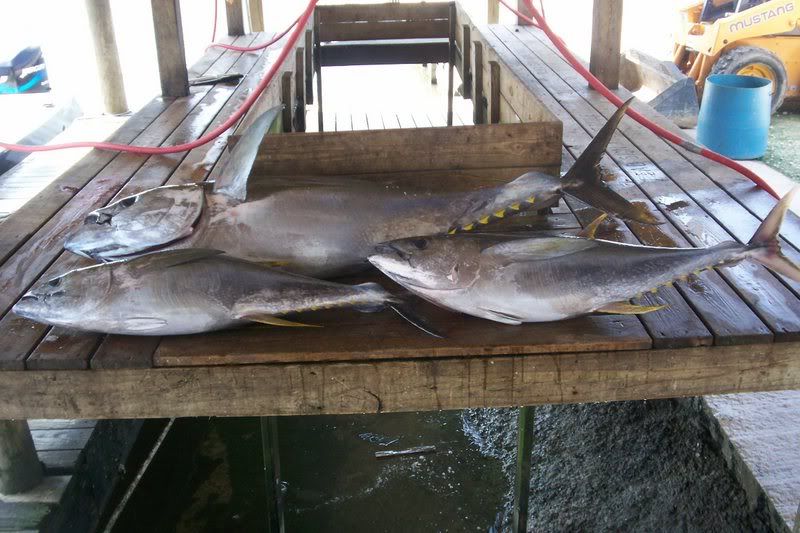 I had a charter the next day on my palmetto with John and Steve Mcqueeny and Larry Wagner. We hit the rig where we caught the big fish the day before and it was dead so we started on a little tour of the rigs. The fourth rig we tried had some fish on it and we were able to chum them up with chunks of blackfin The fish would only hit 60 frenzy flouro here but it worth it as we put two good yellowfin in the boat. Steve actually landed both yellowfin as they were group efforts. At one point we had a monstrous hammerhead show up that was about 14 feet long so knowing me I had to hook him. It put on one of the more impressive first runs I have seen as we had the bent butt 50 locked down in a rod holder with my deckhand Lee holding the spool with gloves and it was still going. Finally the main line popped. It was fun while it lasted though.