Discussion Starter
·
#1
·
Ran a few trips this week on the contender and glacier bay. IT started with three straight days and ended with an overnighter. I had Clay Lawrence and family on the contender on thursday with a request for tuna which was what they received. We caught some good live bait and made good use of it with 80 pound frenzy flourocarbon and frenzy hooks. The fish are being stupid right now as long as you have the right bait. Everyone on the boat got in on the action adn Clays father was the smart one. He sat back and watched and then got to eat some tuna that night without having to fight one. We ended up with 6 yellowfin to about 85 pounds and three dolphin.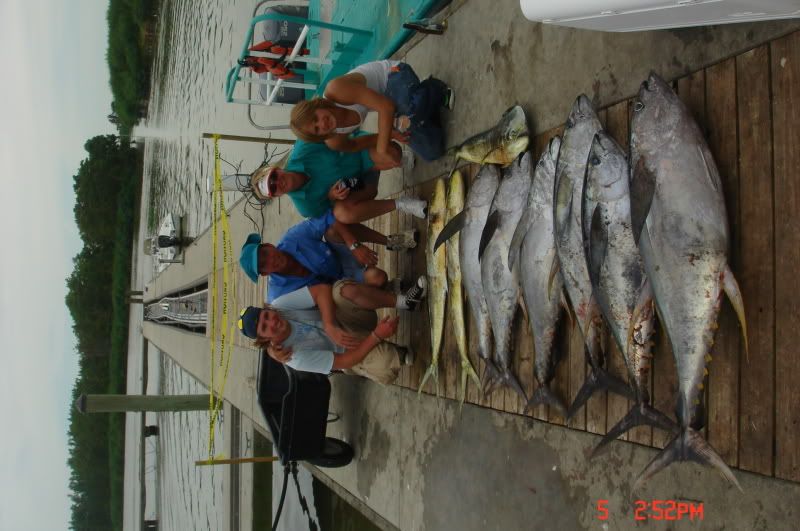 On day two I had Pete and his wife down on vacation from Tennessee. They had an easy request to catch a couple yellowfins and have fun. We headed back out and while bait was a little hard to catch the fish certainly weren't We hit two fish on live baits before we ran out and had to switch over to some chum. First drift we put two more yellows and a dolphin in the boat to end the day off with 4 nice yellows to 85 pounds and one dolphin that I got to reel in while Pete and his wife were fighting yf. After pete caught his fill and his wife Dawn was done for as well we headed to the house early with a box of tuna.
On day Three I had Raul and his father in law and a guy named peanut. They had the same desire for a box of yellowfin so we headed out and caught some live bait. I struggled again to get livies although everyone we had resulted in a bite I only had a few. I had a leftover blackfin though so we resorted to chunking with frenzy flouro and 7/0 frenzy hooks and proceeded to keep catching yellowfin We quit about 1230 with 7 yellowfin to 75 pounds including Rauls personal best of 75 pounds.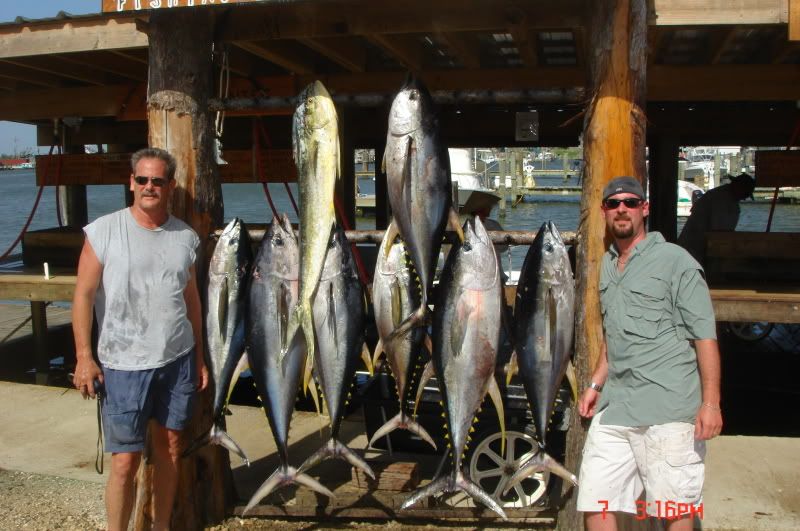 I ran an overnighter sun night with a group from Austin Texas and we waylayed the tuna. Started out a little slow before dark and we had 4 yellowfin in the box and 4 dolphin before we headed long. Started chunking and picking up yellowfin on every drift. We were cutting up blackfin for bait and turning them into yfs. we called it a night with 13 yellowfin and lot of happy anglers.