Discussion Starter
·
#1
·
Hy guys.
I live in Australia "Melbourne" and I thought I'd share a report and some pic's so you can see what we down here.
On this day we where at a place called Port Mac about a 7hour drive from Melb,here we chase mainly Southern fin tuna which can range from 8kg all the way to 150kg.
There are much bigger fish out there of around 350kg but due to overfishing by the pro's you don't see anything like that any more.
We where very lucky this particular morning because as we where heading out o the shelf around 35km from the boat ramp when we saw some birds working only 7km from the ramp we set out a couple lures behind the boat and with in minutes we had a triple hook up and our friends had 5 rods go off all at once in there boat.
After 20 min we had all 3 fish in the boat and our mates had 3 out of 5 in theres.
My mate holding one of the fish approx 18kg.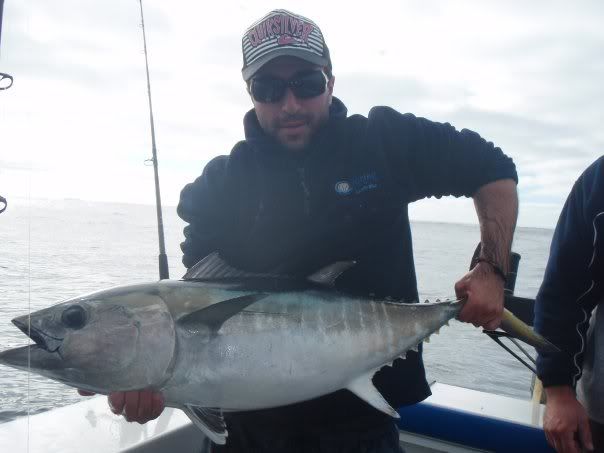 After a few more on the TLD 50's and Tiagra 50's we thought we'd let my little
spheros 8000 have a go.
The fish pushed the stock standard 8000 to the max but it came out on top with a heap of fish under it's belt.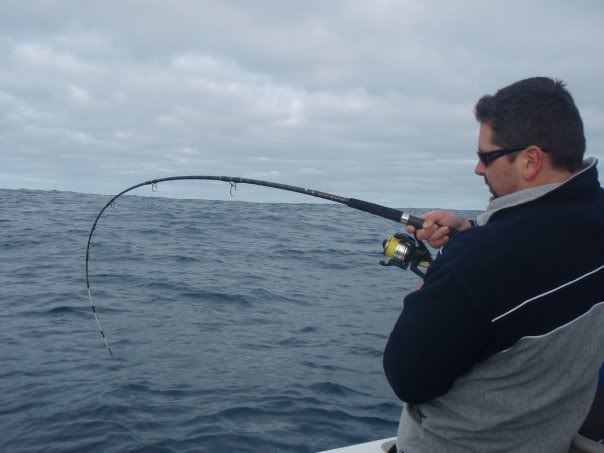 A couple more photos of the day.
We where gaffing a fish one side and our mate fighting a fish on the other side.
We ended up keeping 6 fish as wee all love fresh tuna and so do our family's.
We let 3 go free,our friend had 15 fish for the day and kept 6,they let the rest go.
A tuna on a rapala x-rap.
A couple of weeks before this trip we fished a place called Portland which is 1.5hrs closer to home but the shelf is 75km further.
The fish where bigger and this one went 35kg.