Discussion Starter
·
#1
·
I recieved a Lamiglas CHJ 6650 (5'6" 50-65# 8-16oz) as a replacement for a broken blank. I never really got much in the way of a good review for this blank, but I had to do with what I had. This was going to be for inshore and lighter duty anyway so I wasn't too worried about its power.
I was actually pretty impressed with it's lifting power during my static and later in stress testing. It is not (I don't think
) going to have any trouble lifting to the max of the reel's and line's capabilities.
Anyway, it's not completely finished, but I needed some artistic advice on the final touches. It didn't work out exactly how I saw it in my mind, but I don't think it's bad...just different that how I expected. Please feel free to offer up suggestions on what you think will make it pop.
Handle Assembly: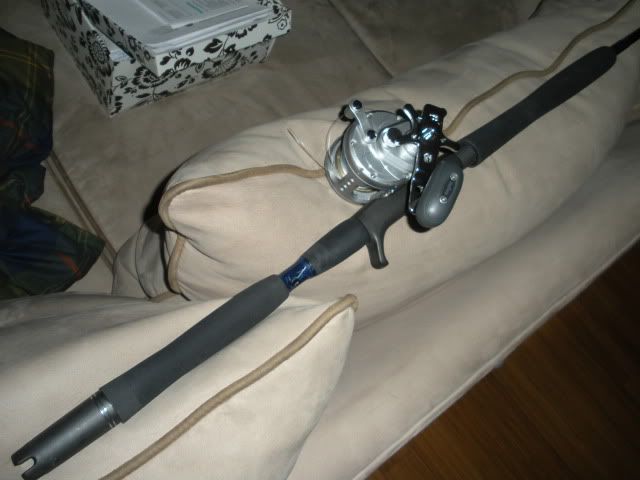 1st Guide:
Split Grip:
Closer Up Look at the Guides: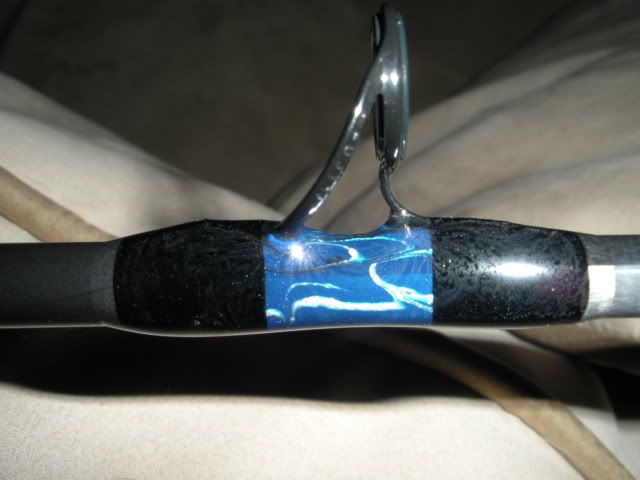 1st Dilema: I did a marbling on the underwraps and rolled black thread. My initial intent was to go clear epoxy over the overwraps and then slip a tiny swirl of Blue as the trim bands. Now I'm thinking to go silver or just leave them off.
Full Length Rod:
2nd Dilema: Not sure what to put between the grip and 1st Guide. I have a Lamiglas logo, my own logo, and all the rod specs. Problem is that the whole rod has a silver theme but the 2 logos I have are gold. I think it would break up all the silver and I don't think I like that.