Discussion Starter
·
#1
·
I want to dedicate this report to Zack. Your my Bro and I missed you badly this weekend, but if I had known that all we needed for a pretty weather day or three was to put to on a plane to Panama, I would have passed the hat 9 weeks ago.
Scheduling and weather:
We have not had break in weather where I didn't have a scheduling conflict for the past 3 months. The handful of days and small windows occured when I had unavoidable obligations. So when I looked at a beautiful 3 day window, I cashed a chip and got down to my place in Beaufort with the plan of fishing with the Mitch/Dean crew on Day 1 and the Ponce crew on Day 2. I have to tell you that I was calling BS in the back of my mind for 2 straight days of good weather for fish, but to my disbelief it held.
We saw two of the prettiest days, in terms of wave height and period, that I have seen in a long time.
We kicked off Day 1 from Beaufort and ran out in Dean's 26 Cat straight out to the AR. The crew was Dean, Mitch, myself and their two offshore virgin guests (I suck with names and I'm sorry about that). Its tough to feel bad though because they called me Tim all day.
Anyway we wanted to get the new guys some pullage right away, so we through out the high speed stuff about 3 miles short of the AR and made our way in and ran a loop to find the jacks. No high speed bites then, but we did located the fish.
Breaking in the New guys:
I gave one of the Guests that had never been offshore the Eastern Tackle crash course in jigging and got him hooked up. I got him to pose for a picture with his very first jack.
Then I explained that's not how jiggers pose with their first jack and got him repositioned.
High Speed Trolling:
After some more jacks, we decided to high speed trolled some more. We went out to 1000ft, then way south, then way way North. Maybe 30 miles of it. We went 0 for 3. I'm not sure what my bad mojo is on Deans boat but that is 0 for 7 high speed bites so far, with absolutely no explanation.
Deep Water Jigging:
When we stopped we angled for a deep water spot looking for bigger fish. We had this little guy to keep us company. He had an impress set of hardware on his face.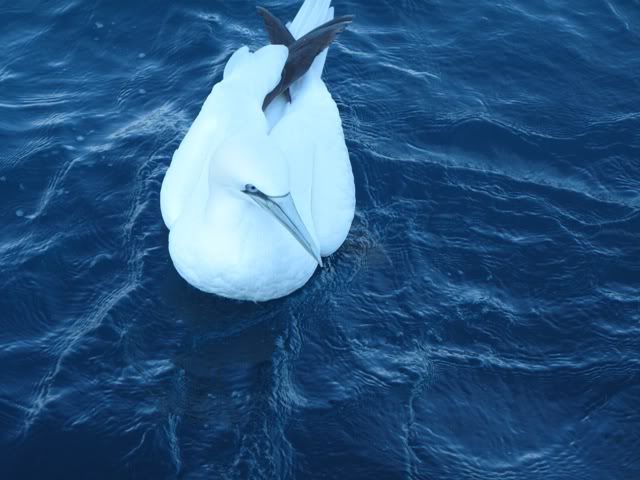 Mitch and Friend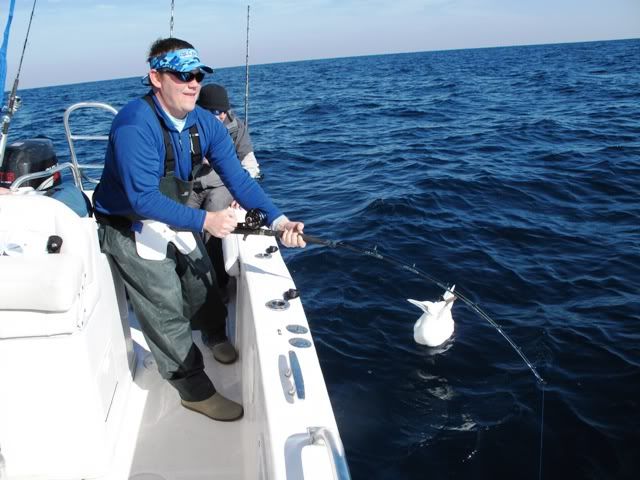 A little regular trolling:
There were fish there, but still not big. We left there just regular trolling our way back in and were getting hammered by fat alberts. I would cuss their existence, but something happened later in the day that changed that.
Back to Jigging:
We went back south to our spot and Dean "Sardine" Harris hooked something later in the day on a 200g Potroast color Sardine that wouldn't come to the boat. We were already calling him Sardine Dean, because he had been killing it with the jig all day, catching 2 to everyone else one fish.
200g Sardine Link
<---Clicky
What had happened was that the FA at the Sardine, then this jack immediately ate the Sardine and the FA. The fish taped out at a hair under 66" on the boat, but just didn't have the girth to take the state record at 37.5". If the girth had been 40", it would have been right in there.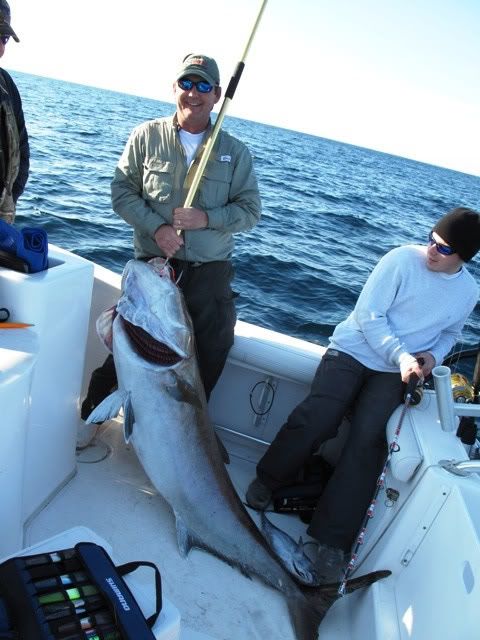 Misc. Photos from the day:
We took a bunch of photo's and video. It will take me a while to get through two days of video, but I will attach the rest of the pics with short descriptions on here.
The other Offshore Virgins first Jack on the purple Katana
Dean "Sar-Dean" with the potroast Sardine
Jim/Me with the potroast Sardine, I guess I couldn't resist any longer
Mitch with the tried and true Potroast Sandflea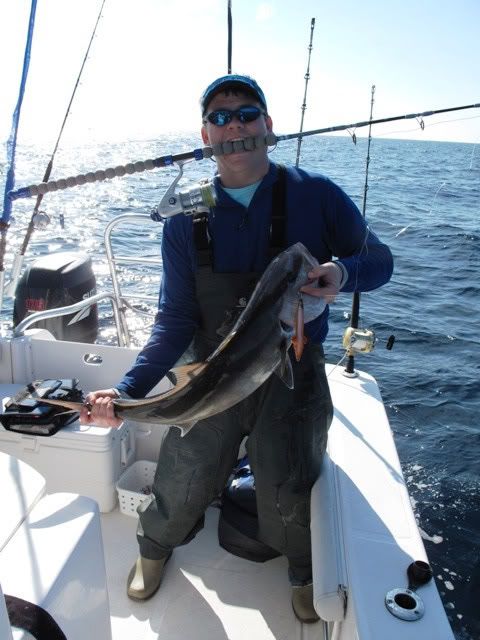 Dean hooked up to a jack on conventional gear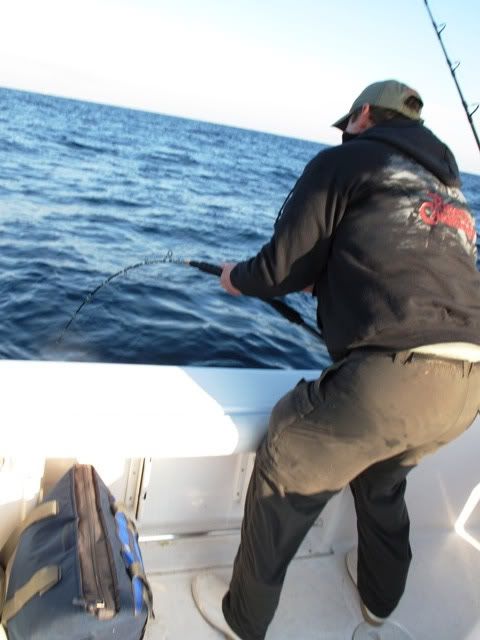 Guest fighting one.
http://i197.photobucket.com/albums/aa12/seadraggin/IMG_0880.jpg
Dean with purple Katana
http://i197.photobucket.com/albums/aa12/seadraggin/IMG_0879.jpg
Mitch hooked up.
http://i197.photobucket.com/albums/aa12/seadraggin/IMG_0891.jpg
Dean, possibly fighting the AJ/FA combo sandwich
http://i197.photobucket.com/albums/aa12/seadraggin/IMG_0892.jpg
Me. I think fishing the 400g Katana in 160' of water. I see I have a layer off.
http://i197.photobucket.com/albums/aa12/seadraggin/IMG_0894.jpg
Little guy
http://i197.photobucket.com/albums/aa12/seadraggin/IMG_0895.jpg
Sharks have to eat too.
http://i197.photobucket.com/albums/aa12/seadraggin/IMG_0901.jpg
Mitch with a Almaco. There were tons of Alberts and Almacos on Day 1. They fight much bigger than they are.
http://i197.photobucket.com/albums/aa12/seadraggin/IMG_0904.jpg
Thanks guys, I enjoyed it.
Jim