Discussion Starter
·
#1
·
Well first off, I feel like that guy that joins the Gym as a New Years Resolution and decides to work out every muscle in his body on his first day
After catching ridiculous amounts of Albies this year I became very bored and decided this was something I would finish off the season trying to accomplish. My goal was to catch a Bluefin on my 18' Keywest, I knew I could charter a boat, but it wasn't part of my goal!! Although no fish were landed during my first to attempts out there, I knew this was a challenge and something I needed to complete sooner than later " my addiction had started to wear on my wife" and I didn't know how many more chances there would be...
My buddy Mark and I left my house at 3am and were at the SWC at 6:45, tuna jumping, but no hook ups. We then ventured off to the SEC, met a couple guys who were nailing the Tuna, saw them land 4 using black squid bars, so I put on black sluggos...somehow every friggin bird on the bank started pecking away at my sluggos...
We spent the day chasing tuna on the top but it just wasn't happening, Mark rarely fishes so he was having a blast catching dog fish
while reeling up the jigs from 70 feet of water, hundreds of dogs fish would follow it to the boat, the bottom is infested...
At one point bubbles started poping up around the boat, it looked like a hot tub, then I see this huge greyish/blackish body swimming under the boat, yes directly under the boat, then about 20 feet off the stern a huge tail slaps the water...It was very cool to see but a bit nerve racking at he same time...
Here's what the fish finder showed...
Then I got this cool video of the whales, look in the background at 1 minute to see a huge whale breach ...
YouTube - whales at stellwagon
So I promised my wife I'd be home for my daughter to get off the bus at 4pm, at around noon with no tuna I called her to ask if my mother could do it, I had one more spot to try. Several miles away there was a boat sharking and the slick went almost to the mainland, about 1 1/2 miles from the boat I trolled the slick which was producing jumping tuna, with no luck we decided to jig. My first drop line went tight....Could it BE??????? This aint no dog fish...Mark clear the lines.......
At about 30 seconds into the fight I was winded, man these things can pull hard, much different than a Albie for sure :salute: I would get the fish close and it would just take off...DRAG WAS SET AT 20 POUNDS, I didn't crank it up higher because it was my first tuna and I didn't want to put to much pressure on it and POP it off, NO BELT just me and the fish who was kicking my ASS....Needless to say I felt dizzy, my back hurt, my arms hurt, I was shaking and and was so close to handing the rod off to Mark, but I've been wanting this for awhile and dammit I was going to finish the job on my own" even though my body was telling me I had no chance
I would see color and then it would rip 50 yards off, get my line back and same thing would happen, chased it several times with the boat when we went into the backing..For me it was the battle of my life, fought harder than the 240 pound thresher I caught or the 200 mako, this fish had power, but it had to tire eventually or perhaps just freakin die already!!!
Finally I used my last bit of energy and it was at the top, handed my pole to Mark, grabbed the Gaff and sank it and with all my might pulled the SOB into the boat.....
Mission complete....
The hatcam video will tell the tale better than trying to explain it, yes I got whooped, yes I need to train for next year, yes thats me gasping for air.......
YouTube - The Tuna
I may think differently once my body heels up, but I think Albie fishing is more fun... :grin: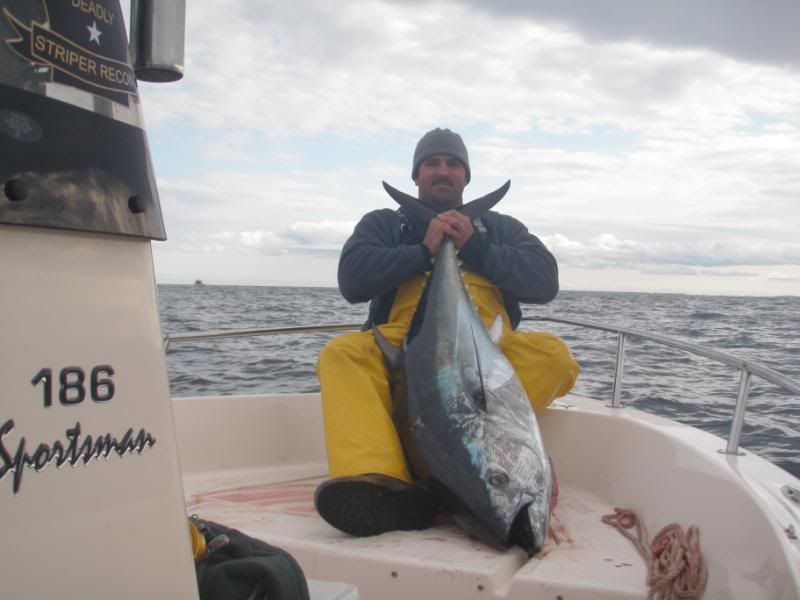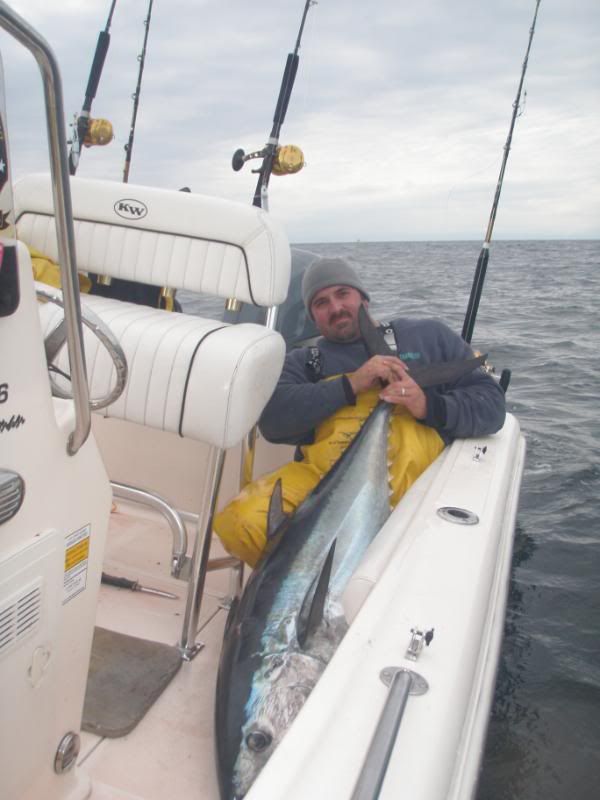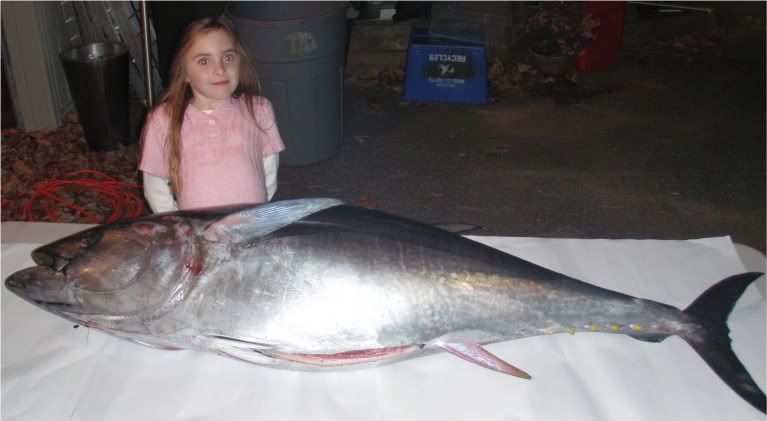 Thanks Capt for the gear and Buck JR and everyone else for the advice along the way....My 2009 season is now Complete!!!