Discussion Starter
·
#1
·
Sorry for the late report guys!
Alaska! This was a trip I had been looking forward to for quite some time. My dad and I together for a week of fishing in Alaska.
The trip started with a short flight to DFW and then on to Anchorage on Thursday, 7-10. I arrived in Anchorage around 7:30pm. Dad had arrived a few hours before me and was waiting with a rental car. We headed away from the airport to eat. We ended up at a nice place that I can't remember the name of. We dined on King Crab legs and grilled Halibut. It was a fine meal! After eating we went to our hotel for the evening.
Friday, 7-11:
Friday was another travel day, but we had some time to spare before heading out. We took off down the Seward Highway taking in the beautiful scenery.
As we headed back to Anchorage we saw a pair of Dall Sheep or Mountain Goats on the side of a cliff. How these animals can walk around on these steep inclines is beyond me!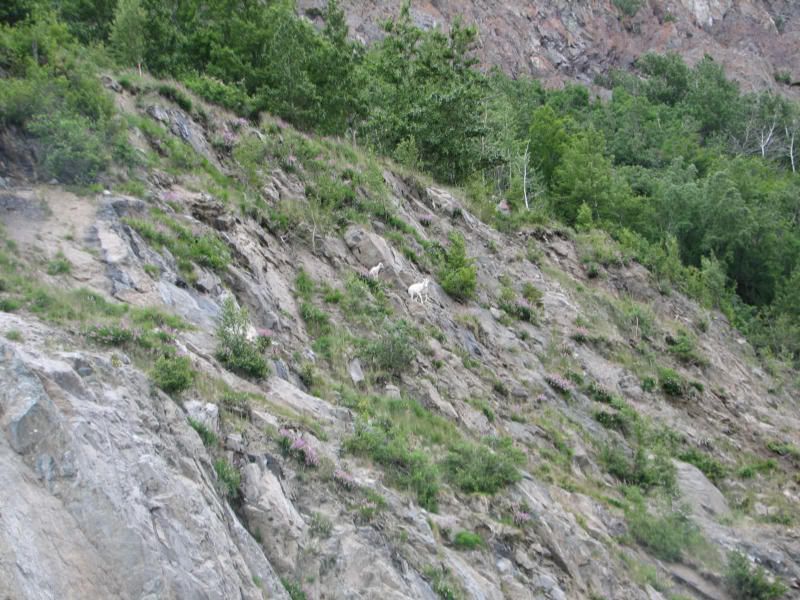 Once back in Anchorage we loaded up on a twin enginer Piper Navajo to fly us to Port Alsworth. Our pilot was Glen Alsworth, Jr. It was pretty neat to meet the Alsworth family who founded the village. Their family founded the village in the 1930s-'40s.The weather was cooperating fairly well so we went through Lake Clark Pass. This pass is very scenic and unfortunately I didn't have my camera handy. There are several glaciers among the mountains. No picture could do them justice. The flight to Port Alsworth was about an hour long flight. Once there we were loaded up in a Alaskan bush plane. This particular plane was heavily modified and could carry some serious weight.
From Port Alsworth we headed to our final destination of Marabou Landing. Marabou was about 60 miles from Port Alsworth and the flight was uneventful except for seeing 2 pairs of Tundra Swans.
The nice thing about Port Alsworth and Marabou is the fact that they are in the middle of nowhere! Outside of the village itself there are no human dwellings and once at Marabou we were 45-50 miles from the nearest cabin!
The airstrip at Marabou was like most remote airstrips in Alaska. No asphalt or concrete here, only gravel. The camp has to maintain the strip by hand.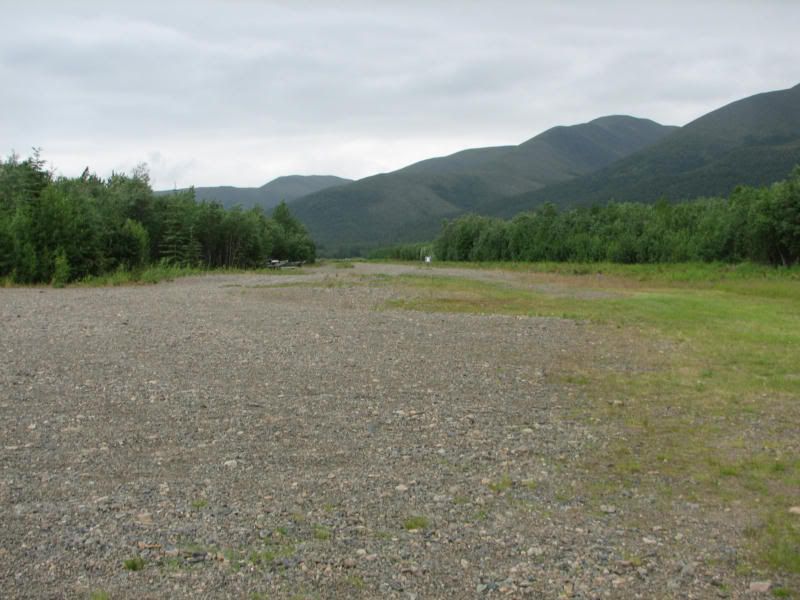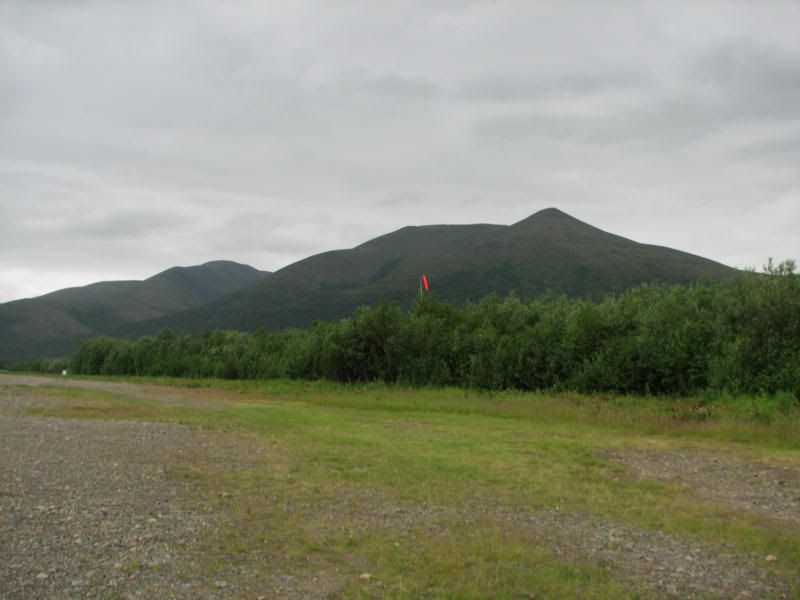 Our host and the owner, Nick, met us at the airstrip. Nick gave us the tour of his camp.
Our cabin for the week, Moose Cabin, was built in 1969. It was quite comfortable with 2 bunk beds, a table, and a wood stove.
Directly across from our cabin was the Caribou cabin built in 1971. It was equally as comfortable, but not quie as warm as our cabin.
http://i53.photobucket.com/albums/g76/RiverRunner1982/Alaska%202008/CaribouCabin.jpg
After the tour we headed to the kitchen tent for a late lunch of Spaghetti. After lunch we headed down to the boats to change an impeller and bearing on the jet pump. All of the boats were 1752s with a 40hp 4stroke jet drive.
While Nick and my Dad worked on the changeout I couldn't help myself! I had to fish as there were trout rising in the pool by the airstrip. I ended up catching 2 rainbows, both around 20", a grayling and a Chum Salmon. Not a bad way to start the trip!
Saturday, 7-12:
Our first morning of fishing began with a meal of pancakes and bacon. After breakfast we loaded the boat with fly rods and headed to Mosquito Creek to fish for Rainbows. Once at Mosquito Creek we started looking for the spawing Chum Salmon. It wasn't long before we found a ncie spawing area and beached the boat.
My first cast of a purple egg sucking leech rewarded me with a very nice leopard Rainbow of about 4lbs. Unfortunately I didn't have the camera ready, so no pics.
For the next two hours we caught rainbows, dolly varden (artic char), grayling, and Chum Salmon. The Chum Salmon put up a great fight on a 5wt flyrod!
We ended the day with about 20 rainbows, 10-12 grayling, 10-15 Chums, and 6-8 dolly varden.
http://i53.photobucket.com/albums/g76/RiverRunner1982/Alaska%202008/HookedUp.jpg
http://i53.photobucket.com/albums/g76/RiverRunner1982/Alaska%202008/NiceGrayling.jpg
Sunday, 7-13:
This day was to be a King day, King Salmon that is. We headed out with the plug rods in search of King Salmon. Nick took us to several locations looking for the Kings, but we just couldn't find them. Finally, we we found a few and had 2 doubles. Unfortunately, we lost one fish on each of the doubles. We ended the day with 2 Kings, a few Chum Salmon, and 3-4 rainbows.
http://i53.photobucket.com/albums/g76/RiverRunner1982/Alaska%202008/FirstMulchatnaKing.jpg
Sunday evening Bill Hines made it to camp. He was to be our guide the rest of the week. Bill is one of the best King Salmon guides in the Mulchatna/Nushagak drainage. He retired from the Air Force and National Guard at the age of 46 and has been guiding hunters/fishermen in Alaska for the last 28 years!
Monday, 7-14:
Once again, this day started out slow as we struck out at the first 3 holes. By mid-morning Bill had made up his mind and we headed down river about 15 miles. Once we got to the first hole Bill told us to get our plugs out. As I was letting my plug go back it got hammered! It turned out to be the only King until after lunch.
We moved back up river to the mouth of Mosquito Creek and immediately started having great success! We caught King Salmon after King Salmon for the next 4.5hrs!
Our guide, Bill, and Me:
http://i53.photobucket.com/albums/g76/RiverRunner1982/Alaska%202008/Bill-Ross-King.jpg
http://i53.photobucket.com/albums/g76/RiverRunner1982/Alaska%202008/30lbplusKing.jpg
My Dad with a King:
http://i53.photobucket.com/albums/g76/RiverRunner1982/Alaska%202008/Dad-KingSalmon.jpg
Tuesday, 7-15:
Bill was a little dissapointed with the results from the day before, so he decided to take us 50 miles downriver to some of his best spots. I'm not sure why he was dissapointed as we lost count of how many we caught the day before.
We did get to see some different scenery, though.
Unfortunately, all of the spots Bill liked to fish had been blown out by the Spring run off. We ended up only catching a few Dolly Varden and Rainbows.
After spending several hours trying to find fish, Bill moved us back up river to Mosquito Creek. Once here, we resumed where we left off the day before! We picked up several Kings, but they weren't as aggressive as the day before.
We saw our first real sign of bears on this day as they had found our beack where we landed most of our fish.
http://i53.photobucket.com/albums/g76/RiverRunner1982/Alaska%202008/BearTrack.jpg
http://i53.photobucket.com/albums/g76/RiverRunner1982/Alaska%202008/DadfightingKingSalmon.jpg
Wednesday, 7-16:
This day turned out to be a repeat of Monday. We caught Kings all day long in the same spot as the previous 2 days. Highlight of the day was Dad hooking a 50lb+ King and getting spooled! This fish jumped numerous times and was a blast to watch. Another highlight was a double, Dad hooked up the bigger fish and my measly 30lb fish didn't make it in the pic. We had to chase Dad's fish downriver to gain line so we didn't lose another bigun! His was in the 45-50lb range.
Dad with the biggest King of the week:
http://i53.photobucket.com/albums/g76/RiverRunner1982/Alaska%202008/DadwiththebiggestKingofthetrip.jpg
Also, a cold front blew through this day. We had been experiencing mid 50s for a high, light winds, and rain off and on. When the front blew in, the wind blew 40-50mph, temps dropped to the lower 40s and it rained hard. The wind let up a little bit but stayed in the 20-30mph range all day. The temps never did get back above 45 the rest of the week!
Thrusday, 7-17:
This was our last day and we hoped to find some rainbows. Unfortunately, all the rain the previous night made the creek swell and get muddy. So, we opted for Kings again. It was on fire! Within an hour we had 3 doubles and many, many singles.
Highlight was Dad catching another good fish!
http://i53.photobucket.com/albums/g76/RiverRunner1982/Alaska%202008/DadwithanotherbigKing.jpg
Again, it was quite chilly! At lunch we pulled over to a gravel bar and built a fire to warm up.
Thursday evening Lonnie, the camp pilot, took me up for a ride in his heavily modified Piper SuperCub. His SuperCub was bought brand new in 1977 by his father and it has remained in the family since. He has made a few modifications that made me classify this plane as an 'Alaskan ATV'.
http://i53.photobucket.com/albums/g76/RiverRunner1982/Alaska%202008/MewithAlaskanATV.jpg
While flying around viewing the scenery we found 4 cow Moose, 1 big bull Moose still in velvet but already about 60" wide, a lonely caribou or bear snack as Lonnie called it, and 2 Brown Bears.
To sum up the week and the camp, it was fantastic. We never saw another person outside of our camp and we were the only customers in camp. Nick, the owner of Northern Wilderness Adventures, knows how to run a remote and semi-primitive camp.
I am already looking forward to going back in 2 years to do a combo fishing/moose hunt.