Discussion Starter
·
#1
·
Went out with Captain Ed Robinson of Bonus Check Charters to do some topwater popping and jigging soft plastics for Striped Bass on the Susquehanna Flats. The "Flats" as most people call it, is the area where the Susquehanna River meets the Chesapeake Bay. If you don't know why it is called the "Flats" you'd get a pretty good idea if you launch a boat and come to find that the water depth is no more than 2-3 ft. deep for a few square miles. You don't get any deeper until the eastern shore where you'll find the bay channel depth of 10-20 ft. In the springtime, the Striped Bass migrate up the riverways and there is a Catch and Release period during this season where you have a chance at some real trophy fishing with LIGHT tackle gear. This is possible because when hooked up, a big striped bass has no option but to run long and hard on the flats since there is no depth or real structure to use. These settings make the scenario of a hooked fish much more beneficial to the fisherman in landing it.
We met Captain Ed at 5:30AM at the Galena Fire House parking lot and proceeded to follow him to the boat launch. Capt. Ed runs a 21' 6" Sea Pro SV2100 with a 125HP Mercury outboard.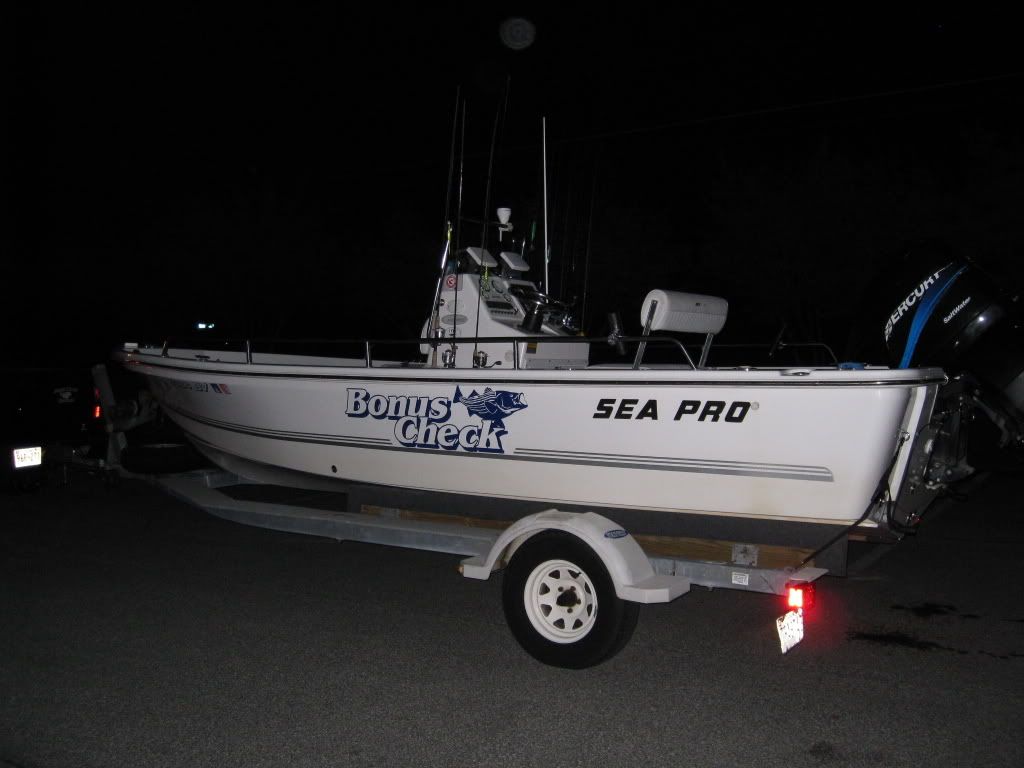 We started out at 6AM as the sun began to rise. There is still nothing that beats a morning sunrise on the water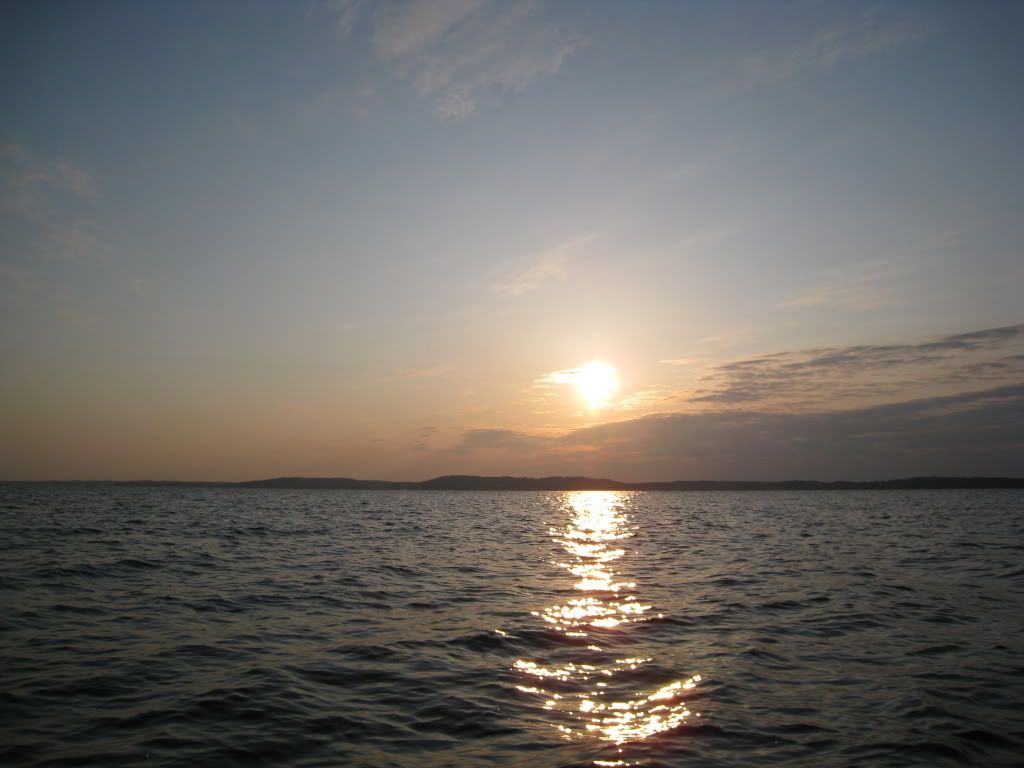 We first set up on a shallow flat and threw Stillwater Smack-It's for the sunrise bite and my friend, Ed Derias quickly had an exciting explosion of water come up beneath his popper. Unfortunately, no hook up.
Next, I had a big splash behind my popper, but no contact with the lure. Finally, Capt. Ed hooks up with one and quickly lands a 20 inch striper. He switches to a 7 inch Bass Assasin and hooks into another one immediately.
I place my popping rod in the holder and pick up one of his rods pre-rigged with a 7 inch Chartreuse glitter Bass Assasin and hook up immediately. Land my first Striper of the season! A healthy 24 incher. Next cast. I let it fall to down to the 8 foot bottom and get bumped immediately after the first twitch. Nicer fish.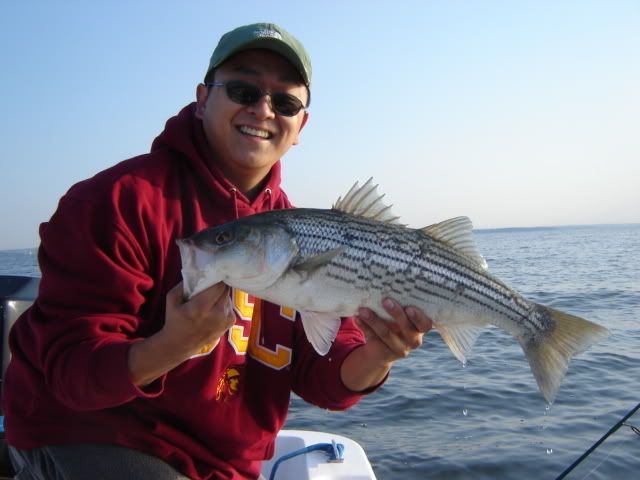 Meanwhile, Capt. Ed had changed to a Tony Acetta spoon and started catching one fish, one cast
He finally missed on his 4th cast
I felt sorry for my friend Ed since he's still VERY new to fishing in general and still has difficulty setting the hook properly. He had many bites and blatant run offs that even I could visually see by his rod tip and line, but couldn't sink the barb in. It will come in time....
Next cast, I launch my Bass Assasin far and wait for it to sink. Twitch, reel, twitch, wait... big jerk...slow reel..bump fish on! This one is pulling drag. I give Ed the rod. After a good, safe 5 minute fight he lands the biggest fish of the day at approx. 30 inches and 10lbs.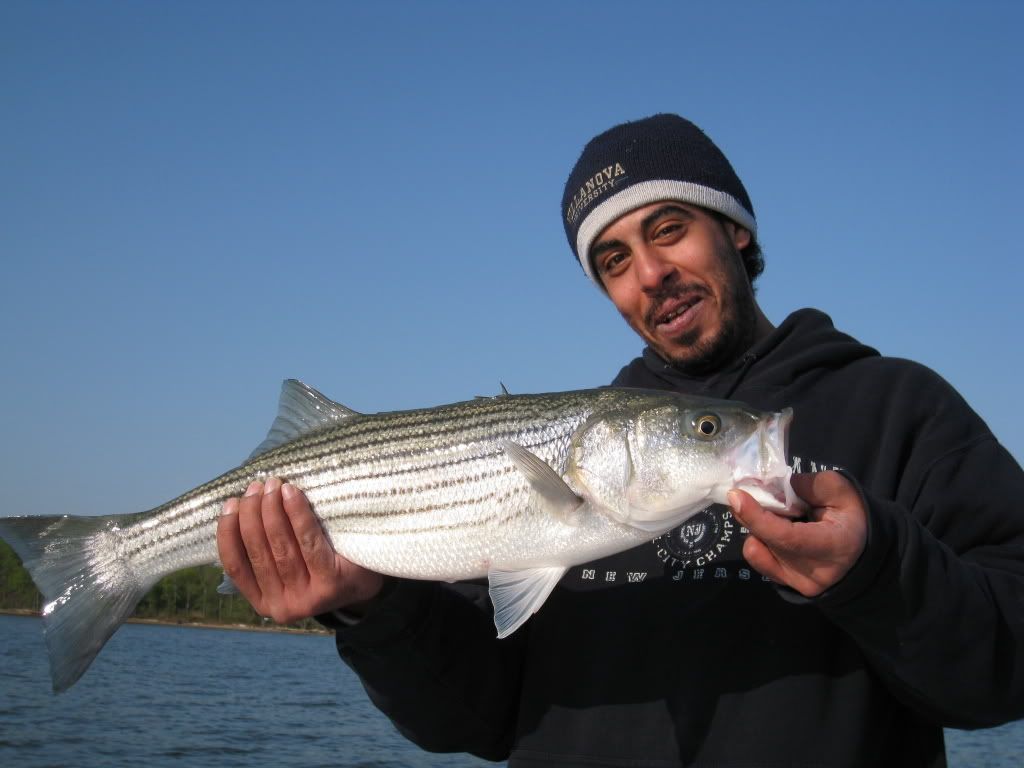 In total, we caught about 13-14 fish (I caught 5, hooked 6
) most which were on Bass Assasins and the Tony Acetta spoon. Only 2 were caught on poppers. Had a great time and was fun to be out there on my day off.