Discussion Starter
·
#1
·
I have had hard luck whenever I went tuna jigging trips this year. On late three tuna trips, I had only one tuna for my 30 hour jigging efforts.
Finally the long spell of drought was over on yesterday's Baltimore canyon overnight tuna trip by landing 9 tuna (8 yellowfin and 1 longfin) upto 90 lbs. on jigs. The first two tuna were caught on metallic sardine jigs and I switched to Shimano's new glow Flat-Sided jig as I wanted to experiment this new jig and caught 7 more on this jig mostly from 5:30 am to 6:30 am.
The glow Flat-Sided jigs worked, but I believe it didn't make difference what jigs I used as tuna hit anyhing moving during the hot bites.
While jigging action was slow at night, I even used OTI popping rod with Stella 20000 for chunking tuna.
I wanted to know how the rod acts while fighting a decent tuna.
I found the rod has a plenty of backbone and the trip is very strong. When tuna went under the boat, I intentionally held the rod in high stickting position, but the rod didn't break.
I could control tuna for the entire fight with the rod. I am pretty satisfied with the performance of the rod, but the real test is when I have a cow on the rod when I fish PV soon.
OTI 80 lbs popping rod/Stella 20000 setup
nice yft on a jig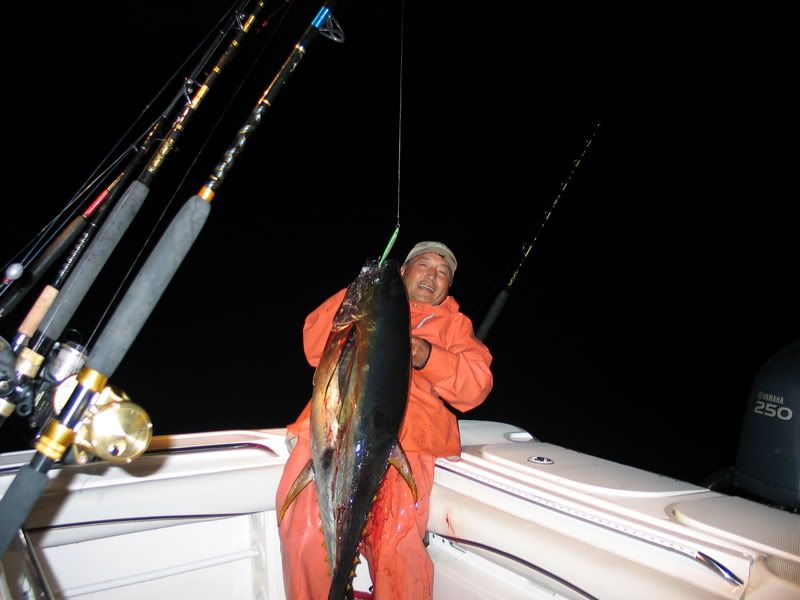 bloodydeck after hectic hot bites
scars on the Flat-Side jig ater catching 7 tuna on it