Discussion Starter
·
#1
·
Earlier in June the family and I took our first Florida Keys vacation. I was pleasantly surprised at how nice the string of islands actually are, despite being drastically altered from their natural state. While visiting, d-a (Doug) and the family "hooked" up for some family friendly fun. We managed to fish two days, one offshore for dorado and another night reef fishing trip. However, I think I enjoyed our time snorkeling the reefs the most.
The dorado bite is known to be strong during the summer and Doug had been killing them. Blood platters from the stern to bow indicated he had murdered them the day I stopped by to visit before we left the next morning. Doug had been by himself and was struggling to get the blood free after the sun seared the blood into the deck while he slayed the dorado in what had to have been a hot bite.
The next morning we made a run to the stream. Once there, birds were instantly on the scene and the rigger clip popped. Patty was up and she fought a nice bull to the boat when she lost the lonely devil at the boat. I would have liked a photo of her with the nicest fish of the day. No dice, but it was still early.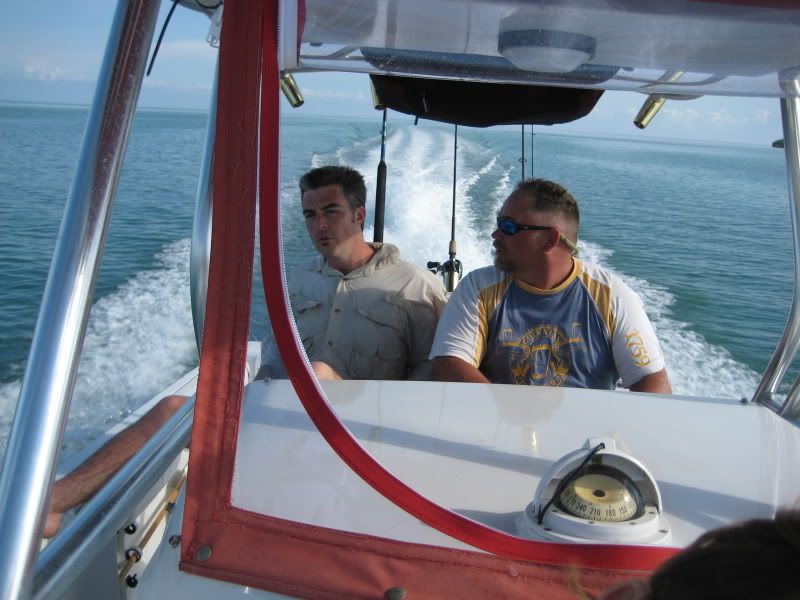 Soon thereafter, the rigger popped again and we made a stop which produced 5 dorado in the 5lb class. Determined to stay with artificials, we used small poppers to entice the school. Had we deployed chum and bait, we could have caught a 100 of the schoolies and maybe some of the lurkers below. Blake and Patty had a blast! Dorado were milling around the boat and Blake stared into the stream with huge eyes after he landed one of the feisty fish.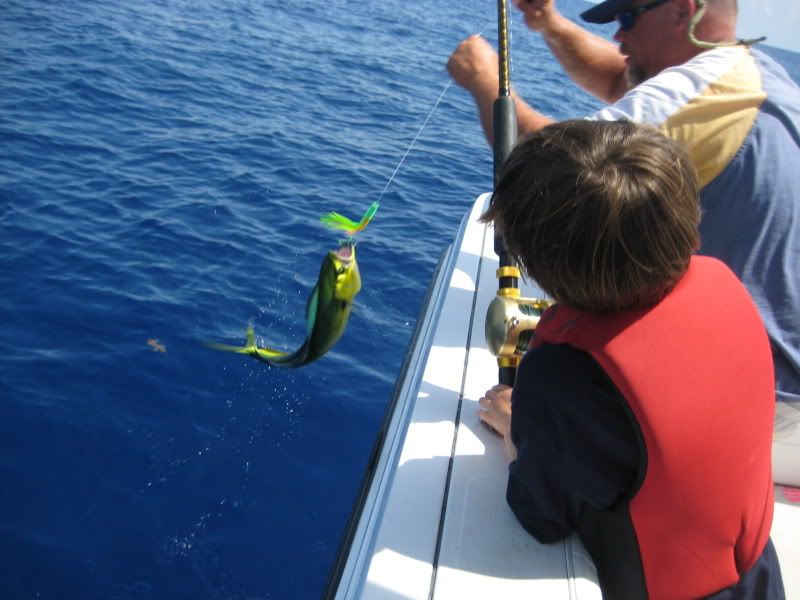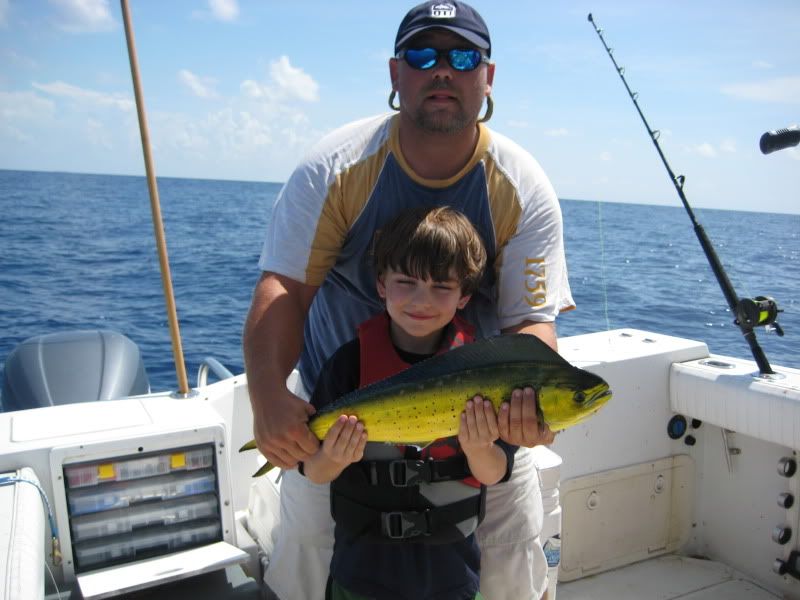 The rest of the day we decided to head in and explore the reefs with masks and fins. Doug is a Keys expert and put us on Looe Key for some fun. We swam with rays, tarpon, snook, grouper, cudas, huge schools of many species of snapper, parrotfish, other reef fish and various sharks. Once, a big blacktip shark swam up to Doug, Blake and I. Blake looked back and forth between Doug and I to determine who was closer as the shark swam within six feet of us. Blake decided Doug was closer and climbed up his legs to his back and then to the surface. "He is trying to eat me," cried Blake. We explained he wasn't and we continued to swim the reef with no fear.
We made our way to the shallower portions of the reef tried to catch lobsters, but they were next to impossible to get without a net. Blake never wanted to give up, but we wanted to give everything else on the reef a chance to be viewed. Patty wondered around with amazement and never tired of examining each coral head.
Blake is going to be a scuba guy, no doubt. He loves snorkeling the reefs and we had to let him in the water with masks and fins the remainder of the trip no matter where we were. He would pop his head in the water and rise occasionally to explain, "there is a big one Papa."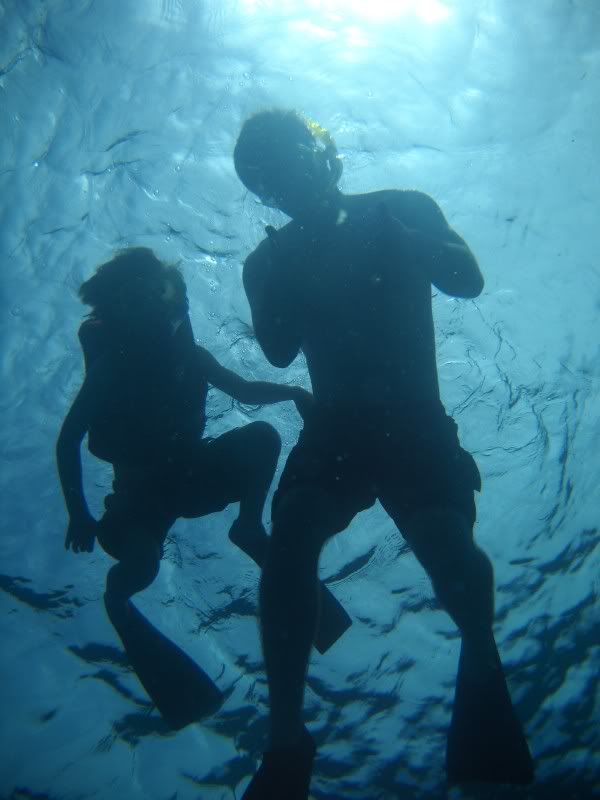 The next evening we went back to the reefs to sample some of the reef's other residents on rod and reel. A sail greeted us slashing through bait as were anchored and turtles were everywhere. Once we settled in, Doug placed a chum bag over the gunnel and fish surrounded the boat. We caught the hell out of grunts, grouper, sharks, yellowtail and mangrove snapper.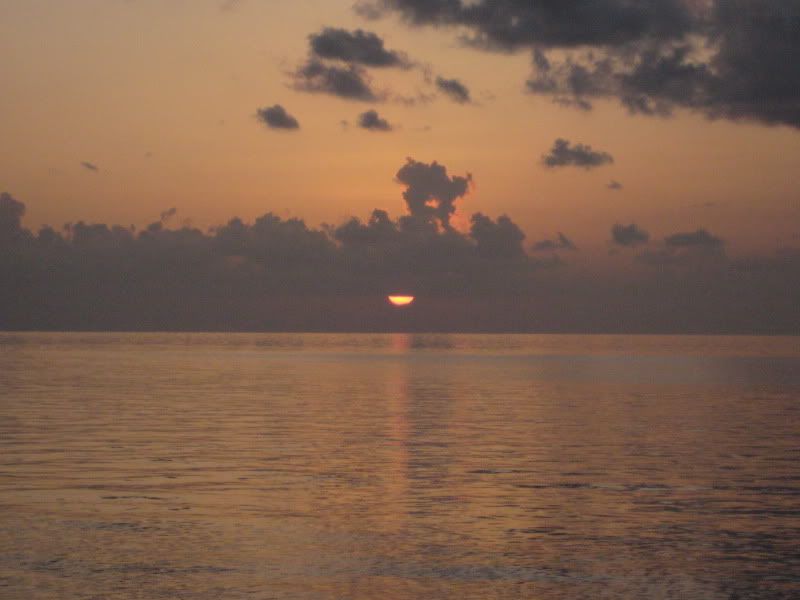 Under the lights, fliers established a presence and the tax man moved in to collect his due. Snappers were eaten along with the fliers and Doug decided to push back. Patty dip netted fliers and Doug and I rigged them. However, after hooking a cuda they decided to stop biting, which allowed us to start fishing again. Patty continued to dip net whatever appeared and she became an expert ay nailing fliers.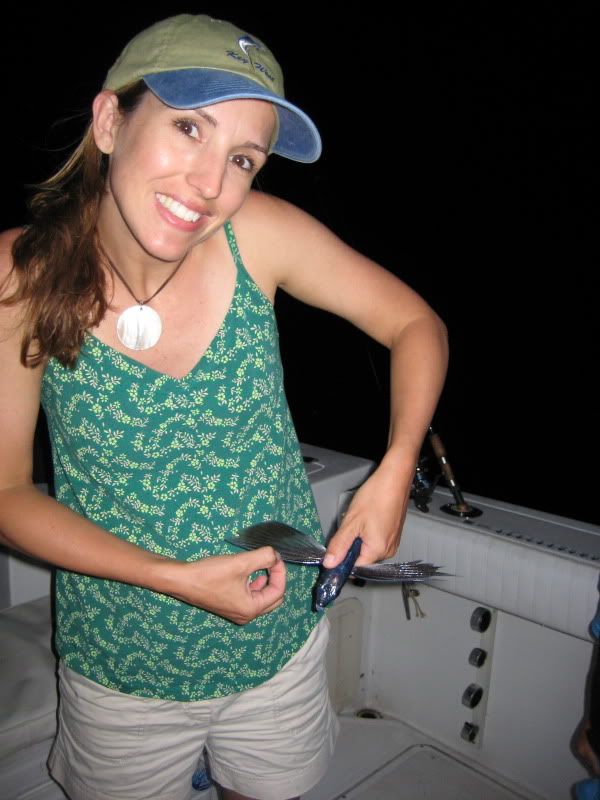 Doug had bought a nice reel for his mother to use on the boat the previous week, a Zebco 808 "Saltwater Edition." To be honest, the little reel was remarkably strong and I used it with zeel. Patty to a photo of me using the 808, which Doug saw. "That has to be your new avatar," he laughed. "It is a good one and you seem to like the reel." Between Doug using his Stella 8000 and me with the 808, we tore up the snapper again. Blake had a blast being handed the rods. I really have to thank Doug for the attention he gave Blake. He was a wonderful host and very attentive to my young boy's needs. Doug will be a great father and is a great guy to fish with offshore.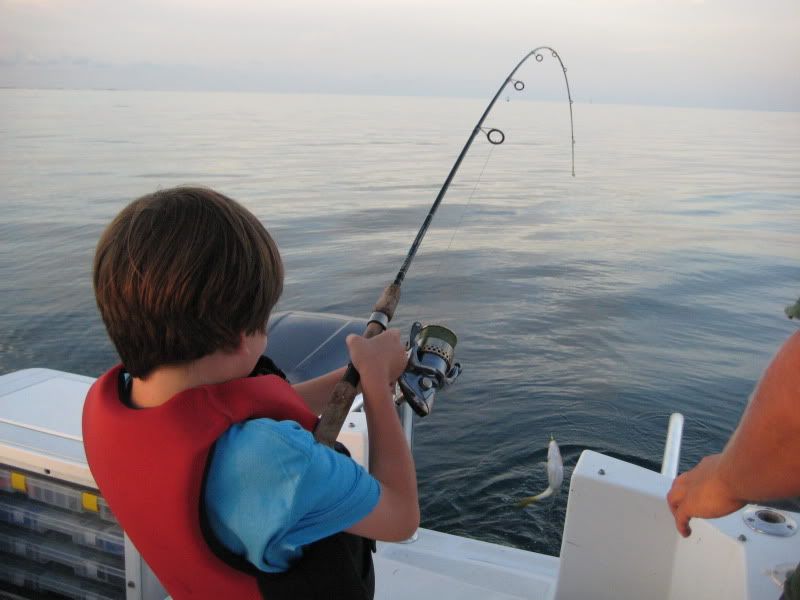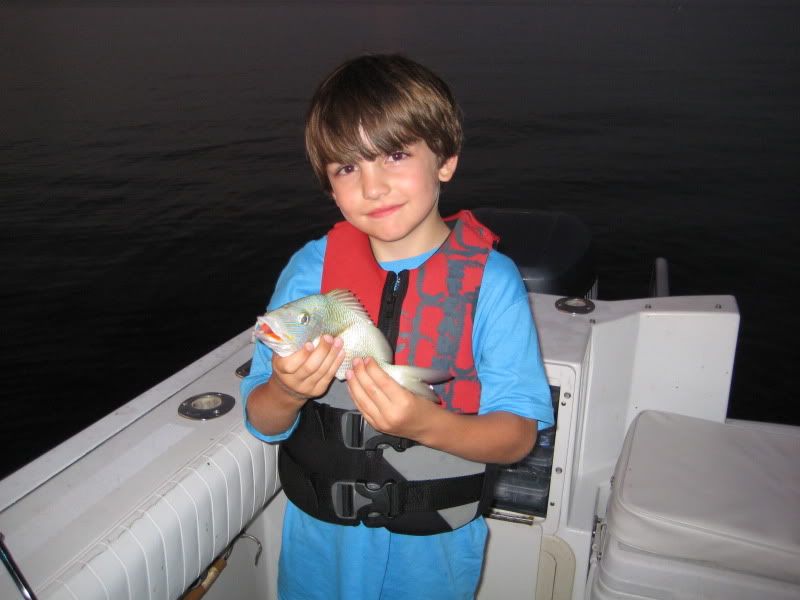 http://i71.photobucket.com/albums/i144/TunaPope/Florida/snakes1071.jpg
http://i71.photobucket.com/albums/i144/TunaPope/Florida/snakes1081.jpg
The rest of the evening we caught fish until we started to hear yawns around midnight. We finally pulled anchor and took off for the house. Without a doubt, this is a place I would like to visit again. Doug, you need to let me know if you go back in two years. I may have to lay off next year until our little girl is a little older. Next summer I suspect I will be playing in the pool and watching my baby take her first steps.
http://i71.photobucket.com/albums/i144/TunaPope/Florida/snakes1013.jpg
http://i71.photobucket.com/albums/i144/TunaPope/Florida/snakes1034.jpg