Discussion Starter
·
#1
·
Hello everyone, as some of you guys may know that I was invited by Team USA Fence to fish with them this past weekend for the 13th Annual Desoto Fishing Tournament, not the biggest tournament in the world but there is some serious bragging right to go with it. I was invited by part time Captain for Galati fishing team, Capt. Mike Hirshberg this time he will be fishing for USA Fence team. The team included, Ryan Hirshberg, Dave, Andrew, Capt. Mike and myself. This is one of bigger tournament around here and it cover every species on the face of the planet so it is hard to win. There are 2 different categories, inshore and nearshore/offshore. We entered the offshore category with a very slim chance to win, there are total of about 15-20 boats competing. This year Team Sea Vee Chee is the winner with 2 Swordfish, a 30+ Cubera, a 83lbs AJ and 97 lbs AJ weighed at the weigh-in. I am not sure what is the result of the tournament in ranking yet but I will put it up as soon as I finds out. First I didn't think that this tournament was that crazy but at the weigh-in, I change my mind, there were 15+ teams and the boat that is in the competition were unbelievable, there were atleast 5 boats with quad outboard and 1 with 5 outboards and countless with triples on their backs. Tackles are all out as well from Penn International, Tiagra, Torsa and etc...unfortunately, they still haven't really catch on with Spinning so there were only 3 Stella, all mine
Friday at about 6.30pm, I met up with the crew at their shop and we were preping the boat as Capt. Mike head to Captain's meeting. The tournament takes place over 2 days and 2 nights. We finally jump aboard the Custom Hirsh 37 at about 9pm and head out to our marks at 150 miles, our first run is about 4 hours. The boat was fuel up with 325 gal on the boat and another 125 gal on our collapsible bladder on the back of the boat, on the way out we were using it as our water bed and it was pretty nice to sleep on it. About 2 hours into the rides, Capt. Mike throttle down and said lets have a little rest and drop some bait on of this Snapper number, we came up on a nice show and I drop my trusty FCL Labo 230 in Silver/Glow Back and I was greeted with a nice Bee-Line, they said it was the biggest ever but it was quite small in my book, I drop down again and this time got a nice jolt from down below but the hook came off before I could get a good hook set in it. After about 20 minutes we decide to move on back to our plan. Another 2 hours into the rides we arrive at our location, the fishfinders marks, 2000 feet Andrew and I set out what we are after swordfish as everyone else was heading to bed, we set out our deep glow light hoping that something might be attracted to it. After about 15 minutes with 2 lines out at 250 feet and 150 feet, a big white creature swam up to our light and as it got closer, our heart fell down to the deck, it was a swordfish about 4-5 feet long that had came so close to us that we could have gaff it, the fish got to about 5 feet from us and he calmly swim back the other way without looking at our bait. The image of the fish gave us hope and the thought that we will finally catch a sword tonight but it just wasn't meant to be, as dawn breaks all the crew woke up from deep sleep.
We started trolling and with about 3 lines into the water and 5 minutes into trolling we were greet with a 24lbs Mahi that took our outrigger, daisy chain. We troll over temperature breaks and other spot with no lucks. We decide to stop a spot for some bottom dweller but we were greet with a nice Mahi next to the boat, I throw out my Stella 8000HG with Sashimi popper, the Mahi hammer the popper and after the first jump he was free, Dave decide to fre line a shiner out and that was quickly answer with that Mahi in the cooler, the action die down so we decide to head over to another wreck for some Warsaw Grouper. When we got to the spot, our friend boat was on it but unfortunately their fishing finder stop working so we lend them a hand on finding the wreck and in turn we can fish on that spot with them. First pass came, Capt. Mike calmly said...Topper...there are some AJ can you please jig us some, I calmly said yes sir...I grab my 8000FA paired with Fisherman Spinoza 5122 with Smith Jackknife 230 in Silver and jig up our first AJ to be at about 30lbs. Small but satisfy. Many people on my boat didn't really think jigging would work except Capt. Mike and Ryan who saw it first hand about 4 weeks ago, this wreck really prove them wrong because everyone decide to jig and stop using bait as I was catching the most fish. We also had some top water action with Bonito and some Tuna, I had a couple crash at my popper with no hook up. This spot yield us the biggest Red Snapper on the trip on JIG!! No one wanted to believe it but it was on the boat in no time and it was one of our weigh-in fish. The Snapper was 18lbs. After about 2 hours of no love from Warsaw we started trolling again and this time we were treated with a big pods of Dolphin that were moving some where, There must be about 1000+ of them since about 360 degree around us we can see them for miles, as we were trolling they would come up next to the boat and they must have been with us for a good 20 minutes before they head out their way, not long after as we were pulling lines in 2 Blackfin grabs our cedar plug and as it got closer we got one into the boat, it was a 24lbs Blackfin. After that everyone head for a much needed sleep except Andrew and I who is at the helm for most of the night as we were heading to our next spot. It was a dark moonless night and when we got to the spot I head to bed and everyone was up fishing for some nice snapper.
When dawn breaks on Sunday morning, we decide to troll to another wreck hopefully we can pick up some billfish or something. As we got up to the spot, The captain wanted me to jig again and I was greeted with a Barracuda on jig. After that it was AJ action for quite sometime until we decide to troll back toward home, we troll for about 20 minutes when we see some top water action, it was a bunch of Blackfin going after some bait with some broken weed lines. We trolling around them about twice with no luck, I also cast my popper also with no luck. We came up on some really good show so we decide to drop down some bait for some fish and we were greet with an 12 lbs red snapper and 2 fire truck (red grouper) at 20lbs and 25lbs. Unfortunately, I didn't get to jig at the last spot, because my Fisherman rod has fail on me, the ring on the tip top came off so it was unused for that spot. After about an hour we call it quits and head back in.
Sorry for such a long report but rather disappointing, it was my first tournament and I really enjoy the intensity and the effort that everyone puts in before the tournament. We will be fishing again next year and I know we will do much better since we will be much more prepare. Sorry that I don't got so much pictures most of them time we were fishing and just no time to take pictures. Hope you guys enjoy this and hopefully I will have a better report coming on August 1st. Also I would like to thank Gman for all your input again, your knowledge about fishing in overwhelming and your kindness is unreal, thank you again.
First Mahi
2nd Mahi on Daisy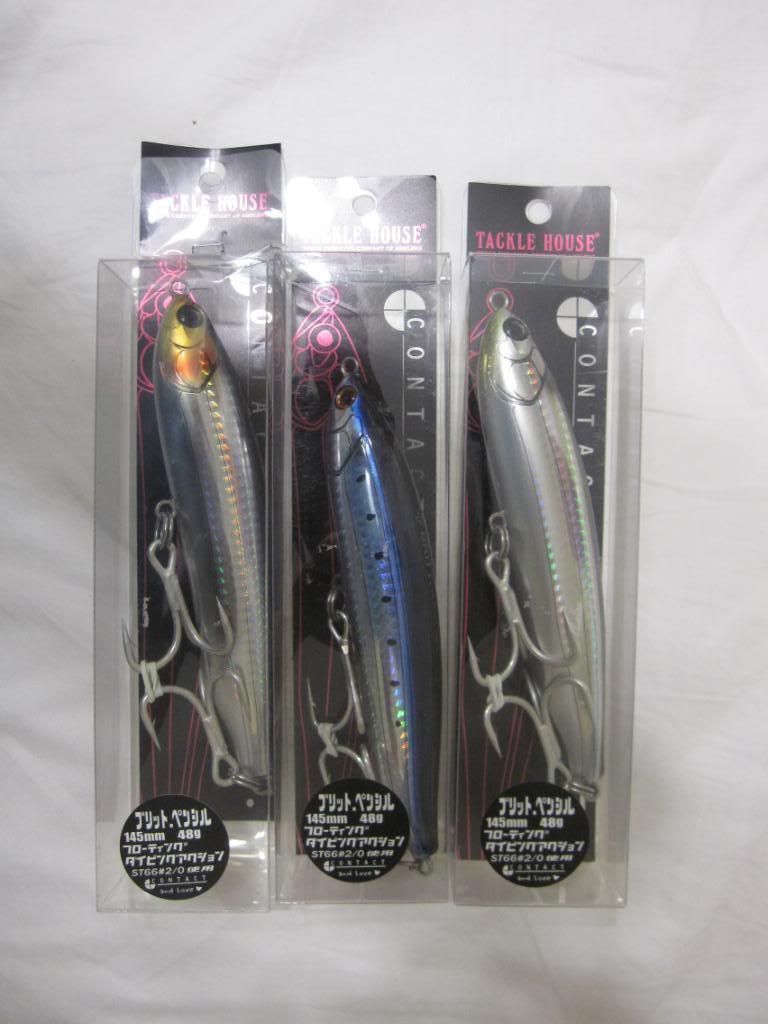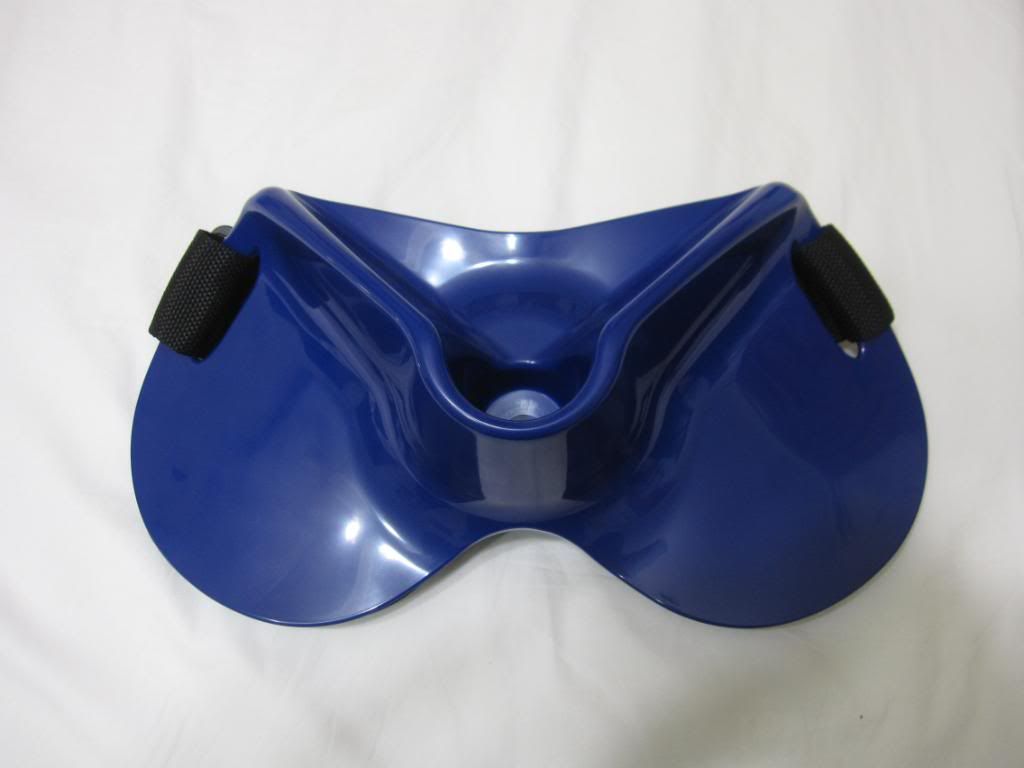 Red Snapper on Jig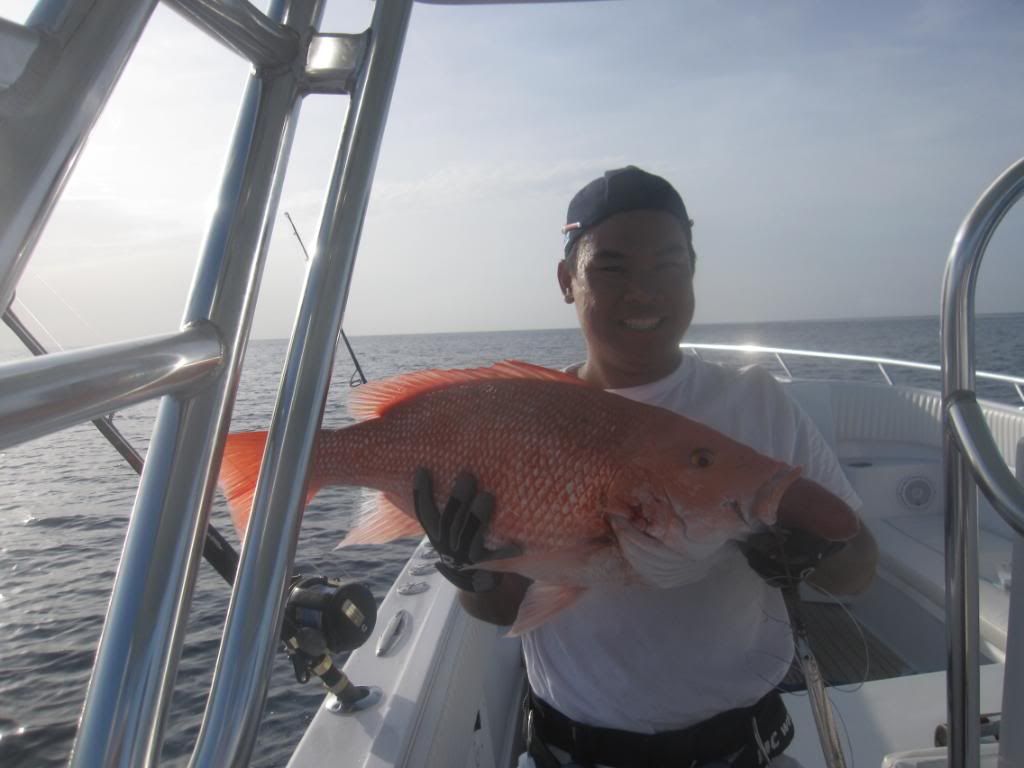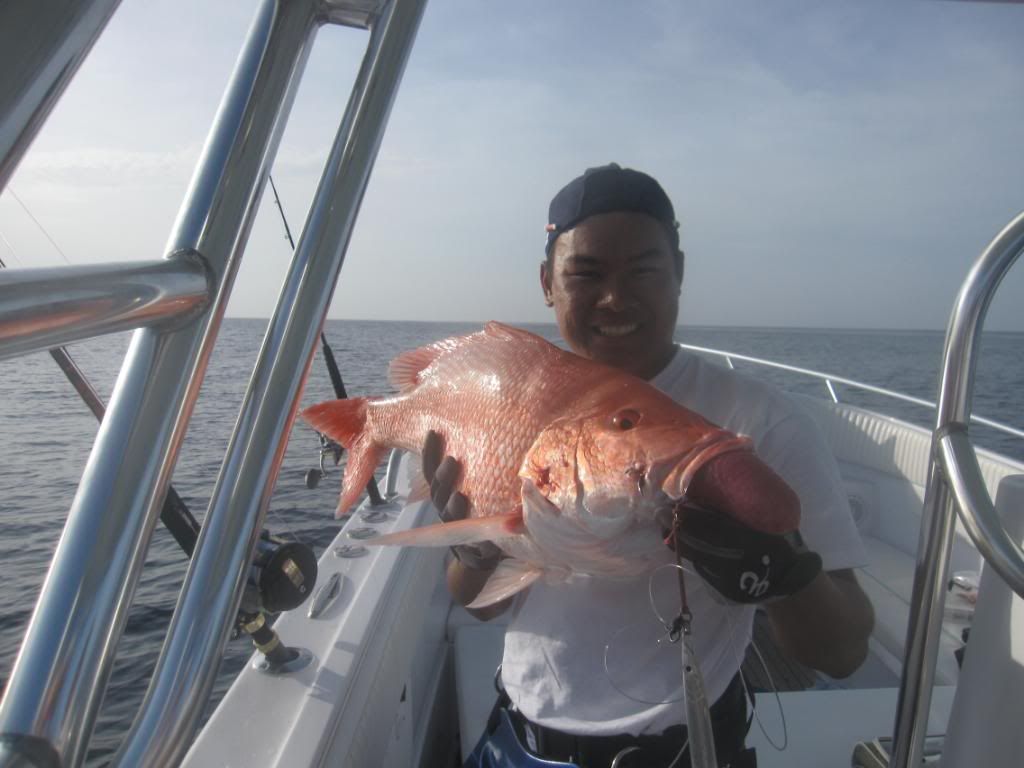 Our friends
Ryan filming the Dolphin
Sunset on day 2
The crew, on the helm Captain Mike, Left: Dave, Middle: Ryan and Right: Andrew.
http://i304.photobucket.com/albums/nn170/toppuntawong/IMG_0161.jpg
http://i304.photobucket.com/albums/nn170/toppuntawong/IMG_0163.jpg
This is what we got for about 90% of the trip. At this point we were about 70 miles out.
http://i304.photobucket.com/albums/nn170/toppuntawong/IMG_0172.jpg
http://i304.photobucket.com/albums/nn170/toppuntawong/IMG_0173.jpg
http://i304.photobucket.com/albums/nn170/toppuntawong/IMG_0174.jpg