Discussion Starter
·
#1
·
While bluefin jigging slowed down in Lobster Claw out of NJ, bluefin in Cape Cod started to hit jigs finally.
Angelo, Yong and myself fished with Capt Dom in Cape Cod today. We went to SW corner of Stellwagen Bank early in the morning as some nice bluefin were caught there last couple of days, but we found the area is loaded with bluefin and dogfish without any sign of bluefin.
As usual, Capt Dom ran 40 more miles in search of bluefin and we finally found area with many whales and birds. When we got there it seemed action was over as all birds were sitting on the water.
While we were casting blindly, Dom hooked up a bluefin near the bottom on famouse 7.5 oz flat hammered diamond jig/assist hook.
Yong and Angelo fought the fish together. While fighting, the rod tip section got broken even it was not in high sticking position. It was thrid time I experienced rods got brokine while fighting big bluefin this year. The rod has pretty good reputation as durable. There must be some defect on the rod. Even the rod got broken, we managed to land the fish which turned out to be 65 incher.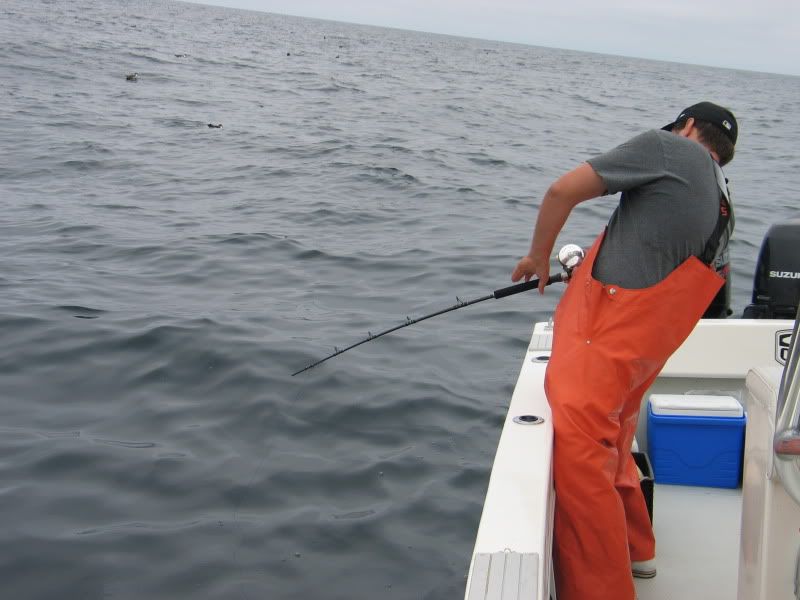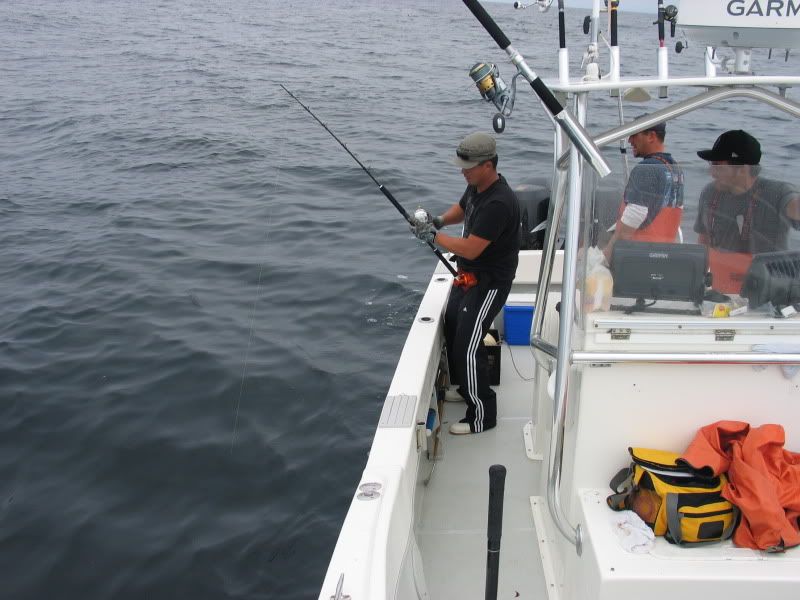 even Dom joined the fight.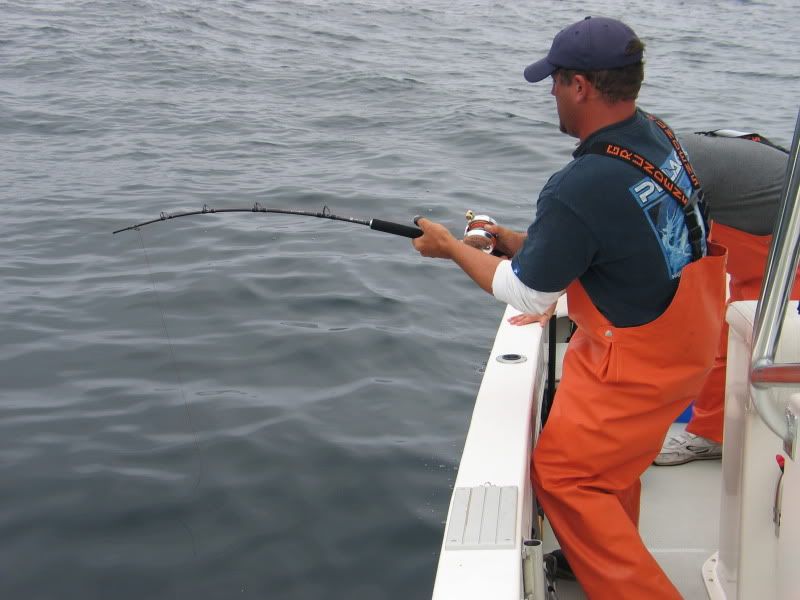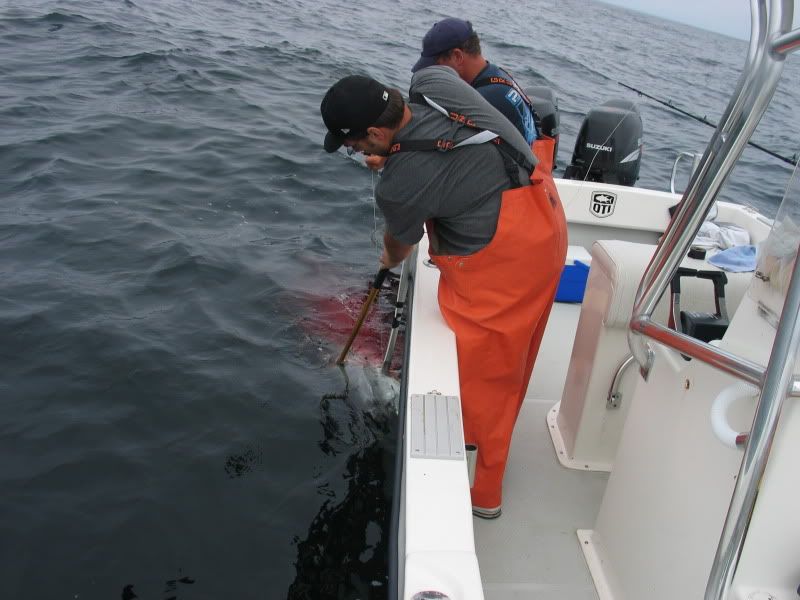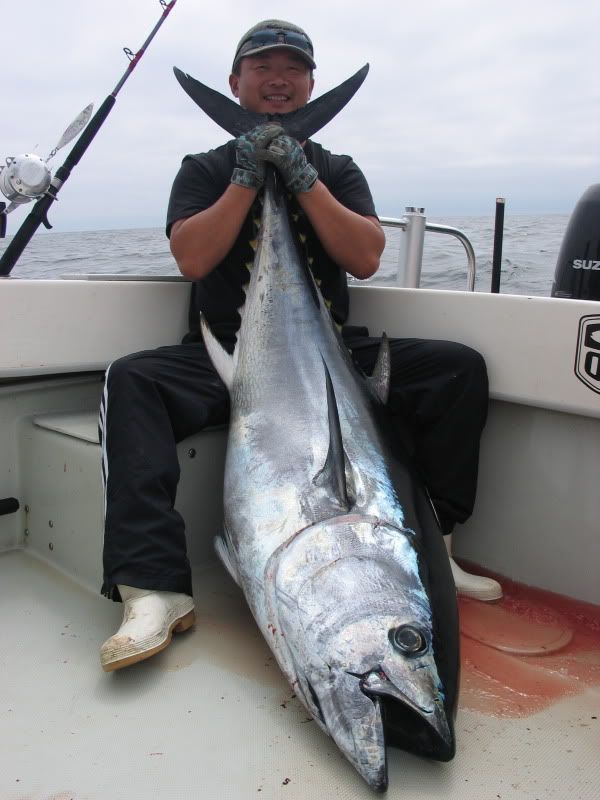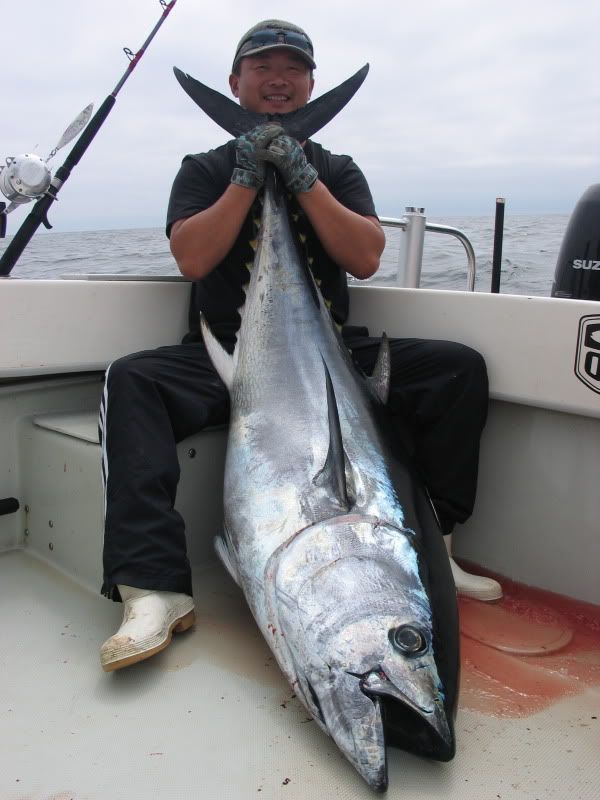 I brought new Hots 5'6" One Pitch Slider 56XH jigging rod to test with big bluefin. I had a nice hit while jigging up and down in 100 ft down, but I missed it. It dind't take long when I got second chance. While I dropped my Sevenseas glow Hooker Darter 220g, I noticed line went sideway. I hurridly crank fast to get rid of slack line and set the hook as soon as I felt weight. Fish is on !
I fought the fish to the end as I wanted to test the rod's strength and to know how the rod performs. It took about 25 minutes to get the leader line with the use of Stella 20000FA fillled with 80 lbs Tuff line/80 lbs Yozuri pink fluoro carbon. The fork length was 66 7/8
inches (about 170 lbs). The 56XH is super light (under 9 oz) and looks fragile, but it handled the big bluefin superbly.
I was told that the newe Hots One Pitch Slider rods are much stronger than Hote Wei World and I believe it now.
http://i2.photobucket.com/albums/y2/ksong/2009/tunacapecod08-14-09036.jpg
http://i2.photobucket.com/albums/y2/ksong/2009/tunacapecod08-14-09037.jpg
http://i2.photobucket.com/albums/y2/ksong/2009/tunacapecod08-14-09042.jpg
http://i2.photobucket.com/albums/y2/ksong/2009/tunacapecod08-14-09050.jpg
Angelo got the third bluefin on a jig. It was again on my 7.5 oz flat hammered diamond jig. After he fought about 15 minutes, tuna pulled the hook. He was using 8/0 Gamatatsu Siwash hook.
We didn't land any tuna on poppers, but nobody complained as we had excellent jigging instead.
We are going to have excellent bluefin jigging in Cape Cod from now on as good jigging usually continues to the end of season once bluefin start to respond to jigs.
Capt Chip's boat nearby.
http://i2.photobucket.com/albums/y2/ksong/2009/tunacapecod08-14-09060.jpg