If you like Bass fishing, please take time to read this. You will absolutely love it. This was one of the best fishing trips I've ever been on! That is really saying something since I've have been blessed with having opportunities to fish all over North America. This was simply one of the best features about this trip, it wasn't that far from home at all! Plus you don't have to have any special equipment at all! A soft action bait caster or spinning rod is all you need if you do want to take your own rods and reels!
http://oakislandlodge.net/
On Tuesday, November 28th, J.P. Greeson, Monty **** (Sales Manager, Moritz Chevrolet), Larry Bozka( Outdoor writer), Tony Gergely (Owner of Sure Life and products like "Please Release Me"), Mark Mantell (Hunting/Fishing and outdoor artist), and myself met at the Oak Island Lodge located just south of Anahuac, Texas on the Trinity Bay. This is only about an hour east of Houston, just off I-10.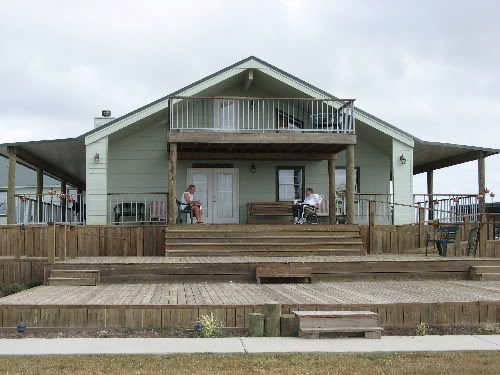 Some of us were old friends like Mark Mantell, Larry Bozka, JP, and Tony. Monty and I have known each other for several years, but never really had a chance to spend any time together and really get to know each other. So this was a really good experience for all of us.
Upon arriving, we immediately unloaded and had a chance to look around. WOW! Was this lodge incredible. It had everything right there you could ask for. Large open main room, beautiful kitchen, fireplace, stage for live music, nice comfortable rooms, boat docks and lifts right on the water, boat ramp 200 yards away, and every comfort that a nice lodge should have.
Our Captain for the afternoon was Captain James France, AKA "Frenchy." Captain Frenchy pulled up in a brand new 24 foot Skeeter with a 250 Yamaha HPDI. This boat was very nice considering there were four guys on board, plus the Captain and the wind was blowing 15-20 MPH and the bay waters were choppy. The ride of this boat was excellent and even with the choppy waters, we were all extremely comfortable. We had plenty of room to cast without any real fear of getting anyone hooked or tangled up. I would have to say this was the perfect boat for bay fishing, especially since it had plenty of room for five people throwing lures at the same time!
We spent the afternoon cruising the bay in search for the elusive specked trout and red fish. Captain Frenchy saw some birds working just a few minutes after we left the dock. We made a couple of drifts through the area, and at one time, we not only had a double hook up, we had three rods bend over with trout on them. We had a gentleman's bet of $10 each to see who would get the biggest fish. Tony Gergely won top honors with a beautiful trout about 23 inches long.
We put our rods up after the birds has left and moved on to find more fish on this windy choppy day. We ended up fishing in several areas, and each time we would stop, we would pick up a fish. Toward sundown, we heard our stomach's growing, and decided to get in so we could get some nice hot food.
We pulled up to the boat dock, secured the boat and tackle, and went inside to be almost knocked over with the wonderful aroma of hot food being prepared. After a hot shower, fresh clothes on, we all sat down and had a great meal of some of the most delicious pork chops, corn on the cob, fresh homemade rolls, and cheesecake for desert. After all the food was cleaned off our plates, Monte decided to twist my arm and both of us couldn't help but getting one more of those wonderful pork chops, just to make ourselves so full we were miserable.
Captain Frenchy is one of the most experienced guides in the area and not only specializes in Trout and Red Fish, but also provides hunts for Dove, Guaranteed Alligator Hunts, Duck and Goose, Hog, Flounder Gigging and Bow fishing as well.
http://huntandfishtexas.com
We ended the meal and moved on into the den of the lodge, were Larry Bozka, Mark Mantell, and Captain Bill Watkins.
We had a very enjoyable evening of listening to the three of them crank out old favorites like George Jones, David Allen Coe, Dillon, and many, many others over the several hours they played.
Even with all the activities going on, JP, Tony, Monty, Larry, and myself couldn't help it but go out to the lighted peers and fish some more. They have one peer that is about 50-60 yards out, and has huge lights that attract the bait fish. Monty had the hot lure of the evening and added several fish to the box.
However it was Larry Bozka with the Black Salty's that was the show of the night. Not only did Larry catch trout! But, he also caught Red Fish and Flounder on the Black Salty's to complete his Grand Slam for the evening!
These Black Salty's were amazing. They can be fished in either fresh or salt water. They were shipped down there to us, all of them alive and fresh. The best thing about them, was how easy it was to keep them alive. We added Sure Life's bait formula to the cooler with the Black Salty's on it, and they were alive for over 48 hours without any air pumps! Absolutely amazing to be able to keep bait alive so simply!
http://www.blacksalty.com/
The next day, we set out for more fish with Captain C.R. Marhs. Once again, he had a new 24 foot Skeeter. We were in the Baytown area, and fished within sight of the Baytown Bridge all afternoon. Tony once again took big fish honors with a bruiser of a trout! Monty's largest trout was almost the twin to Tony's! Captain C.R. was one of the friendliest, soft spoken guides I have ever fished with. He would pull into an area that didn't have birds working, and tell us the fish we would catch would be big ones. I don't thing we put any fish in the box that was less than 16-17 inches. Most of the fish were 20-24 inches long!
We ended the day with another amazing meal, and fishing. J.P. decided to stay up later the second night, and caught some nice trout off the peer. Monty completed his Grand Slam off the peer on the second night!
In all, I would have to sum the trip up as amazing! We had some great company, talented people who could not only fish, but provide the entertainment as well. The lodge was very comfortable, and the guides were first class.
I would easily recommend the Oak Island Lodge and their facilities to anyone looking for a quick getaway. They can handle small groups to large ones. So if you want to try something new, don't hesitate about going fishing at Oak Island. If you don't have tackle, they do! You don't have to go out and buy anything! With the quality of the meals provided, the cost per person at $95 per night is very, very reasonable!
To contact Oak Island Lodge, their phone number is 409-252-4122. Or a link to their website is
http://www.fishgalvestonbay.com/lodging.htm
. Captain Frency's phone number is 281-507-4500 and Captain C.R.'s phone number is 832-755-1893.
http://oakislandlodge.net/
http://www.huntandfishtexas.com/
This was a fabulous trip! We met some very interesting people, caught lots of fish, ate like kings, and treated like royalty while we were there! This would make a great weekend vacation for any group of friends or family!