Discussion Starter
·
#1
·
I know it is tough to go tuna jigging three times within a week, but You got to go when they are hot.
We had another excellent tuna jigging out of Cape Cod, NJ yesterday.
Weather was beatiful as you see in the pictures below. 19 Fathom has been hot, but we decided to go to Hambone as we felt 19 could be very crowded and we had confidence we could find some tuna at Hambone or Hot Dog. When we arrived at Hambone around 6:00 am, we could see only one boat working there. @( Later on several boats arrived, but they were mostly trolling.
We went the area where we had good bites last week, but we rarely see any marks of bait or tuna. While we were searching around, we found a area loaded with baits near the bottom. Though we didn't tuna marks much, we decided to drift the area and it paid off.
We didn't use any bait at all and all four of us used jigs. This was a great opportunity as I could observe the results of different jigs.
We used diamond jigs, Hot's Drift Tune jigs, Shimano's Flat-side, Raider jig and four differnt kinds of metallic sardine jigs. All worked. Guess what was the best jigs on trip.
All are proven tuna killers and each jig has its momentum, but plain regular (not hammered) diamond jigs ruled yesterday.
We even experimented a circle hook on the dimond jig as we were in releasing mood andthe circle hooks on jigs worked as good as regular hooks !!! I now became a believer of a circle hook for tuna jigging.
Paul of Anglers Proshop fighting a tuna with Smith AMJ 52EX rod.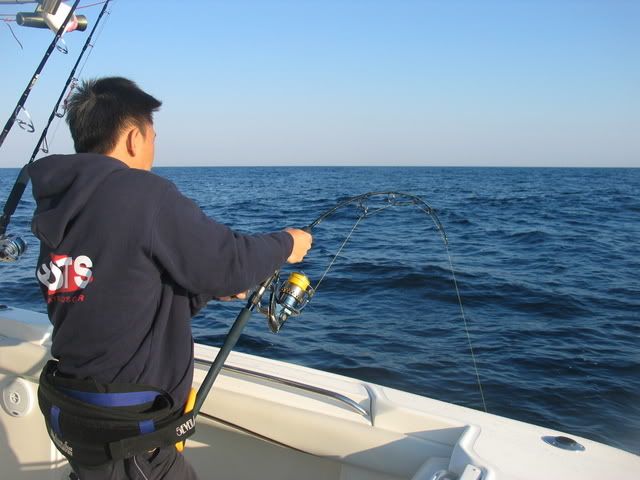 and his first ever bluefin on a jig (Hot's Drift Tune)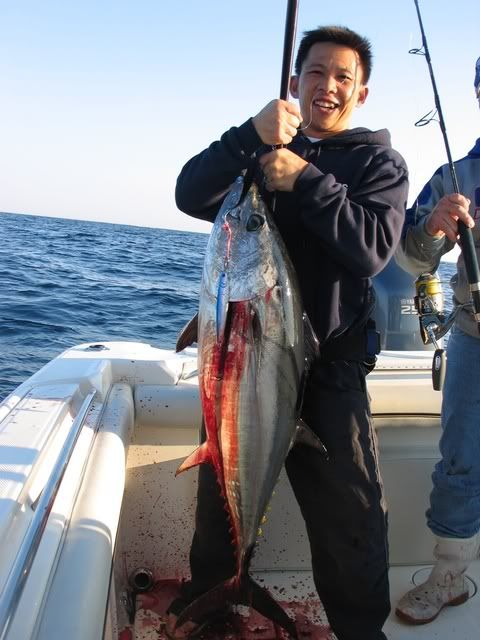 Double hook-ups
circle worked.
110 lbs bluefin. We released bigger ones later.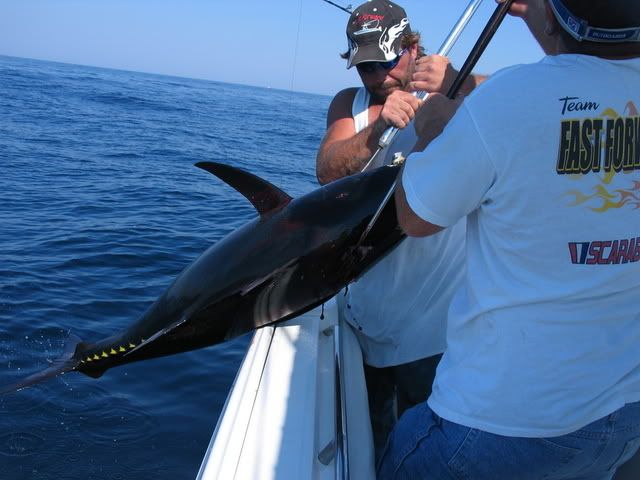 my new style of fighing tuna.
I was using Stella 20000 and Shimano's 5' Jigwreck rod.