Discussion Starter
·
#1
·
I'm not right very often but yesterday, I was definetly right. A week or so ago I said sunday would be the "day" being that it was our first 4 tide day in weeks. I cheated yesterday and decided to take the boat out versus making the drive to the surf and it worked out quite well.
We made it to the water bright and early at about 10am and after a few throws of he cast net we had a livewell full of 6-10" mullet. The first stop didn't produce much just a few straggers. After catching 7 in a little over an hour we pulled the anchor and moved on. This turned out to be a very VERY wise move.
I have seen big schools of reds busting and also have came upon huge pods of reds cruising, but in my lifetime I have never in my life expierenced anything like what happened next. It was definetly a day to remember. For the next couple hours it was pure madness. We started out with our normal 4 rod red spread on heavier tackle all baited with life mullet on the bottom. I then rigged up my trout rod and gave it a flip and on the first bounce off the bottom line was peeling off my Revo. My dad followed suit and flipped his taut tail out and he was instantly hooked up. This is where things got entertaining. We are doing circles around the boat, dodging the 4 lines on bottom, and trying not to get caught up in the trim tabs and the anchor rode. Needless to say after the first double was landed we reeled up our baited rods and for the next couple of hours we caught bull reds EVERY single cast. Many of reds would hit the tails before we even gave them their first bump. When you would finally get a look at the fish we would have followers, lots of followers. Every singlered we caught had a minimum of 10 reds following it up! I actually had one come unhooked within sight, and I watched him inhale the tail AGAIN not 10ft off the boat. That is was inspired me to try somethign a little different. It was by this time around noon, water was calm, and getting awful hot, perfect time for some top water action....right??? I tied on a bone super spook and gave it a flip and started walking the dog. Not 5 seconds after it hit the water I was greeted with a splash so big I thought somebody had just thrown one of the granite boulders off the jetty. My spook disapeared and line started evacuating my Revo. I caught bull reds every cast on the spook for over an hour, until we screwed up and left our rods up and in sight of passerbys. We then had a guy pull up beside us(literally!) dropped his anchor. He then pulled up his anchor and dropped it again, then pulled it back up, and dropped it again... He finally got situated about 30 yards off of our port side, and after listening to his engine idle for 10 minutes while he was on anchor I almostlost it. Needless to say I didn't catch another one of the spook, but he did turn his motor off [8D] These guys starte whooping and hollaring with every fish they caught and did not try to hide the bends in the their rods. Within 30 minutes I counted 11 boats within 50 yards of us; many were in casting range. I was not happy, I could hardly cast anymore but we were still catching fish every cast. I had another guy actually bump us with his boatwhile he was "setting" his anchor. The amusing thing was we were still catching fish every cast and the other boats soaking mullet caught a few here and there. More people kept coming and we were still catching fish every cast. People kept asking what we were throwing and we'd tell them and they keep on soaking mullet no catching many. I got curious and climbed up on the T-Top on the boat to get a little elevation and from there I could see the schools of reds swimming around teh boat, that I could not see from the deck. I also spotted another HUGE pod of reds a couple hundred yards away. Boats were still coming, closer and closer and at one point I could not cast without hitting a boat. Spanish music blared over teh radio, irritated me, but it finally made the crowd disperse some. I was glad when I could cast again so I could turn the radio off! Things started slowing down with us only catching reds every 3rd cast or so so we picked up and decided to get out of the crowd. A short run later and we were drifting up on the pod of bulls I spotted earlier. We hung with them and caught reds every cast again until we were just honestly tired of catching fish. I honestly have NO clue to how many reds we landed. In the time we fished we never went more than 3 casts or so without a fish and at all times one of us were hooked up. I'm not even going to try to guess how many we caught. I was only able to get a couple pics as its pretty tough to fight a bull on trout tackle and take a pic at the same time. This was by far my best day for bulls in my life. I have never seen anything like this, and my dad and I said that numerous times throughout the day. My arms are sore and I'm sunburned but it was well worth it!
Here are a couple pics from the day...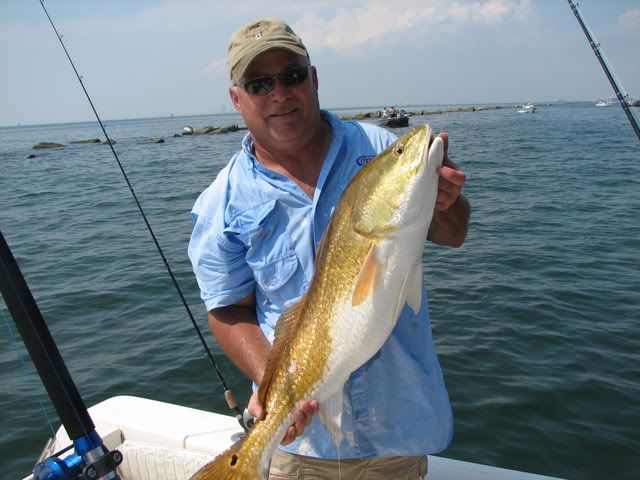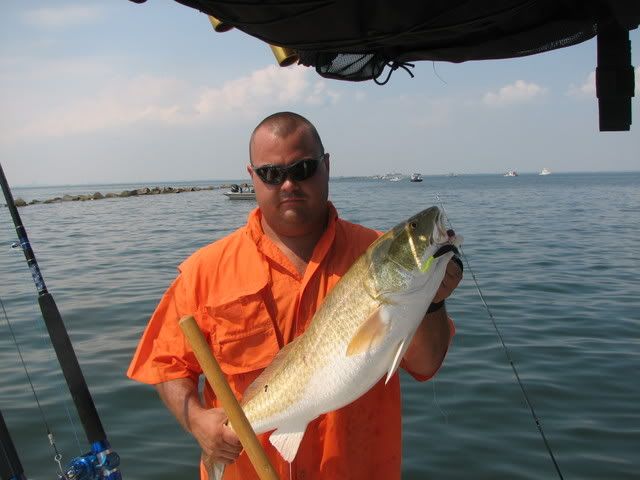 Notice the bent rod in this pic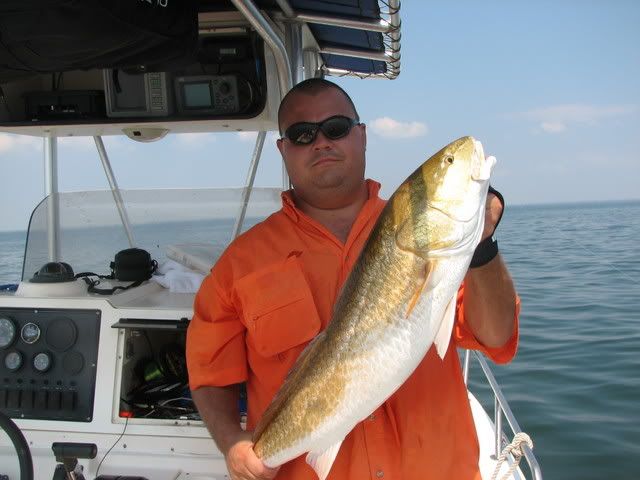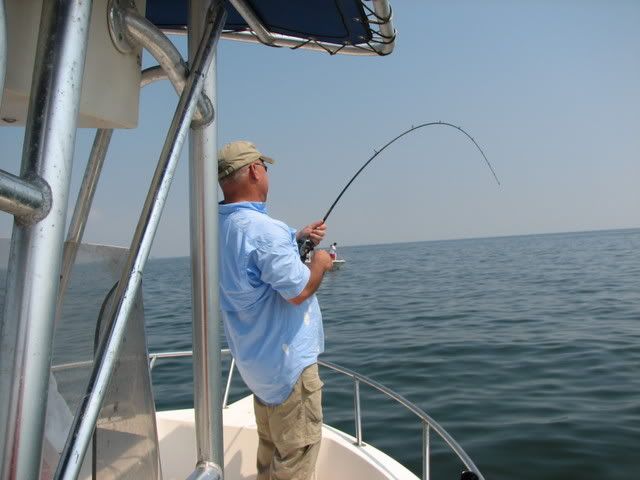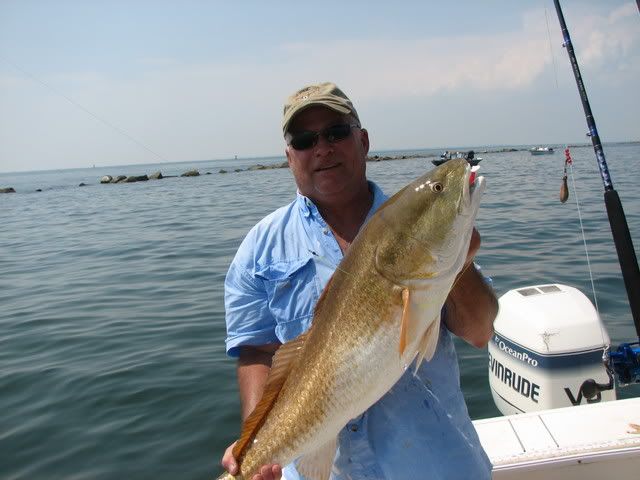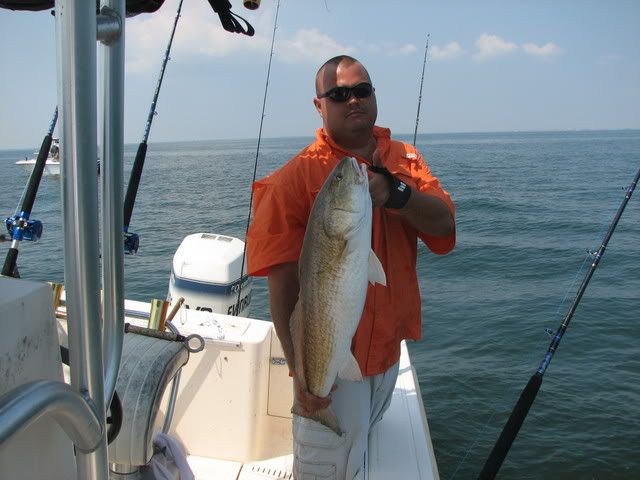 After we decided to call it a day I looked don and this is what my feet looked like.. I think this is a sign of a good day and the "run!"