Discussion Starter
·
#1
·
Got to Pierpoint Landing just a little before 8pm for a 2 day Senor Tuna trip on the Pacific Star. Tonight's crew would be Mike and Kenny at the wheel, Mike, Dave and I forgot the other guys name were the deckhands and Stan in the galley. We left the docks a little after 9pm and the initial game plan was to try and make it to San Nicholas Island. Well Mother Nature decided for us that going to San Nic was not going to be an option so we wound up at Catalina Island. Long story short for Saturday we moved from one spot to the next looking for the fish to bite but with what looked like the entire sportboat fleet and private boat fleet anchored up at Catalina and with wind again current it just made for very tough fishing conditions. Jackpot winner of day one was a 5 pound Calico that was kept in the bait tank all day and was finally released at the end of the day.
While we were anchored up Saturday night eating having dinner of Chicken cordon blue with rice pilaf and veggies Captain Mike told us the game plan for Sunday was to take off at about midnight from Catalina and try and make the run again to San Nicholas. So after a great dinner (at least for the ones that were up for dinner) we wound the evening down with a few movies or an early start to bed before we took off. At about midnight the engines fired up and we were off to San Nicholas.
Sunday morning and San Nicholas looks a lot like Santa Barbara Island. Mother Nature had different plans for us again. We tried for some seabass but with high winds and lots of current it just made things very difficult. Things were starting to look a lot like yesterday. In a last ditch effort we went offshore and Captain Mike found the honey hole for us where we loaded up on rockfish. Big Reds, chuckle heads, Johnny Bass, and we even got a ling too. Day two's JP was the ling. When we hit the honey hole Captain Mike decided to stay out a little longer so we could put some fish in the sacks and we managed to fill the sacks. The crew was awesome, getting our fish to the sacks and getting us out of tangles really quick. Mike finally had to call it quits at around 3pm and we were on our way home. We would up staying out for an extra 2.5 hours. Stan our galley cook didn't have to but he cooked us up a mid afternoon snack of mac and cheese with bacon bits and boy did that hit the spot.
We finally arrived at pierpoint at about 8:30 or so and finally back on dry land. What a weekend it was, getting kicked around by Mother Nature both nights and during the day, scratch fishing all day Saturday and we pull it off at the last minute. The Senor Tuna gang is a great group to fish with. Very friendly and great camaraderie overall, we all took the fishing conditions in stride and took the opportunity to spend the time with friends and get to know new ones. Thanks to Captain Mike and the Crew of the Pacific Star they worked hard and tirelessly despite the tough conditions.
No pics taken on Saturday but I think I took a couple of pics on Sunday. I will check the camera later tonight and post them up if I have any.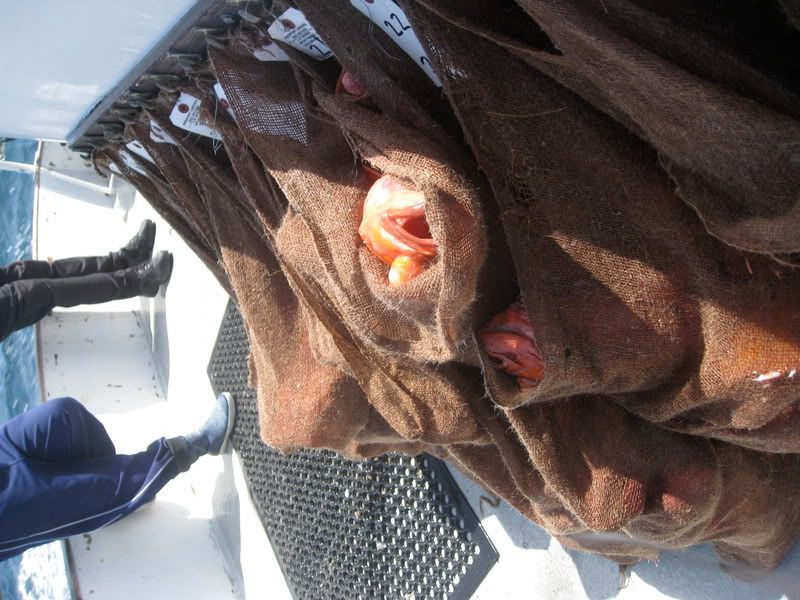 A short video of Bird rock getting populated