Discussion Starter
·
#1
·
Sorry for the book...
As a few of you guys know i was invited to go ofshore this weekend by Nick(safisher) and Luis(drifter) out of Port Mansfield. I was stoked as it looked to bit a bit choppy sat morning and sunday looked good. Our plan was two day trips coming back into port each night for r and r. With the guys telling me how exciting port m can be i was stoked, plus the fact i needed a fix it had been 5 months.With another son on the way i needed to get fishing before feb.1.
I embarked on the 530 mile trip(one way) to port M and arrived around 6 pm. I met the guys and we had dinner at a great bbq joint down there, after dinner and some drinks we started rigging our stuff in anticipation a great couple of days offshore. I quick check of the bouys at 1am, and we decide to leave at 6. The next day we grabbed the boat,ice, and some fresh dead mullet(remember this for later). Load the boat and we are out cruising 35mph towards the jetties when 2 miles from the end we lose power to one of the engines. Nick is pissed as he just got the boat out of the shopfor the same problems. After we cruised in at 8mph we unloaded and ate breakfast. I quickly called wacker and Bret looking for A RIDE ANYWHERE FOR ANYTHING. The port m trip was off.
Instead of hanging around and fishing in 1ft deep water i decide that at least i can fish from the packery jetty or port a south jetty and sleep on the beach. After 2 hours i arrive in corpus and meet an old friend and head to the south jetty. I stopped at academy and picked up some jetty tackle as i only had offshore stuff with me. In the parking lot i recieve a call from Ben saying he is departing 530am from freeport the next day, so i accepted. I ended up fishing the south jetty for about 3 hours without one bite and as 20mph north wind in my face. I had left my trini 30s at my friends house so i had to drop him off back in corpus before i could depart to freeport.
I left corpus around 730 and arrived in freeport around 1145pm. After a shower i passed out and woke up at 430am on sun. The plan was to meet ben and william at buckees to get ice at 515. after some quick get to know you we were of to launch the boat(26 glacier bay). We pulled up to the first rig and tried to catch some bait, after a couple throws i finally get hooked up deep. Expecting Hardtails i was suprised to see 10inch snapper on my sabiki. Picked up the rods and head out to some rigs 70-80 miles out. When we arrive we put out the wahoo spread and made two quick laps to no avail, so we start jigging the rig and pulling up snapper after snapper.....time to leave this rig.
When we arrived at the second rig out goes the spread for some quick laps with nada to show again. Ben and Will decide to tied up and i dropped one of the mullet from port m(big mullet). Hit the bottom and BAMMM, quickly i called over will and handed it to him as i thought an ambjack was waiting(they had metioned never catching one bigger than 20#s). Up pops a 40# class ling and we gaff him. High fives aroud. We drop two dead baits and double up instantly again with two more hitting the deck. I lost some brutes due to my sorry line, but after several doubles and triples when the smoke cleared we had a limit of 35-40# ling and released many more. This was a Wide Open world Class ling Bite. The fishing gods were repaying me.
After we cooked lunch we headed over to one more rig in deeper water in search of Ajs and Grouper. I was confident the guys would get some goods ajs...but the rig legs tortured them. They were getting frustrated about losing jigs and two big hardtails to fish. The last bait we sent down was about a 4# hardtail. Ben tells me he had a hit and i told him you will know if you have a hit, he reels up to find the hardtail only a tail. Since it was the last bait we drop it again and BAMMMMM the hit i we were looking for. After 10 goods minutes a see color on a 40# aj. William sticks the gaff in and over the gunnel comes ben's biggest AJ. We were stoked as it was their largest one to date.I pulled a smallish groupa off the rig that ate very well also.
After the trip i drove back to fort worth.....total miles 1300.
Here are some pics.
Ben with a good ling
Double
One for me
Bens Aj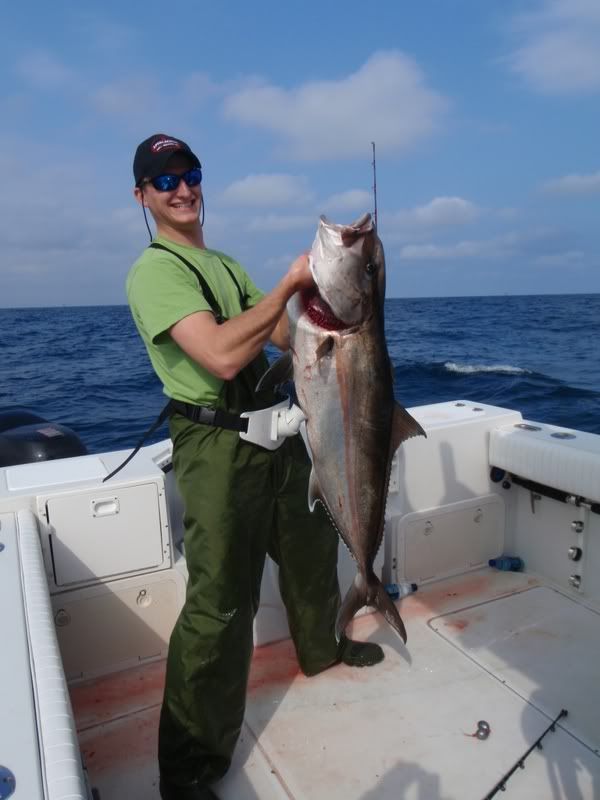 Lunch?
Dock Shot